The history of a region, province or nation is reflected in its heritage and culture. One component of that is architecture. Historical architectures reflect the various achievements of dynasties and emperors in past ages. While some are erected to commemorate a victory over a vanquished opponent, others symbolize the opulence and glory prevailing during a particular period under a particular ruler.
India's history dates back to ancient times. Naturally, the entire country is scattered with various historical monuments and structures, each of which is unique in terms of is architecture and purpose. However, whatever the reason, or reasons, behind their existence, it cannot be denied that coming across them instills in the onlooker a feeling of immense pride and nostalgia. Here are some of the historical architectures of India that will make you proud.
Nalanda Ruins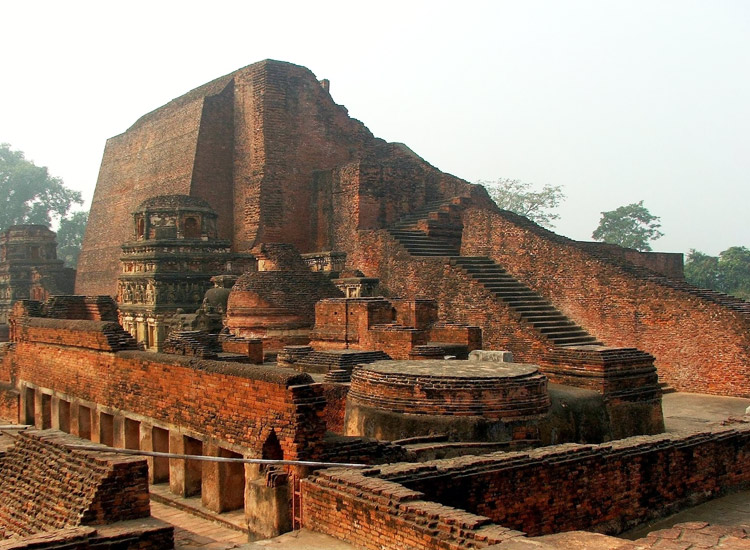 Nalanda University, founded in the 5th century AD, was an ancient center of learning. This seat of learning shot to fame during the 5th to 12th centuries, and was visited by the renowned Chinese scholar Hieun Tsang during the 7th century AD. The main attraction here is the Nalanda University Ruins Archaeological Complex, specifically Vihar 1 and Temple No. 3.
Hampi Ruins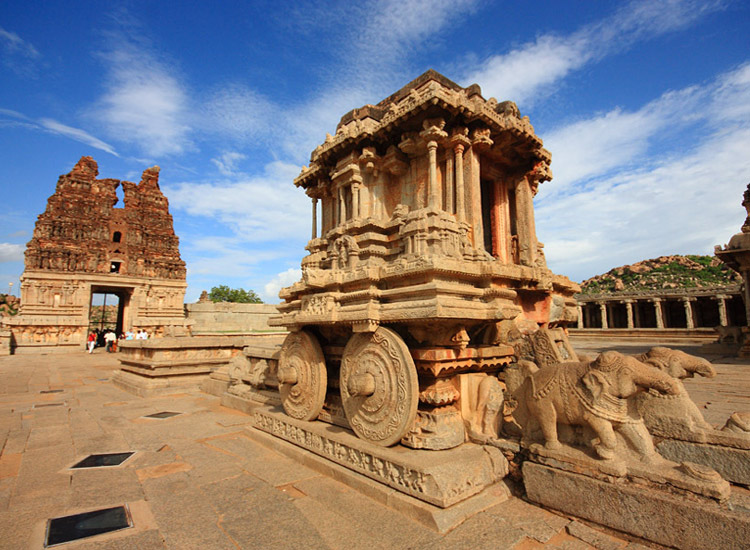 Hampi ruins are one of the most important heritage and historic sites in India. Here, the 9-storey tall gopuram of the Virupaksha Temple, overlooks the entire city. Other sights of magnificence are Vijaya Vittala Temple, with its 56 musical pillars, the elephant stables, the Lotus Mahal and the Hazararama Palace Temple. Brilliance is reflected here in the Stone Chariot, Ganesha statues and Badavilinga.
[ Also read about few other fascinating historical places in South India. ]
The Taj Mahal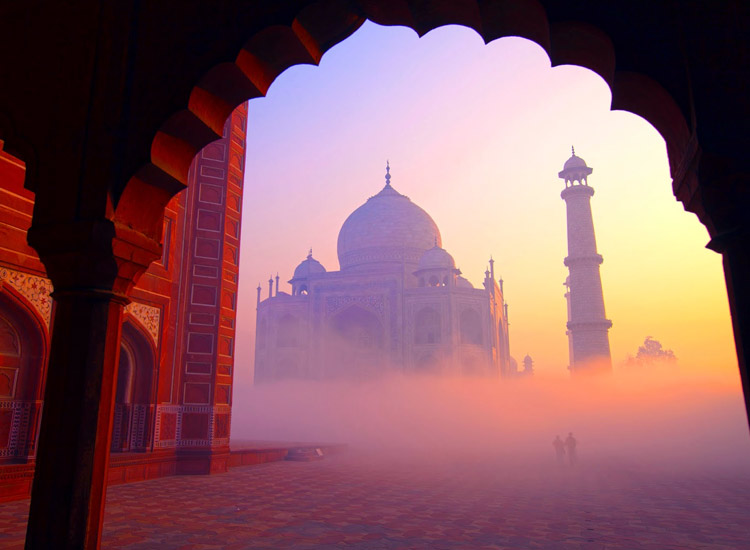 Taj Mahal represents the epitome of Mughal architectural splendor. Built by Emperor Shah Jahan for his beloved wife Mumtaz Mahal, it combines elements of Indian and Persian architecture with an unparalleled brilliance. The luminous beauty of the Taj can be attributed to its flawless white marble, with an aesthetic application of decorative features such as delectable motifs in pietra dura and exquisite calligraphy.
Red Fort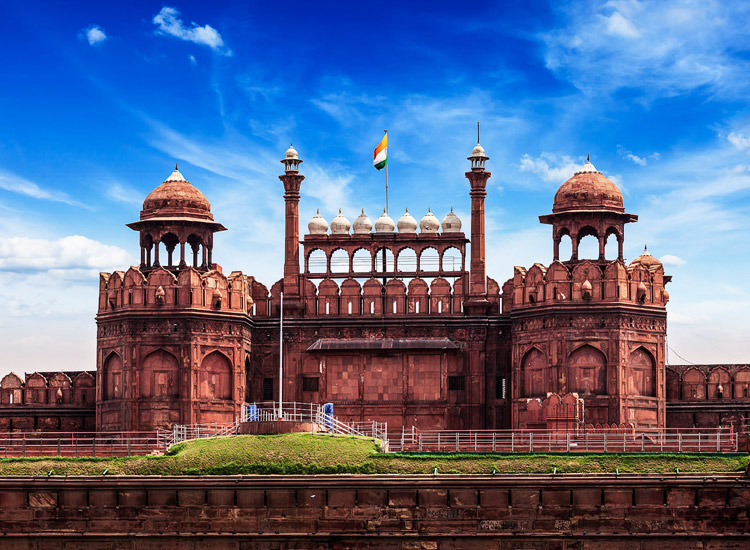 Among the most well-known historical monuments in India, Red Fort occupies a top position. Its construction began in 1639, and was completed after nine years. This magnificent fort is built largely of red sand stone, with marble in its palaces. Its main attractions are the Diwan-i-Aam (Hall of Public Audience) and Diwan-i-Khas (Hall of Private Audience). Other attractions are the Hammam (Bath) and Hayat-Baksh-Bagh (Life giving Garden).
Rani ki Vav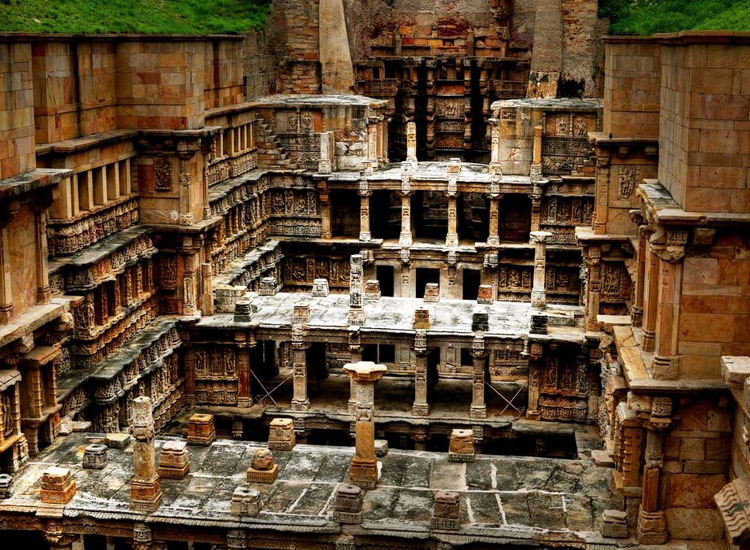 Rani ki Vav, a magnificently designed step well, is a UNESCO World Heritage Site. Built by Queen Udayamati in memory of her husband King Bhimdev I, it's a water management system divided into seven levels of stairs and sculptural panels of exceptional artistic quality. The figurative motifs and sculptures, along with the proportion of filled and empty spaces, lends the stepwell's interior a unique aesthetic character.
[ Also read about must visit places in Gujarat. ]
Gol Gumbaz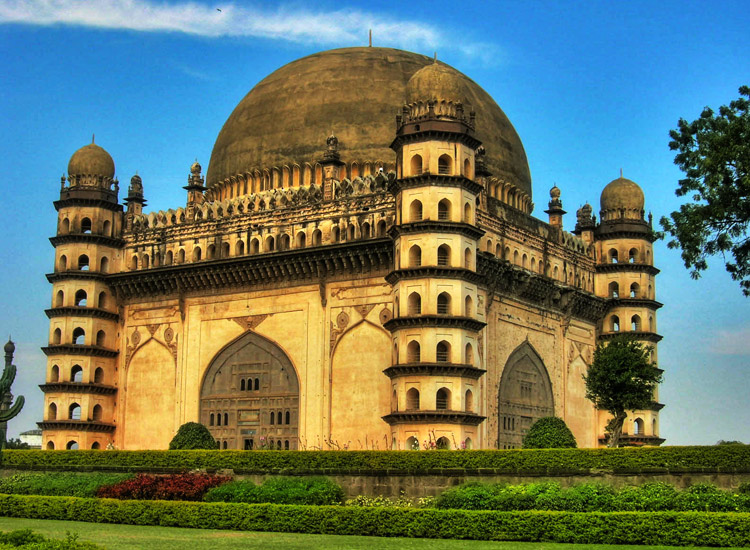 Gol Gumbaz, the mausoleum of Muhammad Ali Shah, is renowned for its colossal dimensions and acoustic features. It houses the tomb of Muhammad Ali Shah, the seventh ruler of Adil Shahi dynasty, along with the tombs of his wives and daughters. There are eight interesting arches that provide strong support to the central dome, which, at 144ft, has the reputation of being the largest ever dome built in history.
Meenakshi Temple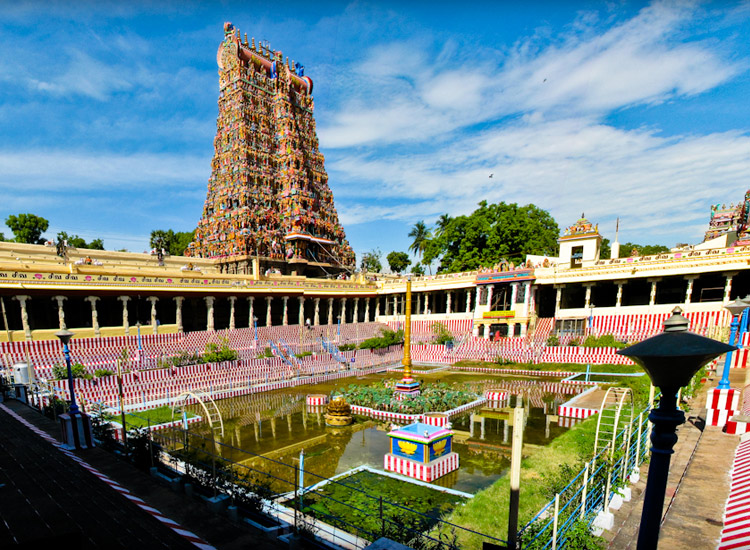 Meenakshi Temple boasts one of the best architectures in India. Indeed, the life of Madurai City revolves around this temple. Extending to an area of 65,000 sq.km, this temple complex resembles a small city in itself. One of the highlights of the temple is the majestic towers. Another example of its fabulous beauty is the Hall of Thousand Pillars, called Ayiram kaal Mandapam, which form a straight line when viewed from any angle.
Chhatrapati Shivaji Terminus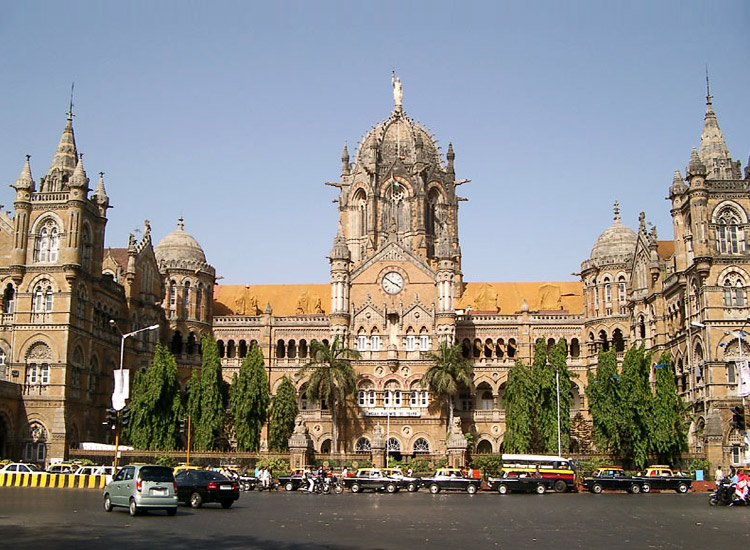 Chhatrapati Shivaji Terminus, formerly known as Victoria Terminus, was built in 1888 by the British architect F.W.Stevens. Located in the heart of Mumbai, it was declared a UNESCO World Heritage Site in 2004. This building reflects the Victorian Gothic style of architecture, and is flanked by the figures of a lion and a tiger, representing Britain and India. The focal point of this building is its high dome.
The Great Sanchi Stupa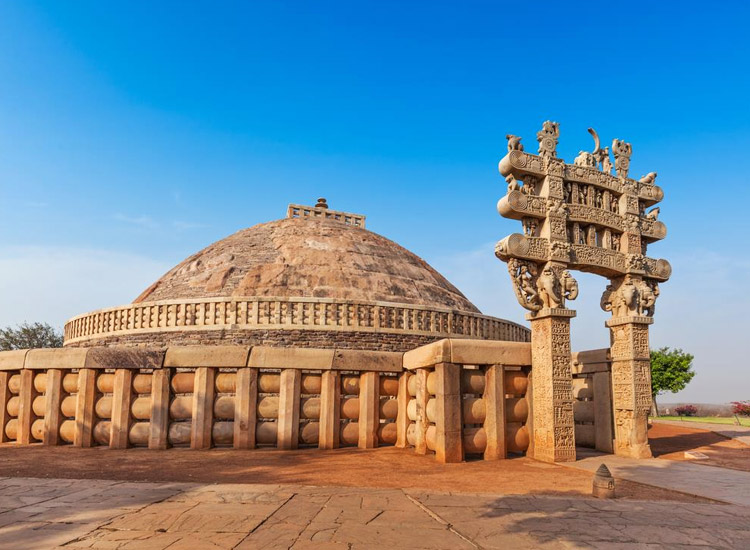 One cannot mention the historical places in India and ignore The Great Sanchi Stupa. Commissioned by Emperor Ashok during the 3rd century BC, this enormous hemispherical dome consisting of a central chamber contains the relics of Lord Buddha. Various designs and motifs adorn the railings and gates of the Stupa. Inanimate figures resembling a tree have been used here to symbolize Lord Buddha. This structure was enlisted as a UNESCO World Heritage Site in 1989.
[ Must read about few of the lesser-known heritage sites in India. ]
Victoria Memorial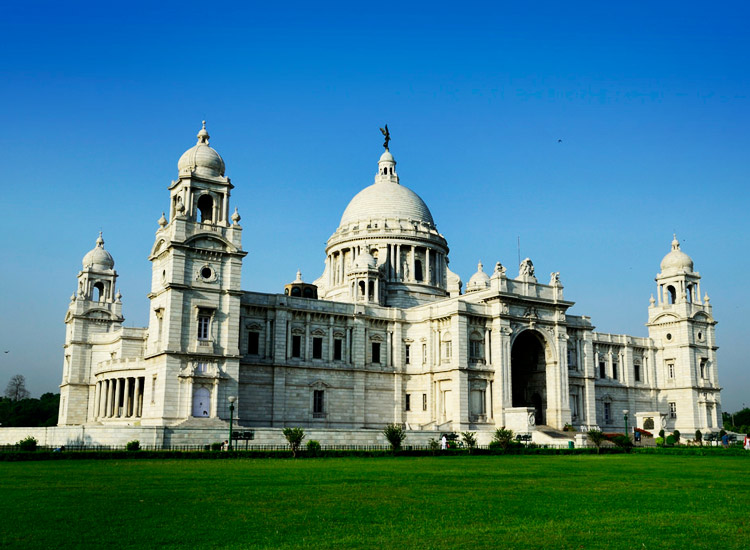 Victoria Memorial is another magnificent legacy of the British Empire in India. Built in the memory of Queen Victoria, it's an architectural marvel built in Indo-Saracenic revivalist style. The material used in its construction was "makrana marble" brought from Jodhpur, Rajasthan. The memorial houses 25 galleries, including the sculpture gallery, royal gallery and the Calcutta gallery. One can find a remarkable collection of paintings, weapons, artefacts etc., inside the building.
Hawa Mahal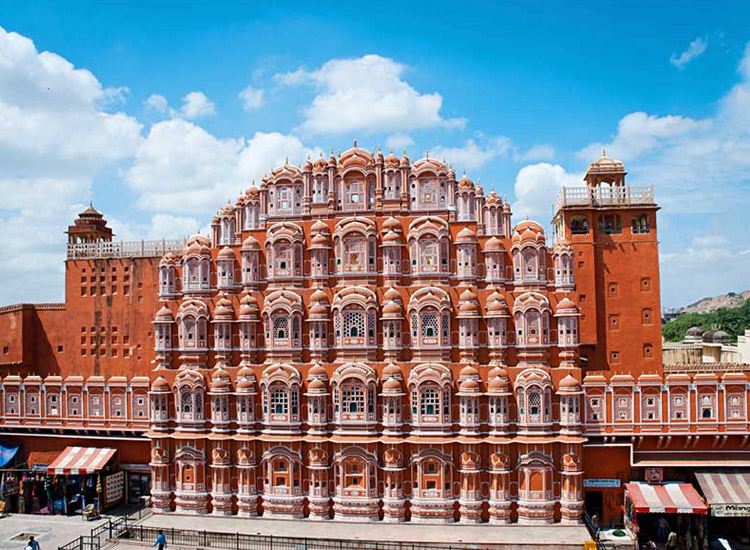 Hawa Mahal, or the Palace of Winds, was built by the poet king Sawai Pratap Singh in 1799, as a summer retreat for him and his family. It served as a place where the ladies of the royal household could observe everyday lives without being seen themselves. This wonderful five-story structure is a blend of Hindu and Islamic architecture. Built from pink sandstone, it is one of Jaipur's iconic landmark.
[ Read about top forts in Rajasthan. ]
Qutub Minar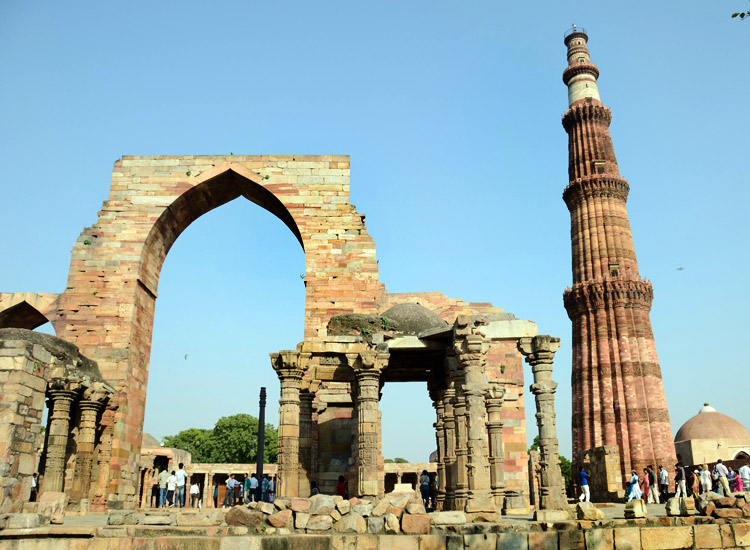 Qutub Minar, built in 1193 by Qutub-ud-din Aibak is a 73m high tower symbolizing victory. The tower has five distinct stories. While the first three are made of red sandstone, the fourth and fifth are made of marble and sandstone. A 7m high iron pillar stands in the middle of the courtyard. This magnificent tower is adorned with bands of inscriptions and four projecting balconies supported by elaborately decorated brackets.
Khajuraho Temples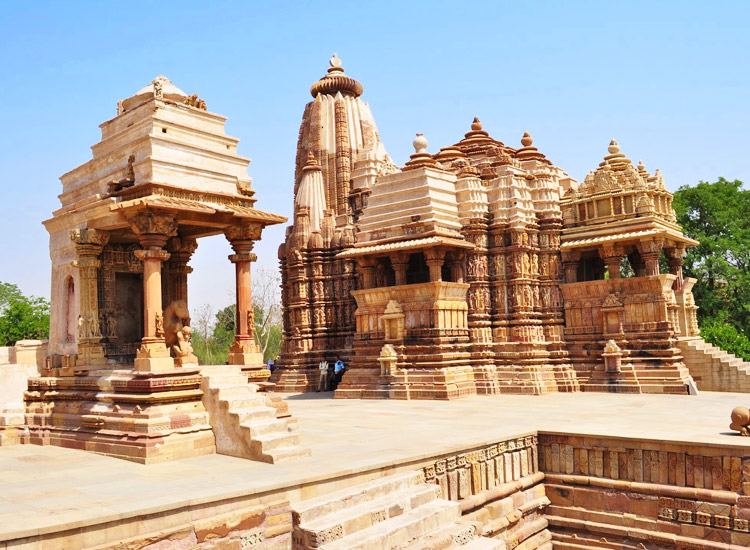 Khajuraho Temples rank amongst the best monuments of India, besides being one of the most popular tourist spots in Madhya Pradesh. These temples were built between 950-1050 AD by the Chandela dynasty. They depict various forms like spiritual teachings, meditation, kinship, wrestling, royalty etc. The temples contain magnificent sculptures that testify to the outstanding architectural skill of its creator. These temples have been included among the UNESCO World Heritage Sites in India.
[ Also read about heritage and historical sites in Madhya Pradesh. ]
Konark Sun Temple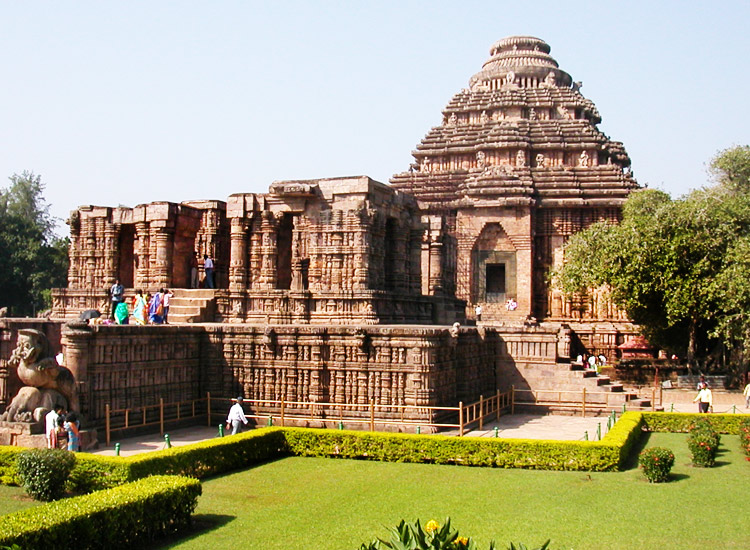 Konark Sun Temple, built by King Narasimhadeva in the 13th century, is an incredible piece of architecture. The temple is designed in the shape of a colossal chariot with seven horses and 12 wheels that carry the Sun God Surya, into heavens. The temple was named as "The Black Pagoda" by the European sailors as it was an important landmark in their coastal voyage. The neighborhood of the temple also contains several smaller shrines.
Ajanta Ellora Caves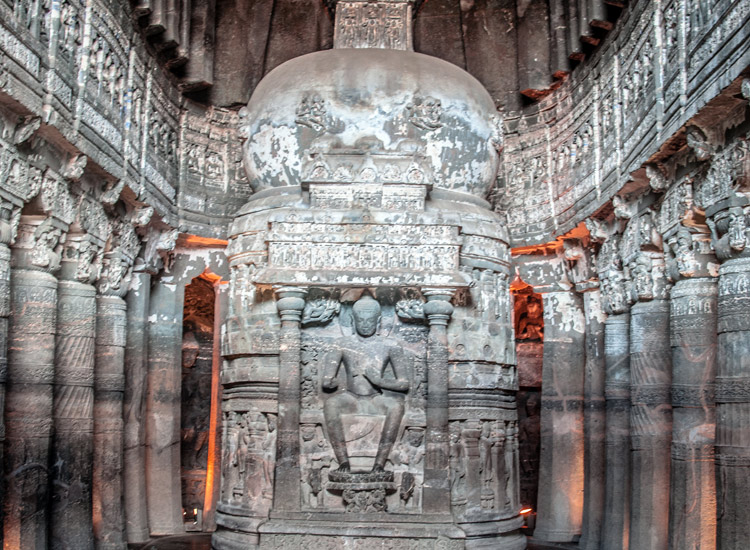 Ajanta Ellora Caves are regarded among the best heritage and historic sites in India. These caves, located by the River Waghora, provide a fascinating and unique insight on life in ancient India. These wonderful caves, decorated with frescoes, paintings and sculptures, are a collection of Buddhist, Jain and Hindu monuments. Its complex includes Buddhist monasteries, besides Hindu and Jain temples. The caves portray the Buddhist culture in India, along with stories from the Jataka Tales.
Mysore Palace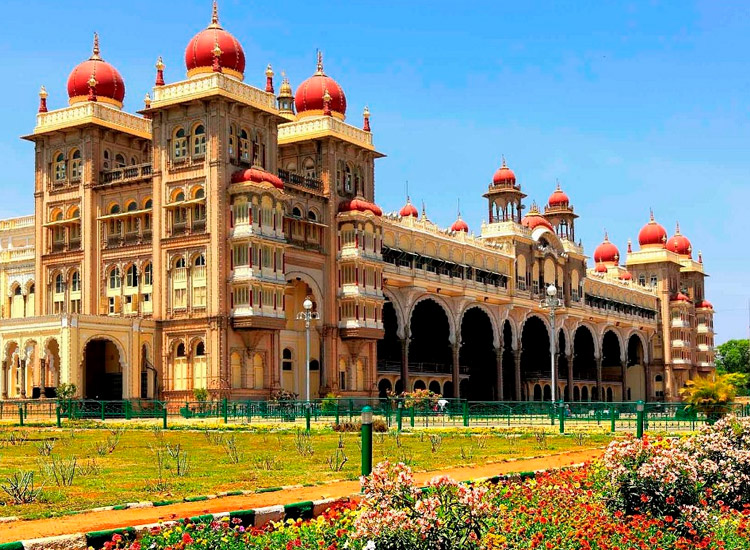 It is said that all roads in Mysore lead to Mysore Palace, and why not. Here, magnificence flows in abundance while extravagance can be witnessed in every detail. The Mysore Palace is distinguished by its jeweled corridors, ornate ceilings, stained glass windows, open mandaps, detailed paintings and Wadiyar memorabilia. The jeweled throne is a special center of attraction. The palace also hosts the famous 10- day Mysore Dasara festival.
Gateway of India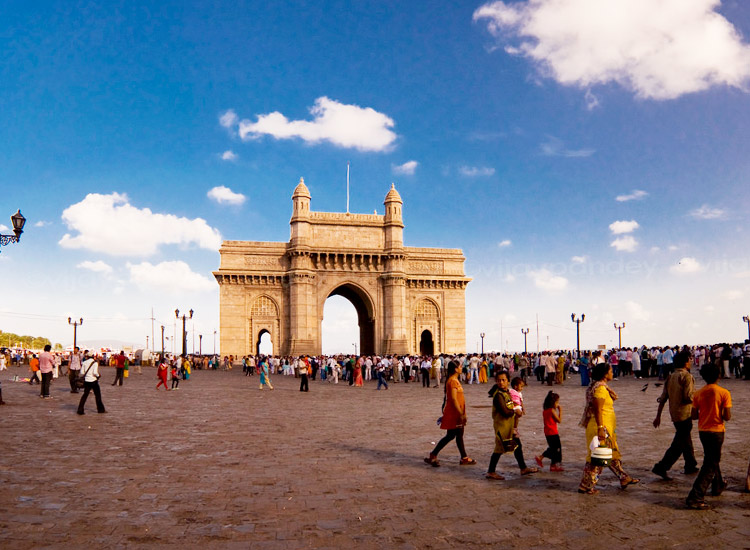 Another of the famous historical monuments in India is the Gateway of India. It's regarded as the starting point for those who want to explore Mumbai city. This fabulous monument was built to commemorate the visit of the first ever British monarch, King George V and Queen Mary in 1911. Reaching a height of 26m, it consists of four turrets and intricate latticework carved into yellow basalt stone.
[ Read about heritage hotels of Maharashtra. ]
Humayun's Tomb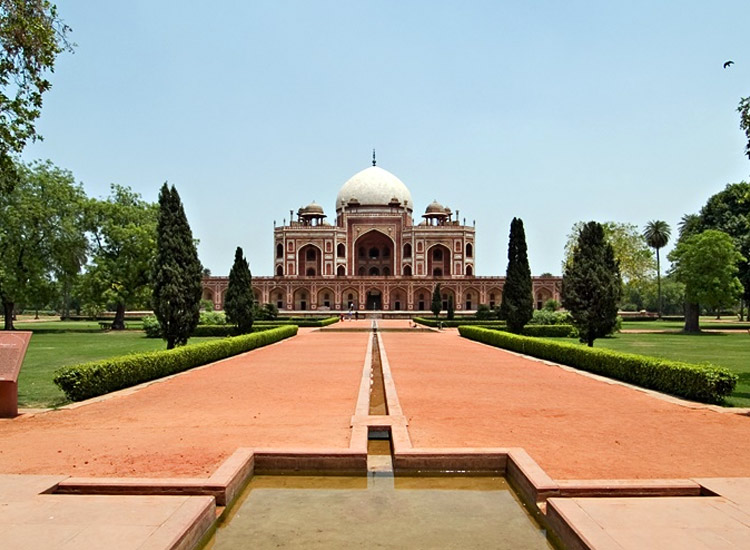 Humayun's Tomb was built in 1565 AD by the senior widow of Humayun, Bega Begum, nine years after his death. A UNESCO World Heritage Site, it signifies the formative stage of Mughal architecture in India. The tomb is built in red sandstone amidst a square garden which is divided into four parterres known as Charbagh. A shallow water channel can be seen at the center of this garden.
[ Plan your stay at the heritage hotels of Delhi. ]
Charminar
Its believed that Mohammed Quli Qutb Shahi, the fifth sultan of the Qutub Shahi dynasty, built the Charminar to mark the end of a deadly plague. It's a classic example of Indo-Islamic architecture, combined with a few Persian elements. Of its several attractions, its minarets are a special one. Rising to a height of 56m, their aesthetic value is enhanced by their ornamental arches.
Fatehpur Sikri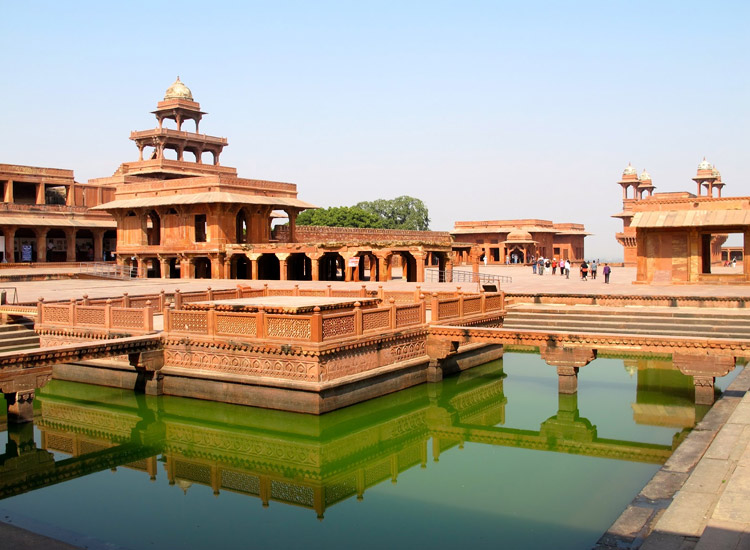 Any visit to the heritage and historic sites in India should include a visit to Fatehpur Sikri, a splendid royal city. Once can find both religious and secular buildings here. There is the imposing Jami Masjid with the Buland Darwaza standing 176ft high. Then, there are other wonderful buildings like Diwan-I-Khas, Jodha Bai's Palace, Mariam's Palace, Birbal's Palace, House of the Turkish Sultana and Panch Mahal, all exhibiting unique architectural styles.