During the recorded course of its history, Maharashtra state has been under the rule of various dynasties. The rulers and their favorite nobles built forts, mansions, and palaces for residing. Many of these properties have now been converted into Heritage Hotels in Maharashtra. After the abolition of privy-purses, the royal families were not able to maintain these magnificent palaces and mansions. They sold or put on lease either certain part or whole of their properties and thus the concept of heritage hotels came up.
The current owners of these hotels have tried to maintain the royal feel and the grand appearance while adding modern comforts for discerning travelers. These hotels offer a memorable stay to both business visitors and leisure vacationers. Enjoy traditional hospitality, relive the glorious treatment, and get a glimpse into the culture of the region.
Here is a list of some of the top heritage hotels in Maharashtra:
The Verandah in the Forest, Matheran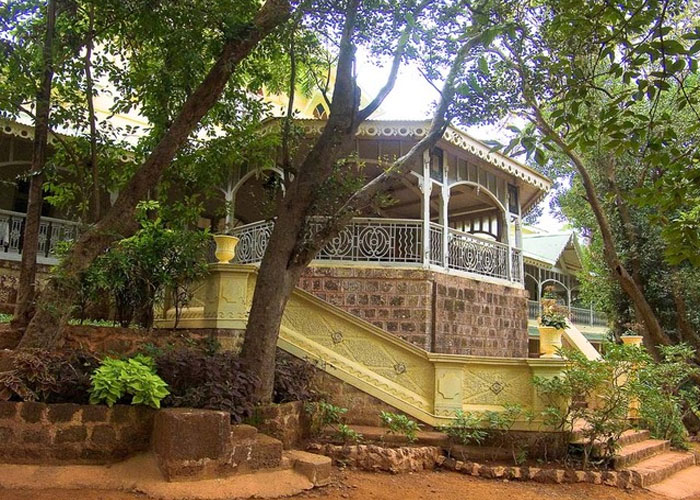 One of the most exclusive heritage hotels in Matheran, The Verandah in the Forest is a 19th century bungalow that enjoys an isolated location amid the Western Ghats. The mansion was constructed by Captain Barr. It was the second house to be built in this hill town.
The place offers various experiences. Enjoy a memorable evening while lounging in the verandah. Opt for a leisure walk down to the Charlotte Lake and take your picnic basket along, if you want. Do not forget to savor local delights. Spend a peaceful vacation here.
There are a total of 11 spacious, well-lit and airy rooms in the Verandah in the Forest. The décor of each room is wonderfully royal with four-poster beds, rich fine fabric and antique decorative pieces. Contemporary facilities and amenities make your stay comfortable. At the dining room, sumptuous meals are prepared using age-old royal kitchen recipes.
Address: Barr House, District Raigarh, Charlotte Lake Road, Matheran
Distance from airport/railway station: Mumbai Airport (60 km) / Neral Railway Station (57.3 km)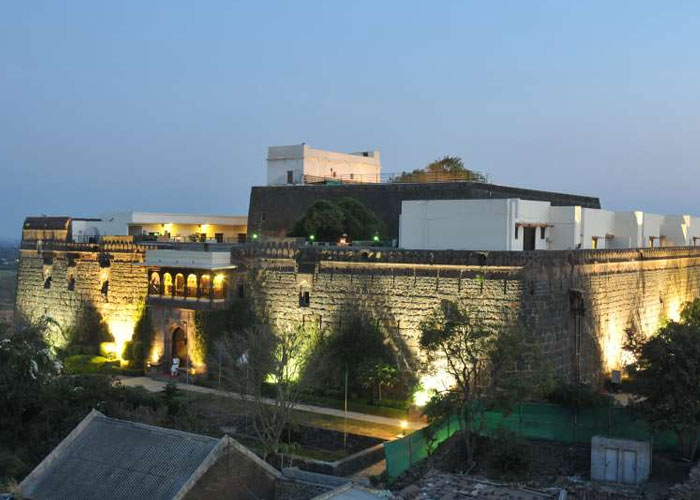 Trace the footsteps of 300 years old Maratha history at the grand Fort Jadhavgarh, around 22 km from the main Pune city. This luxury resort spreads over a manicured landscape of 25 acres. The property was constructed by Pilaji Jadhavrao, the Maratha General in the army of Chhatrapati Shahuji. It is a popular weekend getaway for the people of Mumbai and Pune.
The resort has to offer various memorable experiences. Relax and rejuvenate yourself with comforting massages and therapies at the on-site Spa. Do not miss the 45-minute Shivaji Martial Arts show – DaanPatta. Special Ghazal nights are organized at the resort's rooftop restaurant. The hotel also offers Bullock Cart ride. For adventure enthusiasts, there are activities like trekking, animal spotting and bird watching. Laze around the temperature-controlled pool. Another major attraction at Fort Jadhavgarh is an in-house museum, the Aai Museum.
The stay options of 58 rooms at the resort, spread across three wings, are extremely luxurious and well-equipped.. Enjoy kingly treatment same as the erstwhile kings and queens used to experience. The plush regal décor is a complete charmer. Have a memorable stay amid world-class facilities and amenities.
At Aangna- the outdoor courtyard café serve varied gastronomical delights, inspired from royal kitchen. Guests can enjoy lip-smacking Indian, regional and popular world fares at Payatha and Chajja, the other two dining venues.
Address: Jadhavwadi, Hadapsar Saswad Road, Pune – 412301
Distance from airport/railway station: Pune Airport (31 km) / Pune Junction (27.3 km)
Taj Mahal Palace Hotel, Mumbai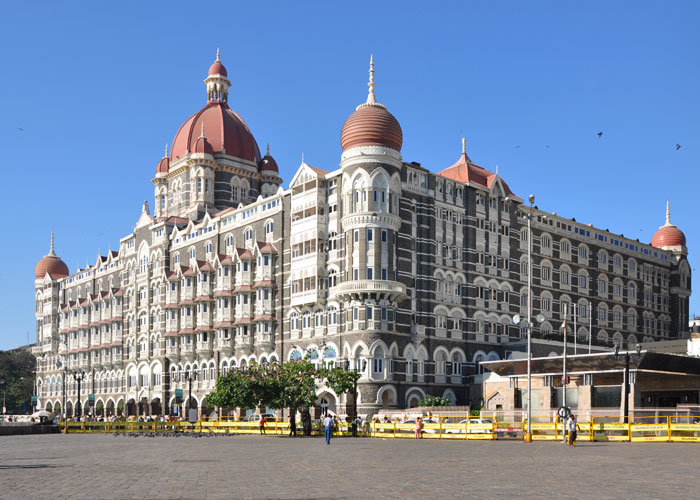 Constructed way back in the year 1903, Taj Mahal Palace Hotel is the first harbor landmark of India. This iconic luxury heritage hotel has welcomed kings, renowned personalities, world leaders, and other dignitaries from across the globe. A world leader in field of hospitality, this luxury property is a wonderful amalgam of rich historical past, sophisticated nostalgia, and contemporary conveniences. 11 newly renovated venues and halls are ideal for all kinds of formal and informal gatherings.
Spread across the palace wing and tower wing, the hotel has 550 rooms and suites, which are 10 categories. Every room is capacious, has all the comforts, offers wonderful views and has an opulent décor.
Revel in Taj's Signature experiences. Go for unique dining in a private setting with handpicked menu and flawless service. Enjoy wide range of amenities at Taj Club and the impeccable service of a private Butler. After a tiring day of sightseeing, opt for rejuvenating therapies and treatments at the world-renowned Jiva Spa. For art connoisseurs, there is the well-stocked Taj Art Gallery. Guests can also get excellent beauty services at Taj Salon.
The 10 dining venues offer fine-dining experiences and comprise of celebrated restaurants and bars. Savor delicacies of Indian and famous World cuisines, prepared by trained chefs and their expert teams.
Address: Apollo Bunder, Mumbai, Maharashtra – 400 001
Distance from airport/railway station: Mumbai Airport (25 km) / Mumbai Railway Station (18 km)
Lords Central Hotel, Matheran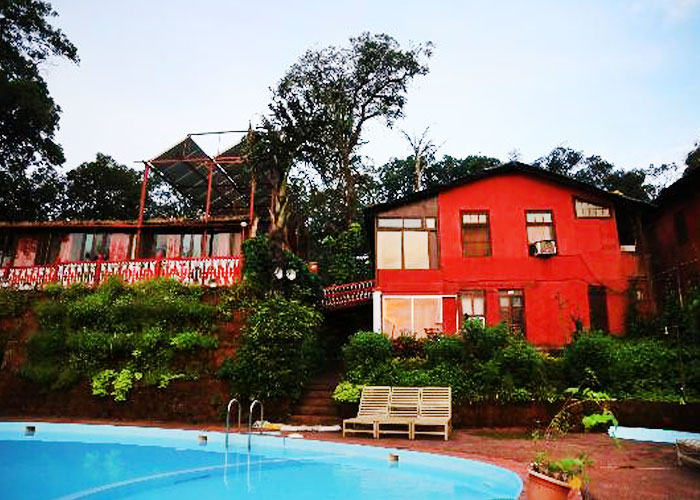 Lords Central Hotel was initially a single large bungalow, and is now it is one of the best heritage hotels in Matheran. Today, the property has 4 expansive bungalows with 23 well-equipped guestrooms, lying amid a manicured garden. Have a memorable stay amidst contemporary comforts. Recreational activities make your holidays more exciting.
The fourth generation of Lords' family manages the property. You can enjoy a chit-chat with them during a peaceful meals. Enjoy a good read in the hotel's library. The property features Raj-era cottages with a terrace and wonderful views of the Western Ghats. The whole atmosphere is absolutely relaxed.
Meals at Lords Central Hotels are a homely affair as the host takes personal care of everything. Every meal is home-cooked and comprises of a vast variety of 3-course English variety and 4-course spread with Continental and Indian varieties. The dining room has a neat layout. Morning and evening tea will be served in the rooms, coupled with cookies. Special meals can be planned at the poolside.
The host wish to make their contribution towards the environment and thus use solar energy cookers. Bathing water is also stored in solar energy cookers. Bath water is recycled for gardening.
Address: Victoria Road, Matheran 400055, Maharashtra
Distance from airport/railway station- Mumbai Airport (90 km) / Neral Railway Station (7.8 km)
Citrus Chambers, Mahabaleshwar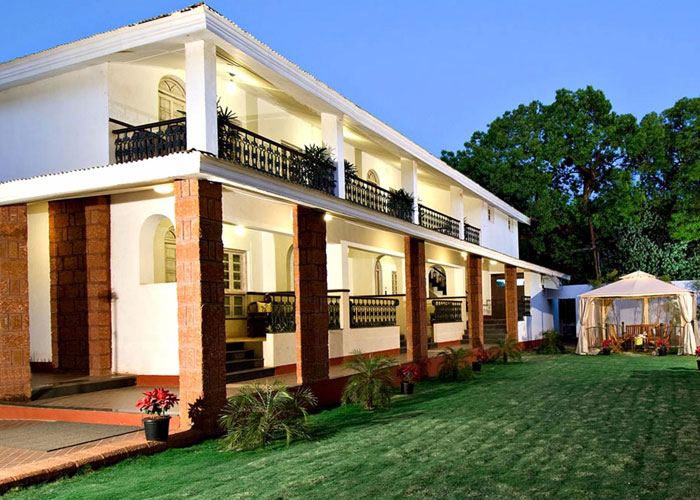 Constructed on an old heritage land, Citrus Chambers is one of the best heritage hotels in Mahabaleshwar. The property has a wonderful Colonial style of architecture and has a wonderful décor. The views are simply breathtaking. A wonderful weekend getaway, it spreads in an area of 5 acres of manicured land. Leisure vacationers as well as business guests can have a good time here.
The property gives a feel of an English villa. Enjoy a dip in the clean blue pool. The vistas from your rooms would be stunning. All the rooms and suites are well-equipped with modern facilities and amenities to make your stay comfortable.
At the Paradisi spa, a vast range of relaxing and soothing therapies are offered, for bringing a harmony in all senses. Other comforts include swimming pool, playground and equipped Conference hall. The 24-hour coffee shop, Bisco, serves finger-licking delicacies of Indian and Mediterranean cuisine.
Address:  L.C. Dsouza Road, Mahabaleshwar (Tapola road, Aaram chowk), Mahabaleshwar – 412806, Maharashtra
Distance from airport/railway station- Pune Airport (130 km) / Satara Railway Station (63 km)