Do you wish to take a tour through times gone by? Plan a trip to the historical places in Madhya Pradesh. They not only give you an insight into the events that occurred but also impress you with their architectural marvels. Given their historical significance, these tourist places in Madhya Pradesh lures tourists from different parts of the world.
No matter what you have in mind while visiting the heart of this massive and diverse nation, you simply cannot ignore these Madhya Pradesh historical places.
So why wait? Take Madhya Pradesh heritage tours and explore the most popular forts, temples, palaces, and more dotted across the state.
Here is the list of the 10 best historical places in Madhya Pradesh for the taste of rich culture and heritage.
Khajuraho
Gwalior
Orchha
Sanchi
Bhimbetka
Bhopal
Indore
Mandu
Burhanpur
Jabalpur
Khajuraho – Erotic Carvings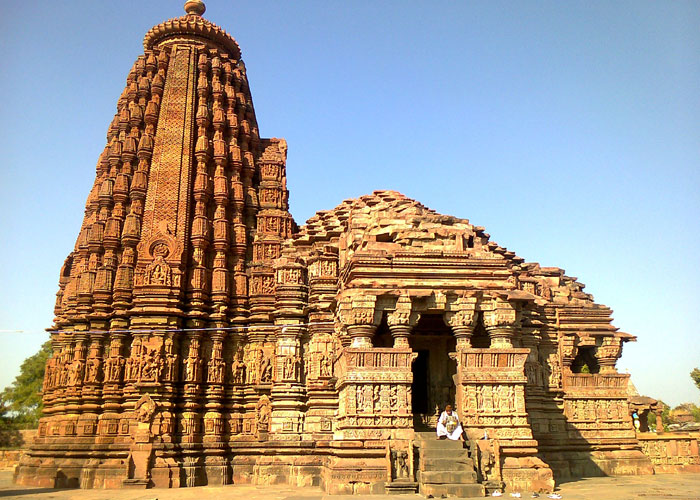 Known for Khajuraho Group of Temples, the world heritage sites in Madhya Pradesh, this historical place has a long history exhibited through its centuries-old monuments. It is widely known for its collection of Hindu and Jain temples that dates back to the 9th and 10th-century when the Chandela dynasty of Rajputs ruled this region. The temples in Khajuraho are known and adorned by erotic and sensuous carvings, which leave tourists spellbound.
If you are an architecture lover, you will be delighted to visit the archaeological sites in Madhya Pradesh for exquisite and intricate carvings on the walls of the temples here that stark paradox with the conventional Indian ideals about eroticism. Also, art in Khajuraho is entrenched in all its monuments which are a classic example of the finesse of culture and artistic heritage in India.
Famous for: Kandariya Mahadeva Temple, Lakshmana Temple, Matangeshwar Temple, Adinath Temple, Javari Temple
Best time to visit: October to February
Stay options: Hammeer Garhi Heritage Resort Khajuraho, SYNA Heritage Hotel
Gwalior – Magnificent Gwalior Fort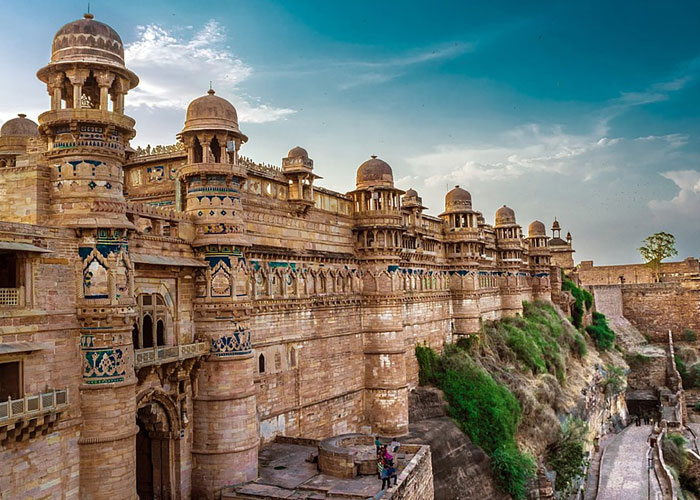 With an endless list of places to visit, Gwalior is one of the most visited tourist places in Madhya Pradesh. Comprising of grand forts, royal palaces, and intricately built ancient temples, Gwalior is a treat for architecture lovers and history buffs. This regal town is accessible from every other city in Madhya Pradesh and neighboring states, making it a top attraction.
Besides the places, people from all over the country come here to witness the splendor of Gwalior Fort and how magnificent it is. Overlooking the entire city, this fort is the highlight of Gwalior and is not to be missed. Apart from this, you can explore other historical sites in Gwalior like Teli ka Mandir and Gujari Mahal.
Famous for: Gwalior Fort, Gopachal Parvat, Jai Vilas Palace, Saas Bahu Temple, Padavali and Bateshwar
Best time to visit: September to February
Stay options: Usha Kiran Palace, Deo Bagh
Orchha – Explore the Treasure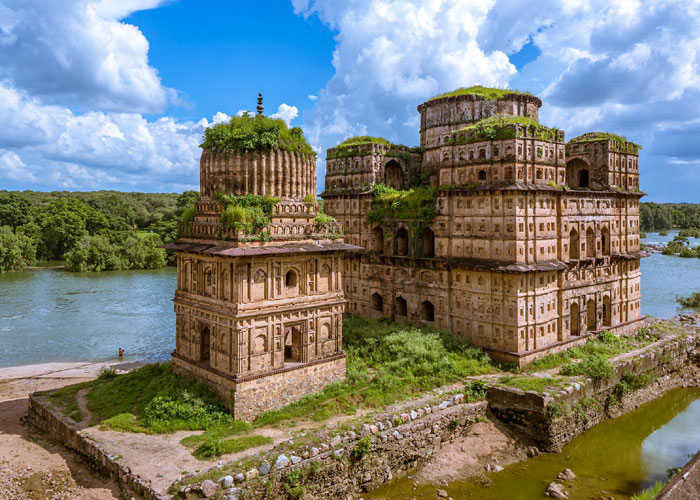 If you are planning to explore the heritage sites of Madhya Pradesh, you must visit Orchha. It is one of the top historical places in the state with some of the most renowned monuments. Take a heritage tour in Orchha and experience the preserved culture and listen to the tales of the erstwhile rulers of the Bundela Dynasty.
This majestic town will enthrall you with its striking structures and ancient temples, which attract history lovers and architecture admirers alike. While Orchha is known for its age-old monuments, it offers a scenic landscape. After a successful heritage walk around the town, you can visit the Orchha Wildlife Sanctuary which features a wide range of exotic creatures.
Famous for: Orchha Fort, Chhatris, Ram Raja Temple, Betwa River and Kanchana Ghat, Chaturbhuj Temple
Best time to visit: October to March
Stay options: Sheesh Mahal, Bundelkhand Riverside, Hotel Raj Mahal, Amar Mahal Orchha
Sanchi – The Land of Stupas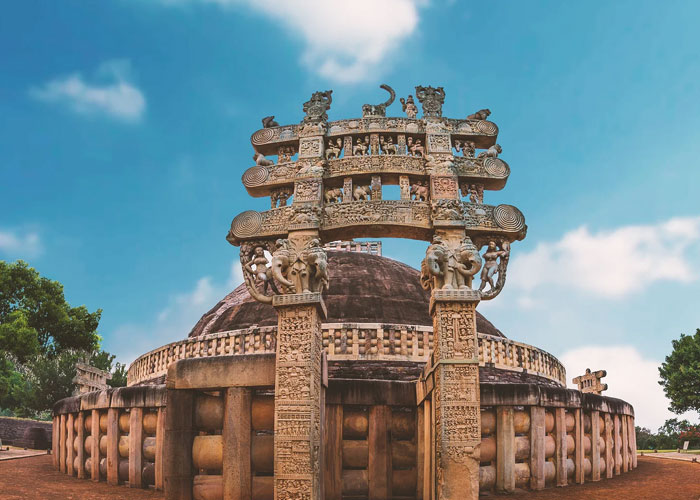 A designated UNESCO World Heritage Site, Sanchi is among the best places to visit in Madhya Pradesh. It is for the striking 'The Great Stupa', one of the oldest stone structures in India. Installed by Emperor Ashoka of the Mauryan Dynasty in the 3rd century BC, The Great Stupa is the prime attraction in Sanchi, especially for Buddha followers. All the sculptures and monuments located here are some of the most remarkable works of Buddhist art and architecture in Madhya Pradesh.
Sanchi is among the most significant Buddhist pilgrimage places where people from around the world visit to experience and learn more about rich Buddhist culture.
Famous for: Sanchi Stupa, The Great Bowl, Ashok Pillar, The Eastern Gateway, Udaygiri Caves, Sanchi Museum
Best time to visit: November to March
Stay options: Aaram Bagh Sanchi
Bhimbetka – The Beginning of Stone Age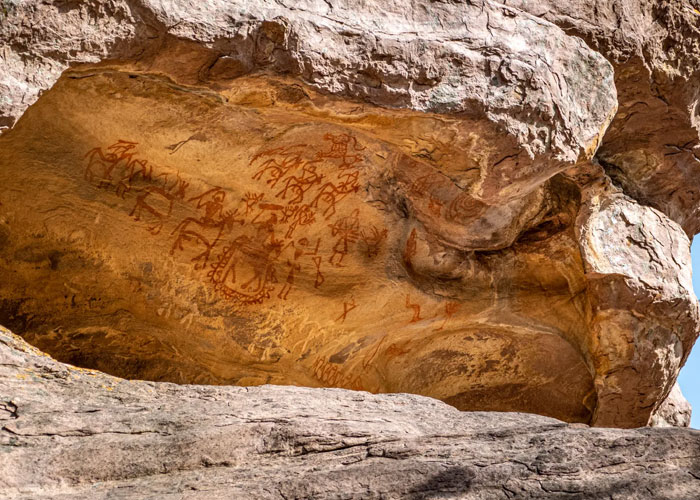 Among the largest prehistoric complexes in India, Bhimbetka is a renowned tourist place and a UNESCO World Heritage site in Madhya Pradesh. Home to ancient rock shelters, Bhimbetka is the place where the earliest human life on the Indian subcontinent existed hundreds of centuries ago. Also, the name Bhimbetka is taken from Bhim, one of the Pandavas from the Indian epic Mahabharata. Legends say that Bhim sheltered here while his 4 brothers were in exile.
Many pieces of evidence state that rock shelters are where the South Asian Stone Age began. You will see caves with prehistoric cave paintings that date back to even 300 centuries. Believe it or not, but out of 750 rock shelters & caves dotting Bhimbetka, some were inhabited by humans more than 1000 centuries ago. So, if you are a history buff or an archeologist, this is one of the must-visit historical places in Madhya Pradesh.
Famous for: Bhimbetka Rock Shelters and cave paintings, Turtle Rock, Zoo Rock Shelter, Bhimbetka Kuldevi Temple
Best time to visit: October to March
Stay options: MP Highway Treat, MPT Sagun Retreat, Narmade River View Resort & Restaurant
Bhopal – The City of Lakes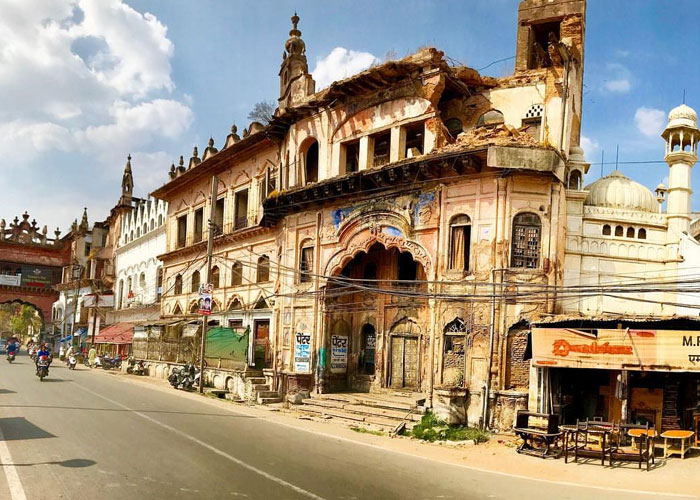 The pair of artificial lakes – Upper Lake and Lower Lake, and an array of rustic mosques, bustling markets, grand havelis, and winding alleys, makes Bhopal an intriguing old town. Plan a trip to Bhopal and explore some of the known historical places and heritage sites in Madhya Pradesh. The exquisite blend of the old and the new, the rustic and the classy is what Bhopal and its monuments are known for all over the country.
Of all the top historical sites in Bhopal, the Taj-Ul-Masjid stands out the most because of its classic Mughal architecture work. Built by the third female ruler of Bhopal, Shah Jahan Begum, this is one of the largest mosques in India. Bhopal is a city that will gain your attention through its breathtaking havelis and museums and Nawabi food, leaving an imprint on your mind forever.
Famous for: Van Vihar, Indira Gandhi Rashtriya Manav Sangrahalaya, Hogar Mahal, Shaukat Mahal, Birla Museum
Best time to visit: October to February
Stay options: Jehan Numa Palace, Noor us Sabah Palace
Indore – Glorious Past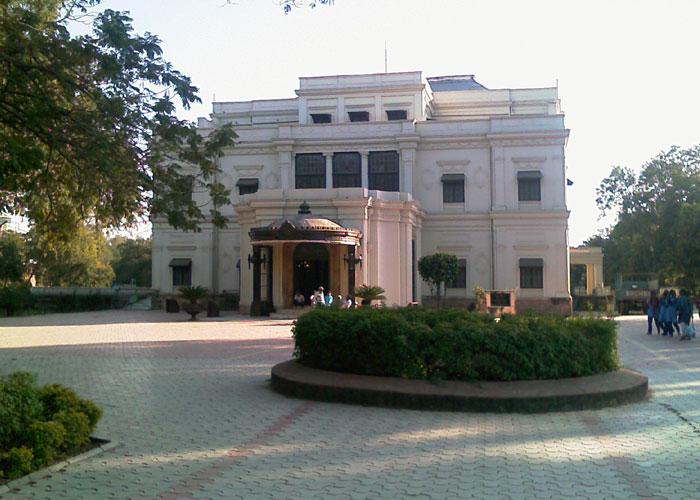 The Commercial Capital of Madhya Pradesh and the Education Hub of India, Indore is no less when it comes to historical places. The city had an interesting and glorious past, which is quite evident through its centuries-old monuments. In fact, the palaces, havelis, and other historical sites present in Indore are some of the major monuments of Madhya Pradesh, you cannot afford to miss.
Earlier known as 'Indrapur' after Lord Indra, the city was renamed 'Indur' by the Marathas. And later changed to 'Indore' during the British era. Holkar dynasty played a crucial role in Indore's history as it was granted as a reward to Malhar Rao Holkar, the founder of the dynasty by the Peshwas. It was Rani Ahilya Bai Holkar who made improvements to the city and made it a significant commercial and military center. Rajawada, Lal Baug Palace, and Sukh Niwas stand as a testament to the grandeur of the Holkar era in Indore.
Famous for: Rajwada, Lal Bagh Palace, Indore Museum, Patalpani Waterfall, Annapurna Temple, Ralamandal Wildlife Sanctuary
Best time to visit: October to March
Stay options: Radisson Blu Hotel Indore, Fairfield by Marriott Indore, Sayaji Indore, Indore Marriott Hotel
Mandu – Ancient Fort City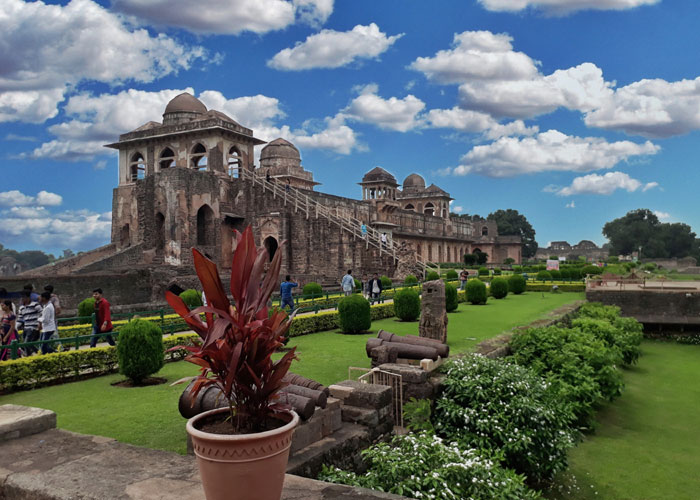 The finest architectural magnificence and remarkable history are what Mandu is known for. Found originally in the 10th century by Raja Bhoj, Mandu was later conquered by the Mughals of Delhi in 1304. It was them who built impressive monuments, palaces, mosques, and pavilions in the city. No doubt, this place is one of the best historical places in Madhya Pradesh for an enriching experience.
Mandu is a lesser-known place as compared to others but is certainly among the best places to explore the cultural heritage of Madhya Pradesh. You will be fascinated to know that this city has been the witness of the love and romance between Prince Baaz Bahadur and Rani Roopmati. And their love story is immortalized through the various attractions in Mandu.
Famous for: Jahaz Mahal, Rani Roopmati Pavilion, Hindola Mahal, Baz Bahadur's Palace, Rani Roopmati Palace
Best time to visit: October to January
Stay options: Malwa Resort, Hotel Maharaja, Malwa Retreat, Hotel Rupmati, Hotel Royal Palace
Burhanpur – Land of Several Cultures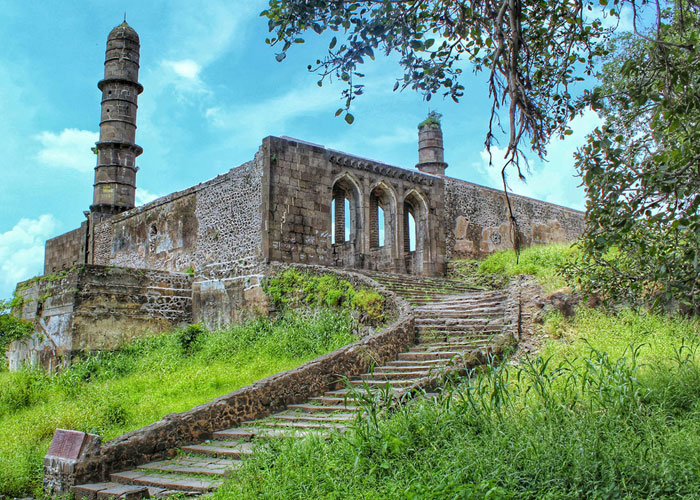 Once ruled by Peshwa Bajirao, Burhanpur has many historical monuments and royal structures built during the reign of the Marathas. Out of them, the Dargah-E-Hakimi and Adigarh Fort are the two places that attract a large number of tourists. Burhanpur is also a huge attraction for pilgrims due to Bohra Muslims as well as for Sikhs as it houses many mosques and Gurudwaras.
Apart from this, Burhanpur is one of the top Madhya Pradesh historical places to explore the splendor of Mughals. The tourist attractions in Burhanpur, built during Shah Jahan's rule are the most notable structures including Shahi Qila, a majestic palace in Burhanpur. If you are a fan of architecture, you can gaze in awe at the brilliant architectural works of sculptures and exquisite carvings.
Famous for: Asigarh Fort, Jama Masjid, Dargah-E-Hakimi, Shahi Qila, Zenana Hammam
Best time to visit: October to March
Stay options: Tapti Retreat, Hotel Madhuvan, JagJivan Hotel, Hotel Amber and Holiday Resort
Jabalpur – Splendid Marble Rocks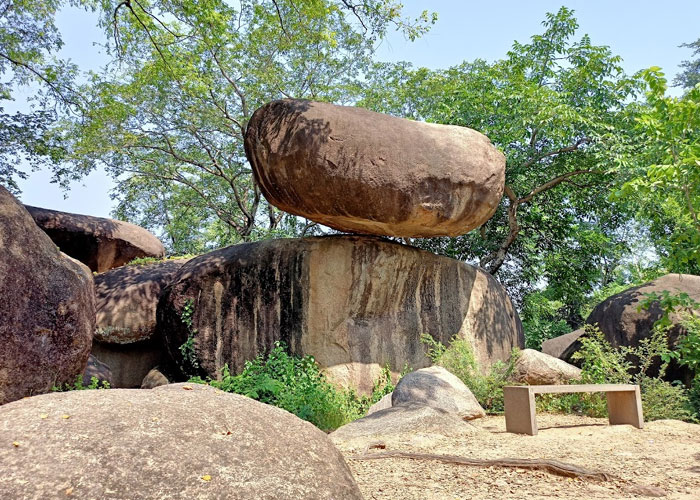 Sitting on the shores of the holy rivers of Narmada, Jabalpur is blessed with beautiful palaces and grand monuments that are a must-see on your heritage tour in Madhya Pradesh. Jabalpur is unquestionably one of the best historical places you will visit in the state as it captivates each tourist with its impressive structures. Some of them include Bhedaghat and Dhuandhar Waterfalls. Apart from this, Jabalpur is a paradise for archaeologists and geologists.
The idol of Lord Shiva at Kachnar city in Jabalpur draws masses as it is one of the tallest statues of Lord Shiva in a sitting posture. If you are a wildlife lover, Jabalpur is home to popular tiger reserves like Pench, Panna, Kanha, and Bandhavgarh.
Famous for: Dhuandhar Falls, Marble Rocks, Dumna Natur Reserve Park, Bargi Dam, Balancing Rock
Best time to visit: October to January
Stay options: Hotel Rishi Regency, Hotel Kanak, Hotel Gulzar, Hotel Vijan Palace, Samadariya Hotel
These were the best historical places in Madhya Pradesh to experience the rich heritage and gain an insight into the glorious past of the state. Moreover, you can stay at one of the heritage hotels in Madhya Pradesh for a unique and luxury experience. There are tales associated with each of the structures, monuments, palaces, havelis, etc. and will take you back to the times gone by, leaving you with an enriching experience. Plan a tour to Madhya Pradesh with us today and embark on a journey that you will remember forever. Excited to visit Madhya Pradesh?
Related Posts:
Explore the History of Madhya Pradesh with these Heritage Hotels
Visit top tourist attractions in Madhya Pradesh