With a history dating back to the 10th century, Assam is known for its glorious past and charming culture. No wonder this north-eastern state is the home to a number of heritage sites. The historical places of Assam are all about incredible ruins, ancient temples, magnificent forts and vibrant wildlife. Have you ever wanted to take up a heritage tour of this state? If yes, here is a rundown of the 11 best heritage sites in Assam that you must consider.
Heritage Sites in Assam
Rock Cut Caves, Bongaigaon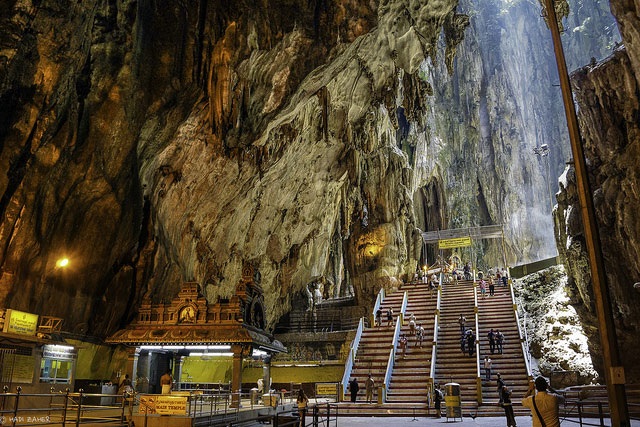 Rock Cut Caves in Bongaigaon is one of the mind-blowing historical places of Assam. The fine specimen of five rock-cut structures is a visual treat. Studies say that these caves belong to the Salastambha period. However, the finesse of the rock-cut caves will make you believe that it was established during a later age. The splendid architecture will often remind you of the culturally rich medieval era. Currently, the caves are preserved and protected by the Archaeological Survey of India. It is not one of the well-known attractions, but worth-visiting for heritage lovers.
How to reach: There are frequent buses and cabs on hire from Bongaigaon Town that can take you to the destination.
Best time to visit: November to March
Da-Parbatia Temple, Tezpur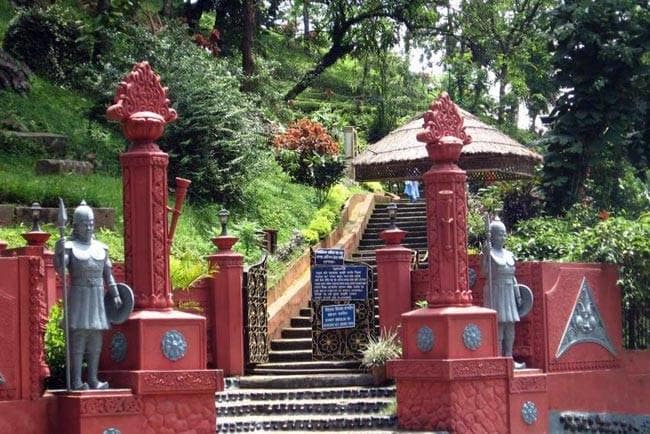 Da-Parbatia is one of the ancient Hindu temples in Assam. It has a history dating back to the 5th and 6th century. The temple ruins set amidst lush greenery and the snow-capped Himalayas which gives immense photography opportunities. The exquisite carvings and patterns bear resemblance to the Gupta School of Sculpture. Da-Parbatia Temple has a Nagara style of architecture and the door jambs are ornamented with figurines of mythological goddesses. This place is now a protected site under the Archaeological Survey of India.
How to reach: Da-Parbatia is well connected to Tezpur by a wide network of roads and railways
Best time to visit: November to May
Kolia Bhomora Setu, Tezpur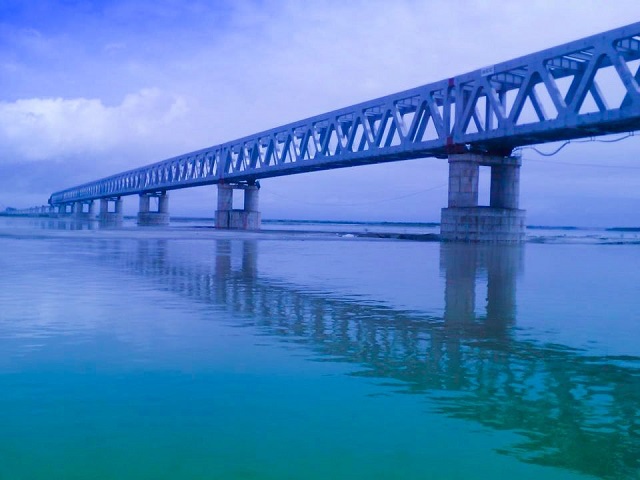 A trip to Assam is incomplete without driving through the iconic Kolia Bhomora Setu. The three kilometres long road bridge built over River Brahmaputra is one of the longest in Assam. It was originally constructed in 1987 for connecting Sonitpur and Nagaon districts. The bridge was named after the Ahom General and plays an important role in developing tourism in North-East India. For a more charismatic experience, go for a drive during the sunset and savour the surrounding. If you are a nature lover, a ferry ride under Kolia Bhomora Setu is also a good idea.
How to reach: Taxis and auto rickshaws are easily available from Tezpur.
Best time to visit: November to March
While your visit to Assam, a stay at the heritage hotel is also recommended. Please take a look at the heritage hotels in Assam.
Barbarua Maidam, Dibrugarh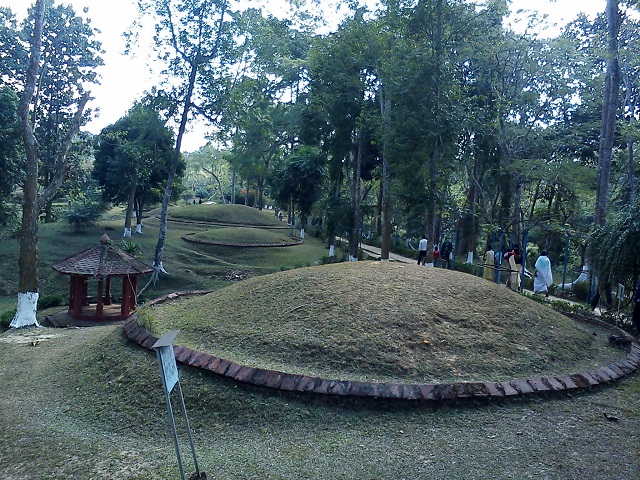 Located at a distance of fourteen kilometres, Barbarua Maidam is one of the key historical places of Assam. There are two maidams (royal graves) of high ranking officials belonging to the Ahom Dynasty.  Apart from these graves, there are two smaller maidams which probably belonged to the dead soldiers. No wonder, Barbarua Maidam is the finest example of the culture-rich Ahom period. Exploring the site will give you an insight into this dynasty that ruled the region during ancient times.
How to reach: Due to its close proximity to NH 37, many local buses from Dibrugarh halt near the site. Auto rickshaws and cabs can also be hired.
Best time to visit: October to March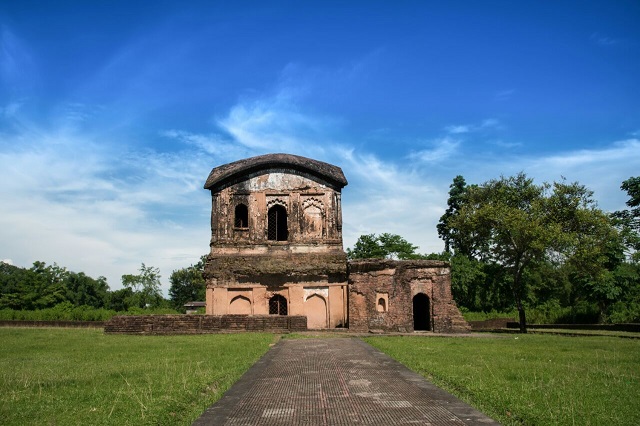 Kachar Fort often tops the chart of the most popular heritage sites in Assam. It was built by the Cachar clan during medieval times. The noteworthy architecture with splendid interior exudes charm and elegance. The fort is contoured with verdant hues which makes this place all the more picturesque. Although Kachari Fort is worn out with time, the eclectic mix of Non-Aryan and Hinduism culture enhances its glory.
How to reach: In order to reach the fort, local transports are available from Silchar Railway Station.
Best time to visit: October to June
Kaziranga National Park, Golaghat and Nagaon Districts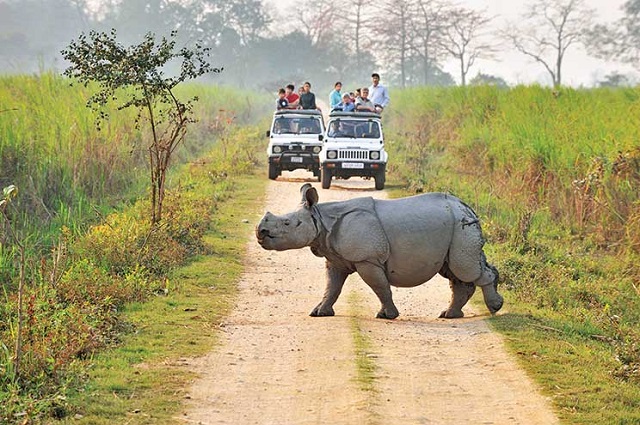 Kaziranga National Park is one of the most popular places to visit in Assam. The park is the home to the great One-Horned Rhinoceros. It was also declared a tiger reserve in the year 2006 and boasts a diverse flora and fauna. The national park also hosts large populations of water buffalo, elephants and swamp deer. It is also a UNESCO World Heritage Site and the ideal place to experience wildlife in Assam.
How to reach: The main entrance to the Kaziranga National Park is located in Kohara on NH 37. There is regular availability of private buses from Kohara to Tezpur, Guwahati and Upper Assam.
Best time to visit: Open for six months (November to April)
Kamakhya Temple, Guwahati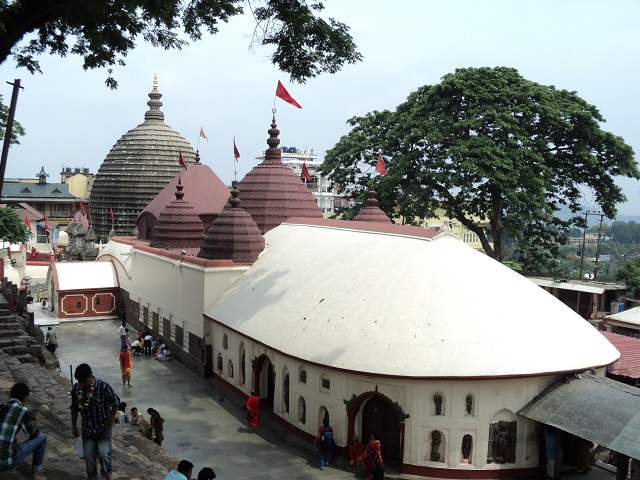 The sacred temple of Kamakhya Devi is a prominent religious site in Guwahati. It is one of the much revered Shakti Pithas that is flocked by pilgrims throughout the year. The shrine is well maintained by the authorities and the spiritual surrounding imparts peace of mind and soul. The Kamakhya temple is famous for its legendary tales and remarkable architecture. The large complex with the scenic view of the Nilachal Hills is a sight to relish.
How to reach: Guwahati is well connected by airways, roads and railways.
Best time to visit: November to May
Kareng Ghar and Talatal Ghar, Sibsagar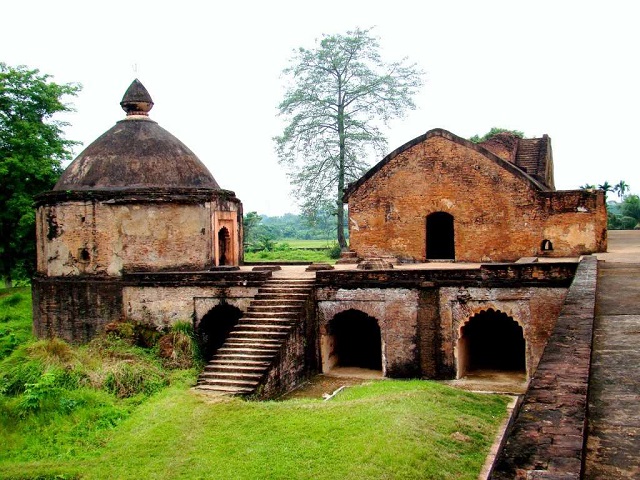 Kareng Ghar and Talatal Ghar are one of the top heritage sites in Assam. It is a historical treasure of the Ahom Dynasty and the grandest amongst them all. Swargeo Rudra Singha constructed a palace made from organic bricks at their former capital of Rangpur. Later on his successor Rajeshwara added a few more storeys to the palace and made it a seven-storeyed structure. The three ground storeys are known as Talatal Ghar and the next four storeys are called Kareng Ghar. Even today, the edifice stands tall in the Sibsagar District.
How to reach: Sibsagar is the nearest railway station that is located at an estimated distance of 4.7 kilometres from the palace.
Best time to visit: March and April
Gurdwara Sri Guru Tegh Bahadur Sahib, Dhubri
Gurudwara Sri Guru Tegh Bahadur Sahib holds a lot of significance to the Sikh community. The first Sikh Guru, Guru Nanak visited this place in 1505 when he was travelling from Dhaka to Assam. The gurudwara was constructed by Guru Tegh Bahadur in the memory of Guru Nanak's visit. It stands erect in the heart of Dhubri Town, on the banks of the mighty Brahmaputra.
How to reach: Dhubri Town is well accessible from different parts of Assam
Best time to visit: October to March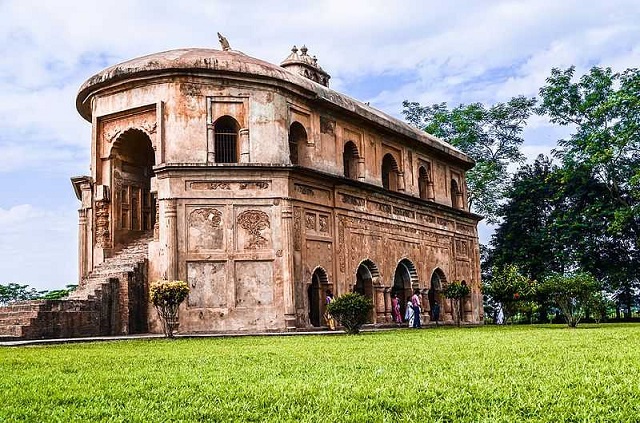 Rang Ghar is a remarkable two-storey building that stands tall since the Ahom period. It is a royal sports pavilion from where Ahom kings used to watch cultural programmes and traditional bull-fights. The pavilion was constructed by King Swargadeo during the 18th century. The main entrance is decorated with two stone carved crocodiles that welcome visitors with sheer magnificence. Even the interiors are adorned with beautiful sculptures that look no less than a wonderland.
How to reach: Fly to Jorhat Airport or arrive in Guwahati and proceed by road to Sibsagar. From Sibsagar taxis and auto rickshaws can be hired to reach Rang Ghar.
Best time to visit: October to February
Deoparbat Ruins, Golaghat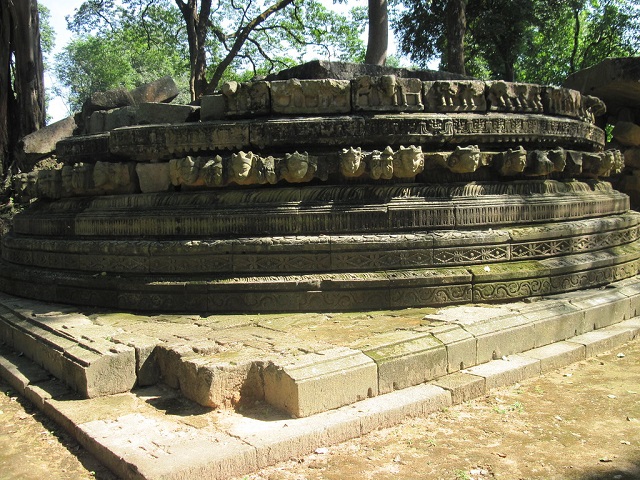 One of the major places to visit in Assam is the ancient ruins of Deoparbat. Perched atop a hill, it is basically the archaeological remains of a historic temple with broken sculptures scattered here and there. Reaching the temple requires moderate trek and is quite tiring but the sight of the ruin is spell-binding.
How to reach: Due to its close proximity to the Kaziranga National Park, taxis can be easily booked from the park to reach the Deoparbat Ruins.
Best time to visit: October to March
If you are intrigued by these historical attractions, it is time to plan a trip to Assam.
Best time to visit Assam
The best time to visit Assam is during the winter months that last from October to March. The weather is pleasant and perfect for sightseeing tours. If you want to get good deals on flights and hotels, planning a trip during summer is superb. However, the weather is hot and humid during this time of the year. Summer generally lasts from April to June. Assam experiences heavy showers during the monsoons. So, it is advisable to not plan a trip from July to September.