Khamma Ghani! If you are on the lookout for the best places to visit in Jaisalmer then you've landed on the right page. We have just the list for you!
Jaisalmer, a renowned city of Rajasthan has tales that fascinate, uniqueness to admire, and spirit to live. With a glorious past of courageous rulers and tales of valor, there are many places to visit in Jaisalmer that give you a deep look inside the times gone by. Plus, the heritage hotels in Jaisalmer give you the opportunity to live like the royals for as long as you desire and have a wonderful experience to share with your loved ones.
If you've wanted to explore the vastness of the Thar Desert on a camel for the longest time and experience the undaunted spirit of the Golden City, ensure that you include these 10 best places to visit in Jaisalmer on your next holiday.
Here are the 10 best places to visit in Jaisalmer to explore the gems of the sand city –
Jaisalmer Fort
Jaisalmer Government Museum
Nathmal Ji Ki Haveli
Salim Singh Ki Haveli
Patwon Ki Haveli
Mandir Palace
Jain Temples
Gadisar Lake
Bada Bagh
Folklore Museum
Jaisalmer Fort – Turns into Honey-Gold at Sunset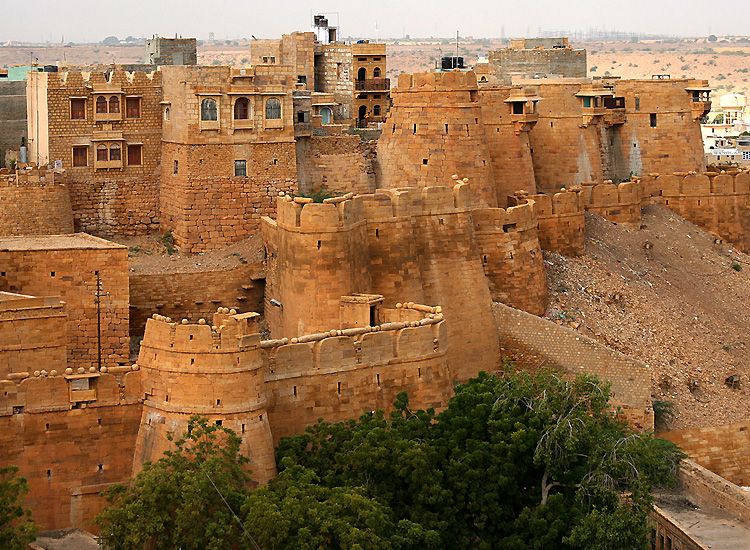 What better place to start the exploration of Jaisalmer than Jaisalmer Fort. It is a paradise for architecture lovers as the fort features intricately carved windows, stunning doors, and walls. The royal yellow architecture is so beautiful that it is renowned as one of the fortified cities in Rajasthan housing French, Italian, and native cuisines along with hotels and museums.
Built by the Bhati ruler Rao Jaisal in the 12th century, Jaisalmer Fort attracts many history buffs from all over the country, and thus, there is no wonder that it is one of the best places to visit in Jaisalmer. When the golden rays of the sun shine on the fort it looks spectacular, leaving the tourists amazed. That is why it is called the "Sonar Quila". Overlooking the city, Jaisalmer Fort offers a panoramic view of the entire city and is a tourist attraction that you cannot afford to miss.
[ Also read about top forts in Rajasthan. ]
Timings of the fort: 9 am – 6 pm
Entry charges: Indians – INR 50, Foreigners – INR 250
Jaisalmer Government Museum – A Rare Collection of Artifacts
For an insight into the past of Jaisalmer, visit Jaisalmer Government Museum. Statues, jewelry, rock-cut crockery, and traditional household items are all the things you will find inside the museum that dates back to the 9th and 7th centuries AD. If you are a history buff, this is your place to be. Besides being small, it houses many cultural artifacts and the Thar Desert's rich heritage.
The museum came into existence in 1984 and till date is among the top Jaisalmer attractions. The highlight of the Jaisalmer Government Museum is the exhibition of the state bird Godawan also called the Great Indian Bustard as a trophy. Moreover, there are huge collections of wood and marine fossils that are preserved here besides the rarest sculptures, making it one of the best places to visit in Jaisalmer with family.
Timings of the museum: 10 am – 4.30 pm (Mon to Thurs, Sat, Sun), Friday closed
Entry charges: Indians – INR 5 – INR 10, Foreigners – INR 50, free entry on Monday.
Nathmal Ji Ki Haveli – Different Architectural Styles in the Outer Structure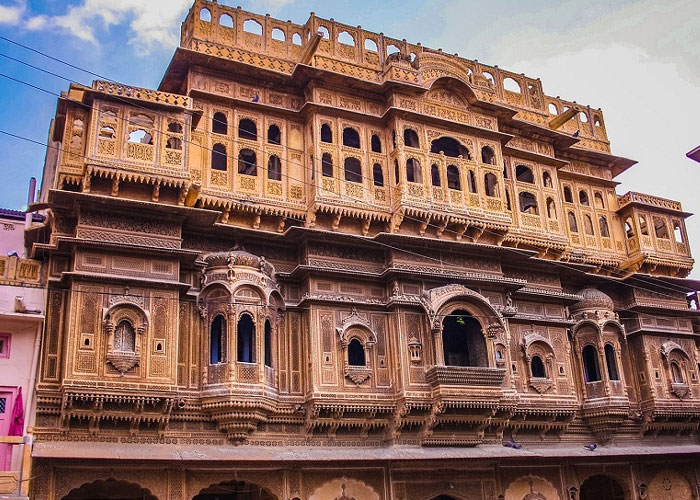 The unique feature about Nathmal Ji Ki Haveli is that it was constructed by two architect brothers, Hathi and Lulu who worked on two sides of the haveli. This resulted in two similar but non-identical sides. However, the architecture of this haveli is just immaculate. The outer carvings, the interiors with paintings, and modern facilities are what entices travelers to this tourist place in Jaisalmer.
The pillars and walls of the haveli have pictures of cattle and horses engraved on them of cattle, among other things. Also, Nathmal Ji Ki Haveli houses cars, fans, etc, which is one of the most interesting features of this place. People say that the brothers never ever saw these modern things in reality and engraved them with the mere help of their descriptions. All of these unique aspects make Nathmal Ji Ki Haveli one of the top tourist places to visit in Jaisalmer.
Timings of the haveli: 8 am – 7 pm
Entry Charges: None
[ Choose from our customized Rajasthan heritage tours. ]
Salim Singh Ki Haveli – Stunning Peacock Shaped Arched Roof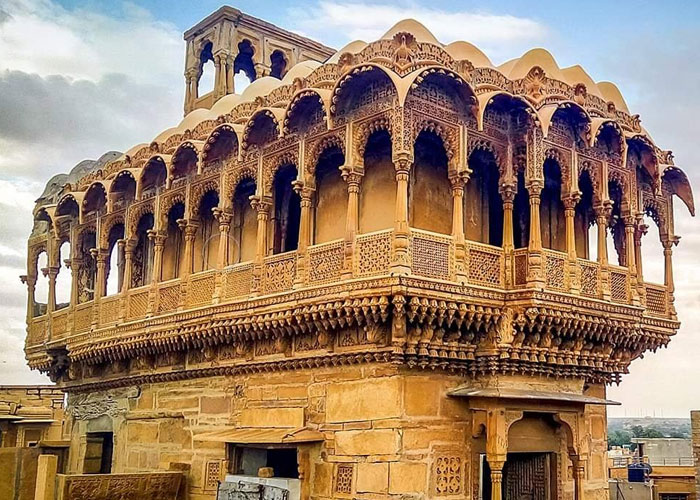 Revive the grandeur of the past at Salim Singh Ki Haveli, a stunning edifice located in the heart of Jaisalmer city. Witness the beautiful architecture and an extended arched roof designed in the shape of a peacock, which is quite the attraction of this haveli. Jahaz Mahal, located at the front facet is a place that looks like a ship stern and is not to be missed. Made with strong iron rods, Jahaz Mahal is famed for its architectural elegance.
You will be surprised to know that Salim Singh Ki Haveli in Jaisalmer is almost 300 years old with 38 intricately carved balconies all built in distinctive designs. In the 19th century, this haveli was constructed over the ruins of a previous haveli, commissioned by Salim Singh, the then PM of the Kingdom. Two stone-carved elephants with the interior walls having imperial paintings are figures that leave the tourists fascinated. There is also a Moti Mahal inside the haveli where dancers used to entertain the royal courtiers and aristocrats.
Timings of the haveli: 8 am – 6 pm
Entry charges: Indians – INR 5 – INR 10, Foreigners – INR 100
Patwon Ki Haveli – Cluster of Five Grandiose Havelis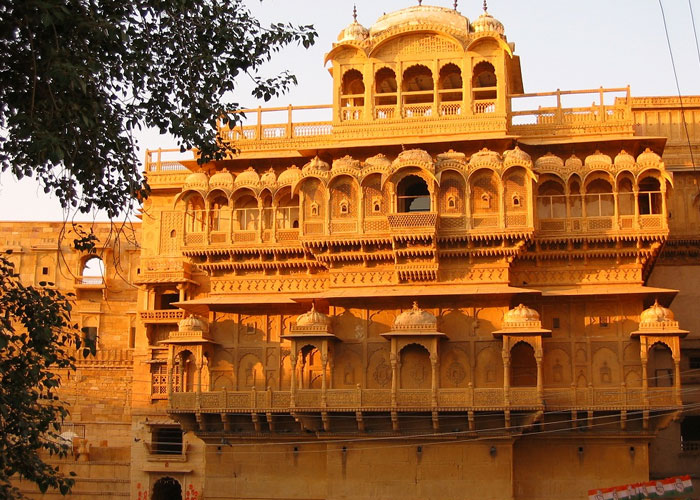 A huge attraction for architecture admirers, Patwon Ki Haveli is one of the largest Havelis in Rajasthan. Bestowed with wonderful paintings, graceful jharokhas (balconies), gateways, and archways, this haveli is one of the best places to visit in Jaisalmer. On your trip to the Golden City, witness this 19th-century marvelous haveli, which was a gift from Guman Chand Patwa to his beloved sons.
Patwon Ki Haveli is a group of five grand Havelis that was commissioned by a wealthy trader of gold and silver embroidery threads in 1805. History says that the family of the Patwas left the Havelis in the hands of its caretakers who for the time being became the owners. Shortly, the first haveli was sold to Mr. Jeevan Lal Ji Kothari and soon, Patwa Ki Haveli was renamed as the Kothari Patwa Haveli.
Timings of the haveli: 9 am – 5 pm
Entry charges: INR 100 per person
Mandir Palace – Stay like a Royal at Mandir Palace Hotel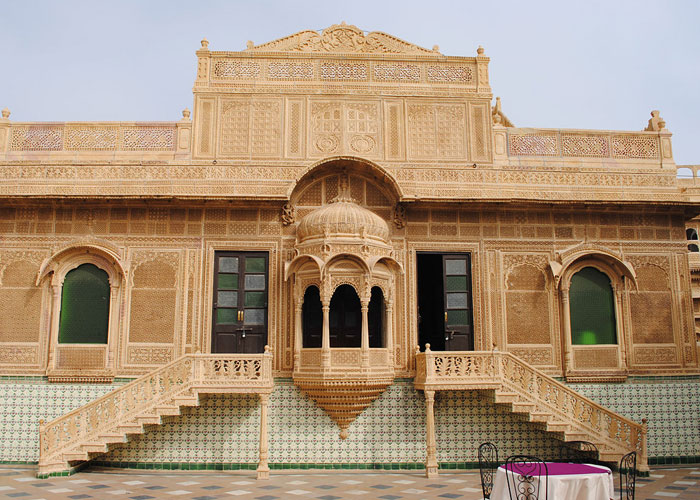 Fancy balconies, canopies, and carefully cut screens make Mandir Palace one of the most exquisite examples of craftsmanship. It has been a legacy of the Jaisalmer Rulers for two centuries and now serves as one of the major tourist places to visit in Jaisalmer city. The most recognizable feature of this palace is called the Badal Vilas, which is a tower emerging as the tallest structure underneath the slope top city post.
Constructed between the 9th and the 10th centuries, the rooms and interiors of this place are refurbished and now serve as Mandir Palace Heritage Hotel. With the finest restaurants serving authentic Rajasthani cuisine, and beautifully decorated rooms with modern amenities, you can enjoy a royal stay at Mandir Place Hotel and have the most memorable time on your Jaisalmer holiday.
Timings of Mandir Palace: NA
Entry charges: NA
Jain Temples – Paradise for Architecture Admirers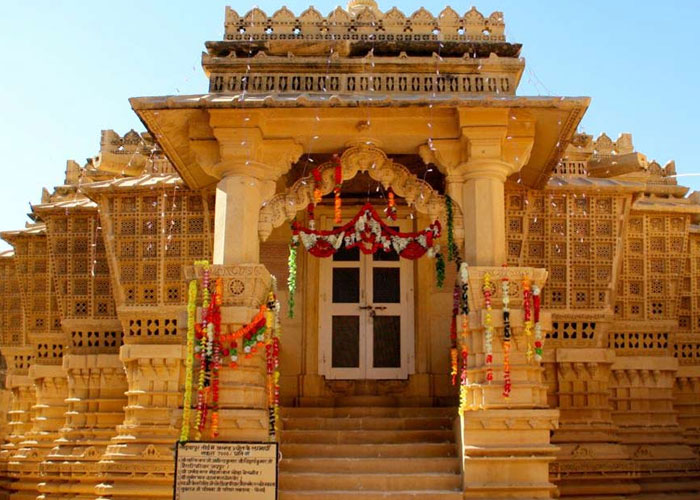 One of the top places to visit in Jaisalmer in 3 days, Jain Temples of Jaisalmer are known for their architectural grandeur, religious significance, and ancient knowledge attached to them. Designed in the Dilwara style of architecture, it is dedicated to Rikhabdevi Ji and Shambhavdev Ji. They are the treasure trove of Jaisalmer city and are great for those who are looking for history buffs and religious tourists.
There are seven beautiful temples that are linked to each other as they are built using the same golden yellow Jaisalmer stone. Also, each Jain Temple has its own tale to narrate. The most interesting part of these temples is the carved pillars and glass cupboard with images of gods and celestial women. You can also get a glimpse of the old texts and manuscripts present at the library called Gyan Bhandar.
Timings of the temples: 8 am – 12 pm
Entry charges: Indians – No entry fee, Foreigners – INR 10
Gadisar Lake – Encircled by Striking Temples of Jaisalmer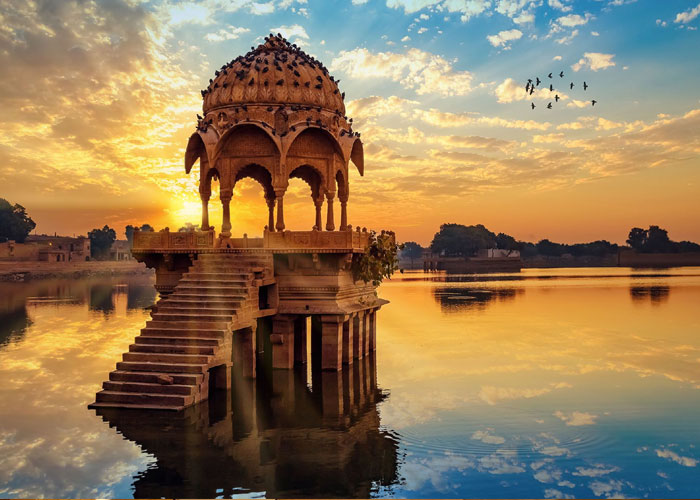 Offering picture-perfect sunset views, Gadisar Lake is one of the best places to visit in Jaisalmer for couples. Boating in the shimmering waters or indulging in bird watching at Gadisar Lake are the two most popular things to do in Jaisalmer. If you are planning to visit in March or April, make sure to attend the famous Gangaur Festival, which is quite an experience in itself.
Gadisar Lake looks absolutely stunning when the eastern sky is blood red and the sun rays are striking at the Jaisalmer Fort. It is a spectacular sight that you cannot miss. Talking about its history, back in the day, there were no canals or irrigation systems to supply water to the arid regions of Rajasthan. So, Raja Rawal Jaisal built Gadisar Lake to provide water facilities for his people keeping in mind Jaisalmer's hot and dry region.
Timings of the lake: 8 am – 7 pm
Entry charges: No entry fee. However, you need to pay for boating chargers.
Bada Bagh – Greenery Amidst the Arid Land of Jaisalmer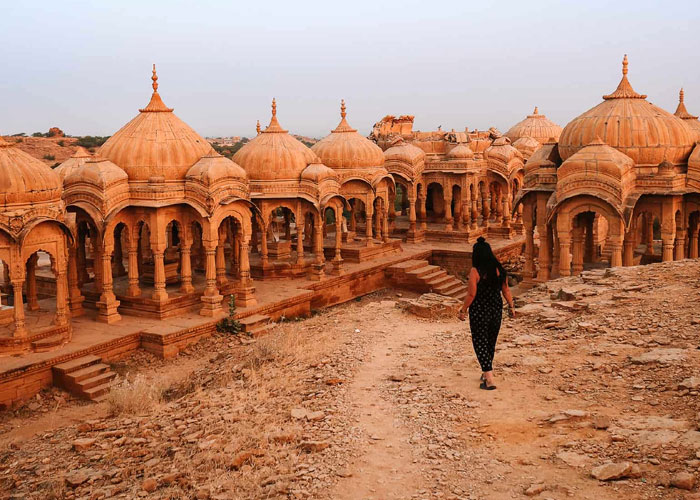 Bada Bagh stood the test of time and is now a sprawling garden. Many rulers made attempts to add greenery to the landscape of Jaisalmer and Bada Bagh is the result of that. This garden complex houses royal tombs and is among the popular places to visit in Jaisalmer. An artificial dam serves as the main supply to this garden, which entices many tourists who are on a trip to Jaisalmer.
Situated six km from Jaisalmer city, Bada Bagh was commissioned by Mahawata Jaisal Singh. The Hindu architecture will leave you fascinated and within the premises, you can see the cenotaphs and tombstones of the royal families dedicated to each of the Bhatti rulers. Some of these tombs are as old as the origin of Jaisalmer city and that is why it is a huge attraction among visitors.
Timings of the bagh: 8 am – 6 pm
Entry charges: INR 100 per person
Folklore Museum – A Peek into the Royal Past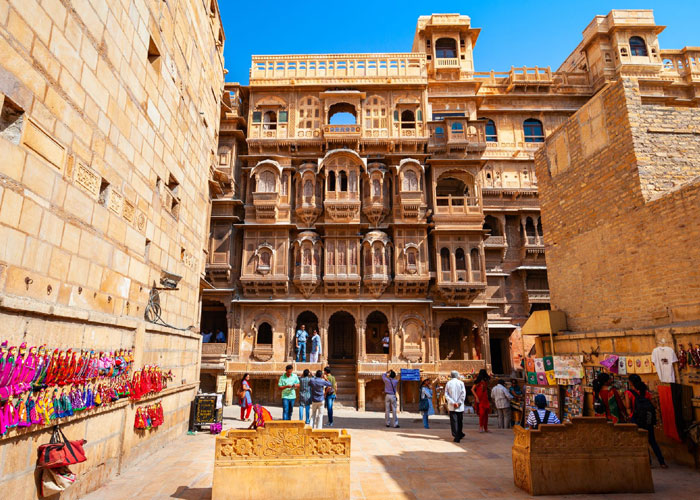 For an insight into the royal historical past and culture of Jaisalmer, Folklore Museum is a must-visit tourist place in Jaisalmer. Built three decades ago, this museum is located on the banks of Gadisar Lake and is a treasure for history lovers. The Folklore Museum was built by the initiative of NK Sharma who thought of displaying several artifacts, postcards, paintings, old coins, and manuscripts in one place for tourists to see.
Besides, the stunning architecture of the museum along with beautiful galleries and exhibits are the highlights of the Folklore Museum in Jaisalmer. There are separate sections for different exhibits including the fossils section, jewelry section, costumes section, ornaments of horse and camel, photographs section, and a coterie of paintings. So, if you want knowledge about the art and traditions of Jaisalmer, visit the Folklore Museum.
Timings of the museum: 8 am – 6 pm
Entry charges: INR 5 – INR 10 per person
Next time you are on a trip to Jaisalmer, make sure to add the best places to visit in Jaisalmer to your itinerary. Explore the grand forts, shimmering lakes, ancient beautiful temples, museums, and majestic Havelis. Take your family, beloved, or friends with you and stay in lavish heritage hotels in Jaisalmer like Suryagarh Jaisalmer, Jawahar Niwas Palace Jaisalmer, and Gorbandh Palace Jaisalmer for a unique, comfortable, and royal experience. Don't wait any longer and book a trip to Jaisalmer with us and dive deep into the glorious past of the Golden City, Jaisalmer.