The westernmost province of India, Gujarat is a vibrant and culturally-rich state, which has a unique charm. The list of places to visit in India includes of a plethora of options for its visitors. Evoking the wanderlust in you, this place is one of the best tourist destinations in India. A wonderful amalgam of rich historical past and a glance into the future, this place has peaceful beaches, temple towns, wonderful historical sites, diverse culture, colorful markets, sumptuous food, rich art and crafts, exotic wildlife and much more.
The blog enlists places to visit in Gujarat that you must not miss:
The sole home of the mighty Asiatic Lions in India, Gir National Park is one of the top tourist attractions in Gujarat. Other animals spotted here are porcupine, chinkara, jackal, sambar, striped hyena, wild boar, rusty spotted cat and so on. Bird watching is also quite popular here as the sanctuary has around 250 species of birds. Wildlife safaris are offered two times in a day. This forest was the former hunting grounds of the Nawabs of Junagadh.
According to the latest statistics, there are 523 lions and 300 leopards in the park, which is located quite close to Junagarh and Somnath. The animal wealth of this jungle comprises of 38 species of mammals, 200 kinds of insects and 37 types of reptiles. The best time to visit Gir is between December and March. Popular attractions located nearby that are worth-visiting are Somnath temple, Kamleshwar Dham, Girnar Mountain and Nalsarovar Lake.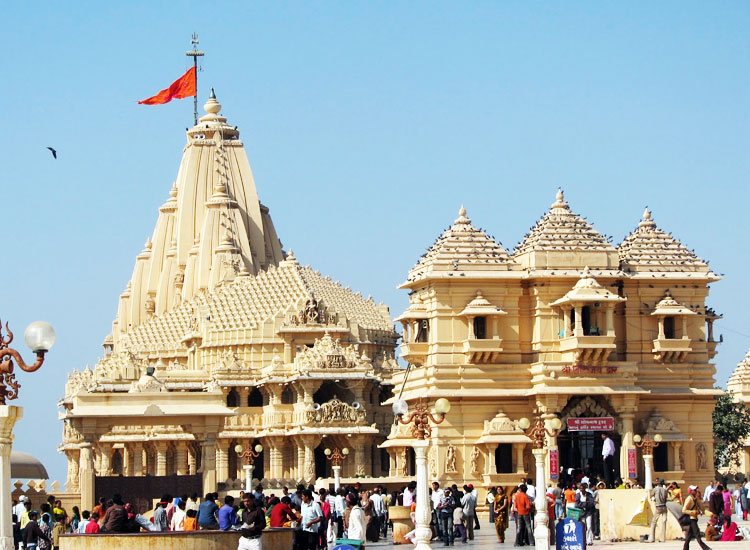 One of the twelve Jyotirlingas of Lord Shiva, the legendary Somnath temple is popular for being one of the most beautiful temples in India. The temple is visited by huge number of devotees as well as tourists every year. Built in Chalukya style of architecture, this temple has gold and gemstone ornamented in its intricate carvings. Due to this, it has also been ransacked a number of times by Islamic invaders, nevertheless, keeping its glory intact. The temple enjoys a wonderful seaside location.
Somnath temple is also known as Somnath Pattan, Deo Pattan, and Prabhas Pattan. It is believed the Moon God built this temple in gold to appease Lord Shiva, which was rebuilt in silver by demon King Ravana, by Lord Krisna in wood and finally in stone by King Bhimdev. The temple that is seen today was erected in 1950 by Sardar Vallabhabhai Patel. One can visit it from 06:00 AM to 09:30 PM.
The largest white salt desert in India, Rann of Kutch offers once in a lifetime experience through its various delights including ethnic art and craft. One of the highlights of a visit to this place is camel safari during night under the moonlit sky during the very popular Rann Utsav, which starts in December and ends in March. Eco-friendly accommodations can be booked in Dhordo and Hodka, which are nearby villages. Head to Kala Dungar, a popular sunset point
Shopping for handicrafts made by Kutchhi people, and binging of local spicy as well as sweet delicacies is a must. At the time of monsoon, the seasonal salt marshy land is filled with water and thus cannot be explored. Rann of Kutch has an area of 10,000 square kilometers, and spreads in India and Pakistan. Bird watching and wildlife safari is quite popular in Little Rann of Kutch. Walk on the Mandvi beach would be ideal too. One can also visit the popular sites of Dholavira and Bhuj.
Popular as the 'Manchester of the East', and the 'Textile City of India', Ahmedabad is a huge city, which is one of the best places to visit in Gujarat. This former capital city of the state is dotted with several brilliant attractions, including historical monuments, placid lakes, religious sites, amusement parks and much more. Not a single moment in this city can be boring for a tourist.
A wonderful destination for cultural aficionados, Ahmedabad is a wonderful mix of buildings with traditional and modern structure. Some of the popular attractions that one must visit here are Akshardham Temple, Kankaria Lake, Hathee Singh Jain Temple, Sabarmati Ashram, and Adlaj Step Well. This energetic city is the sixth largest city and has a lot to offer to its visitors.
Read about top heritage hotels in Ahmedabad.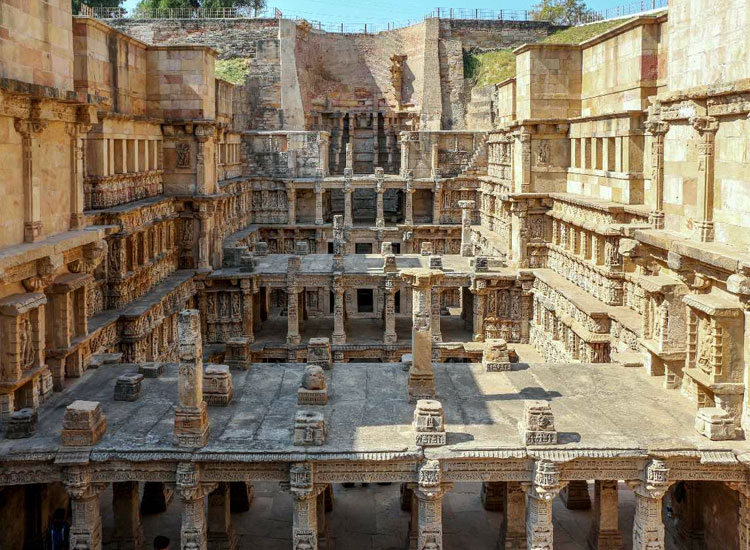 An outstand step well in the state, this architectural delight is one of the most popular attractions in Patan, a sleepy town. The well was fed by waters of River Saraswati, which slowly dried up. A UNESCO World Heritage Site, it was founded by Queen Udayamati (AD 1022-63) in the memory of her husband King Bhimdev I of Solanki dynasty. This step well is a proof of the craftsmanship of the artisans. The well has been made in intricate Maru-Gurjara style of architecture.
Designed in the form of an inverted temple, Rani Ka Vav was not only for collecting water but was also a site for the villagers to socialize with each other. It has over 500 chief sculptures and more than 1000 small beams, walls and pillars. There are mythological imaginary and mythological sculptures, along with carvings of ten incarnations of Lord Vishnu, Sheshnag, Brahmans, Buddha, Apsaras and Sadhus can be seen here.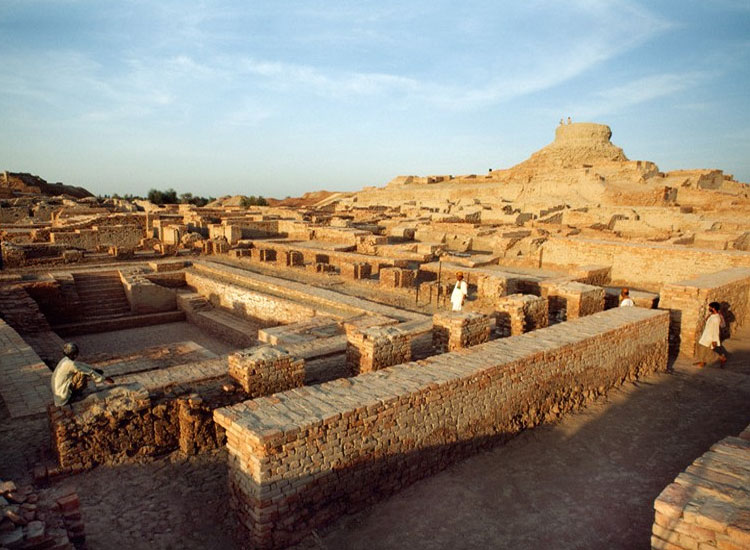 One of the most important cities of the ancient Indus valley civilization, Lothal was discovered in the year 1954. This excavation sites is located in the Bhāl region of the modern Gujarat state, just 75 km from Ahmedabad. The most prominent feature is the dockyard of Lothal that is one of the earliest known ones in the world. The city was an important player in the trade of gems, beads and valuable ornaments in the ancient times. 4000 years old tools for metallurgy and bead-making can be seen even today. The planners made the city in such a way that it was protected from continuous floods.
Today the remains of houses, workshops of blacksmiths and coppersmiths, the marketplace, the bead factory, and brick drains can be seen. Except Friday, Lothal Museum can be visited between 09:00 AM to 5:00 PM, at a minimal fee of INR 5 for Indian nationals and INR 100 for Foreign tourists. This well-stocked museum has around 800 excavated remains including ivory and shell objects, terracotta ornaments, replicas of seal, ivory scale, model of mummy, miniature potteries, human figurines, ritual objects, weights etc.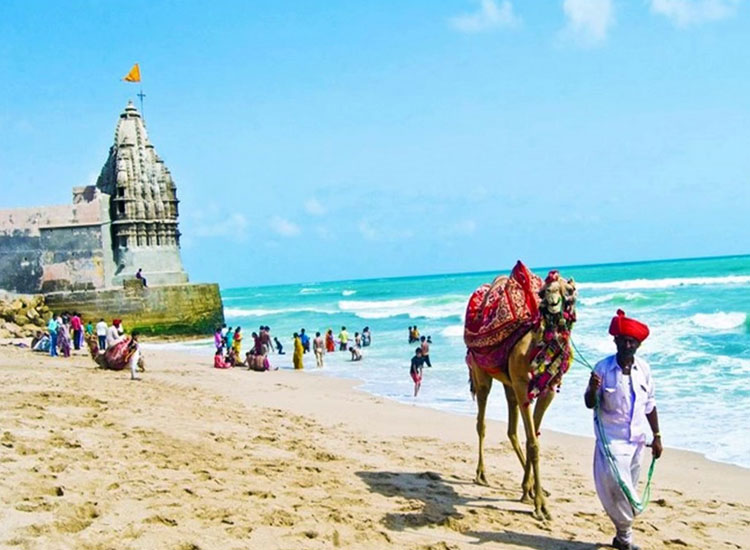 One of the revered Char dham destinations of Hinduism, Dwarka is known for being the ancient kingdom of much-loved Lord Krishna. This sacred city is also one of the 7 ancient towns of Sapta Puris. It is believed that after the death of the Lord Krishna, war broke out amongst the rulers of Yadava dynasty, and finally the city got submerged in the sea after a massive flood. The city that is seen today is man-made but holds a lot of religious significance and is visited by a huge number of devotees. The serenity and divinity are added charms.
Dwarakadhish Temple and Beyt Dwarka are the two prominent attractions here that must not be missed. A fleet of stairs take you to Gomti Ghat (river bank) where you can buy some wonderful seashell knick-knacks, savor a cut of tea, and have a look at the ornamented camels. Nageshwar Jyotirling Temple, Okha, Jagat Mandir, Gopi Tarav and Rukmini Devi temple are the other popular sights.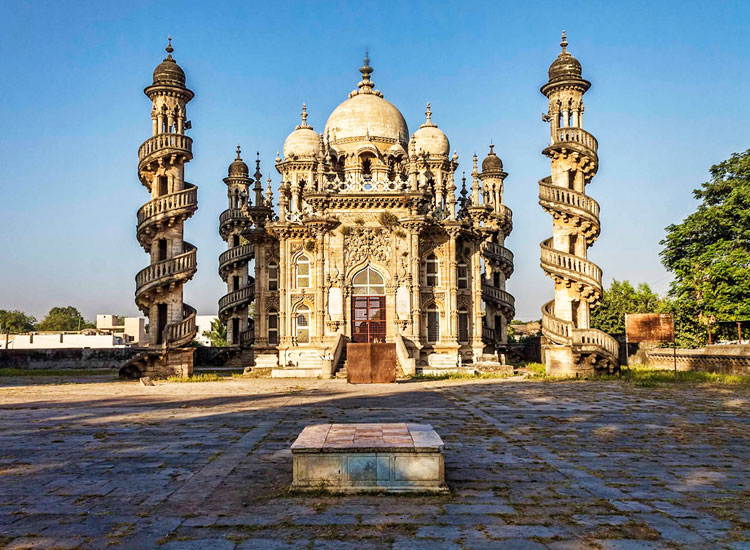 The erstwhile capital of the Nawabs of Junagadh, it is an important tourism and pilgrim destination in Gujarat, which was also known as Sorath. Located in the foothills of Girnar, this city has several attractions worth-visiting including Hindu temples, Buddhist structures, mosques and so on. Sacred temples of Jains and Hindus lie on a high pedestal that are accessible by 9999-steep staircase along the hills. Do not miss visiting the step wells also, including 2000 years old Navghan Kuvo.
Mahabat Maqbara, Narsinh Mehta's Choro, Durbar Hall Museum, the sacred Mount Girnar with importance in Jain community, Damodar Kund, Jama Masjid, Ashoka's Rock Edicts, and Upperkot Fort are the popular attractions in Junagadh.  A wildlife safari at the Gir National Park can also be planned.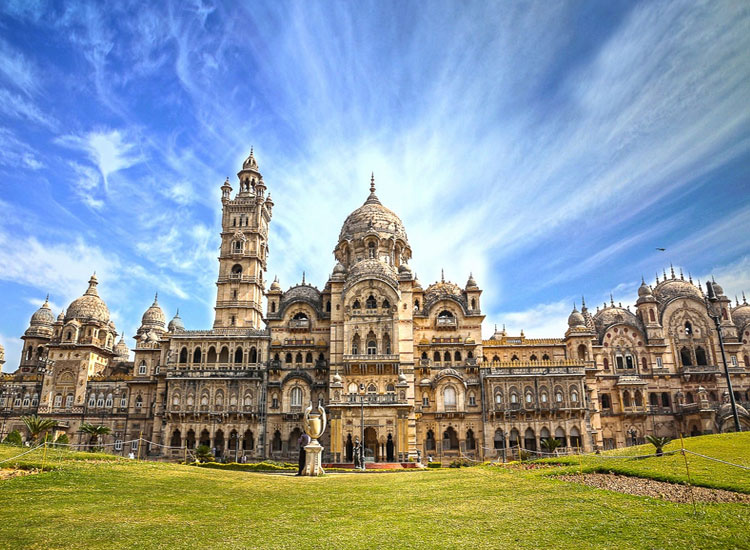 Often referred to as the 'cultural capital of Gujarat', Vadodara is quite popular for keeping its age old traditions completely alive through its music, arts, as well as culture etc. This bustling city is dotted with several delights including historical monuments, parks, museums, religious sites and many other famous buildings. Nazarbaug Palace, erected in the year 1721 is a beautiful structure, which is dedicated to the Gaekwad Dynasty of Vadodara. It also comprises of a museum that has royal belongings like jewelry and clothes on display.
Another popular attraction that is a must-visit is, the magnificent Laxmi Vilas Palace, a wonderful piece of Indo-Saracenic style of architecture. If you have an interest in history then you should not miss a visit to Vadodara museum, and Fateh Singh Museum. S-Cube water park offers a delightful visit to children as well as adults.  EME temple, Baroda Museum & Picture Gallery, Sayaji Baug, Kabirvad, Sursagar Lake, and Baps Shri Swaminarayan Mandir are the other attractions that are popular here. You can plan your stay at A Home for Nature Lovers on your visit to Vadodara.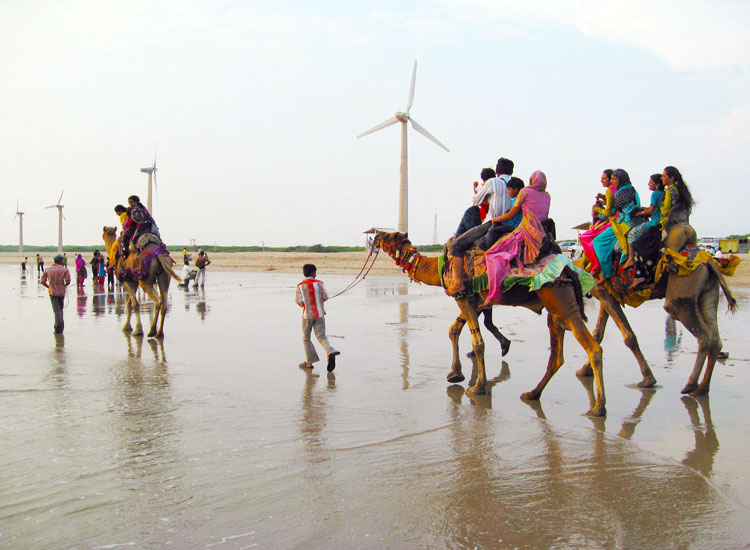 One of the best places to visit in Gujarat, Mandvi is just an hour's drive away from Bhuj. If you wish to enjoy a peaceful beach vacation in Gujarat, this is the place to be. It was once the summer haven of the rulers of Kutch, and boasts of peaceful ambiance and wonderful views.  It was also popular in the form of a popular shipbuilding centre, nevertheless, one can still watch the locals busy in making wooden ships using their hands, on the banks of Rukmavati River.
Relish the serenity as you take a walk at the sparkling Mandi beach. Water sports activities such as boating and jet-skiing are also offered here. Interact with the locals to know more about Kutch culture. Camel rides at the Kashivishvanath beach is also quite popular. Right behind the Vijay Vilas Palace is the Maharao's private beach that can be visited just by paying a small fees.
Champaner – Pavagadh Archaeological Park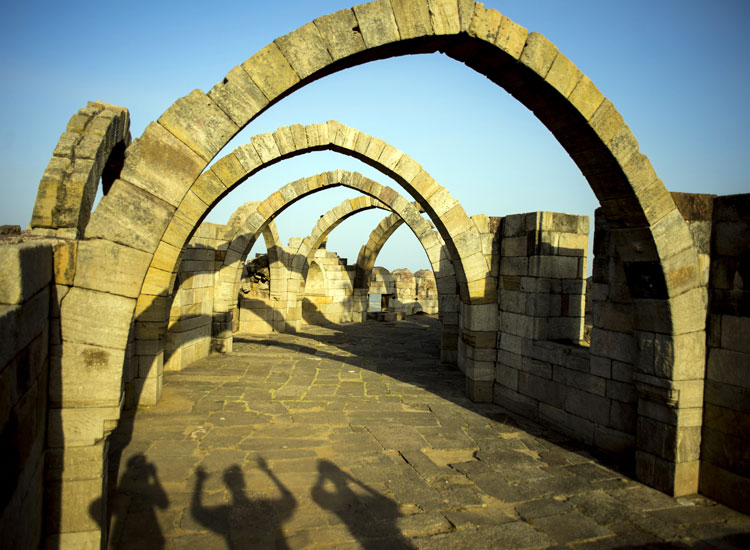 One of the most popular historical sites in Gujarat, Champaner is located at a distance of just 47 km from Vadodara. One of the most popular attractions here is the popular Champaner -Pavagadh archeological park, which is also a UNESCO world heritage site. This historical city was founded in the 8th century by Vanraj Chavda, one of the most important rulers of the Chavda dynasty. It was also the capital of the Gujarat province for some time.  The site lies at the foothills of Pavagadh Hill.
Placed amid an interesting location, a blend of mainly unexcavated historic, archaeological and cultural sites, the park comprises of wells, mosques, terraces, temples, walls, residencies, fortifications, water installations, agricultural set-ups etc. The Kalikamata Temple on top of Pavagadh Hill is an important sacred site even today. Kevda Masjid and Cenotaph, Jami Masjid, Nagina Masjid and Cenotaph, Sahar Ki Masjid, Lila Gumbaj Ki Masjid, Lakulisa temple, Sikandar Shah's Tomb, are the other significant sites. This place is the sole untouched and complete Islamic pre-Mughal city.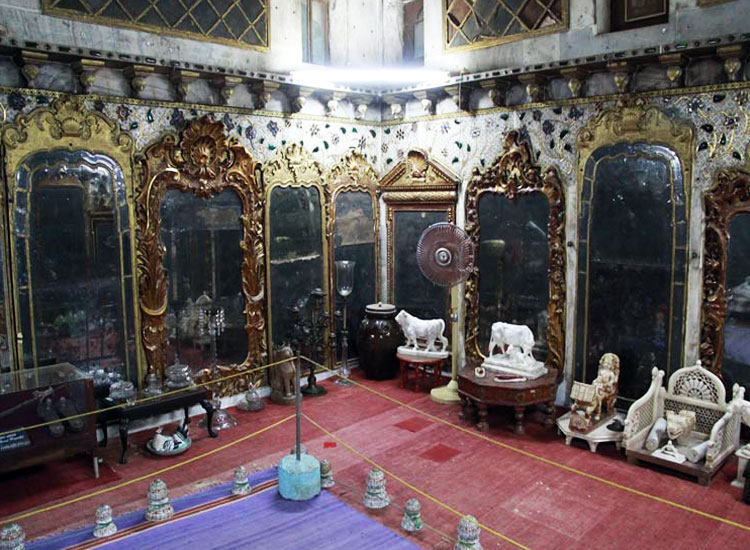 Home to a number of wonders, Bhuj is one of the best places to experience and explore the rich heritage and history of the state through its splendid structures. The capital of Kutch region, it was highly damaged during the earthquake of 2001, but was able to completely resurrect itself after that. During a visit, the tourists can get their hands on some amazing handicrafts items made by Kutchhi people. The mystical Baug Palace, Prag Mahal and Aina Mahal must be visited, along with admiring the architectural marvel like Swaminarayan Temple.
For wildlife lovers, there is Khavda Natural Park. You can also visit the surrounding villages to get a sneak-peek into the lifestyles of the locals. As Bhuj is famous for its textile tourism, you can get your hands on some wonderful pieces. The well-stocked Kutch Museum must also be visited. If you love bird watching, head to Chhari Dhandh.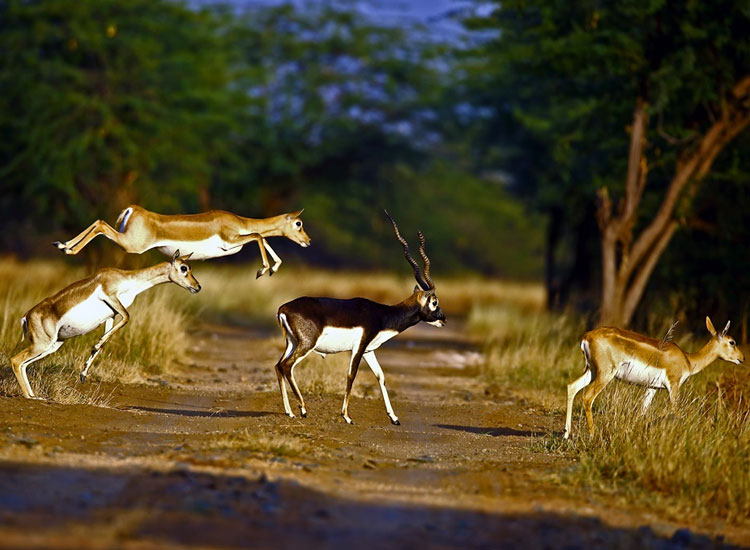 One of the best places that sells some amazing pottery and silver items, Bhavnagar is known as the 'Cultural hub of Gujarat'. The city is dotted with a number of historical and cultural sites including temples, monuments, and palaces. Exotic wildlife is another highlight of this place. It has something for tourists with all kinds of interests. Bhavnagar is also known as 'Kashmir of Saurashtra' due to immense scenic beauty.
Plan a picnic with your loved ones at the Gaurishankar Lake. An excursion to Mahuva can also be planned. It is a small town with lush ambiance and wonderful weather. In the evening, enjoy a walk at the pristine Gopnath beach. Some of the other places worth-visiting are Mangalsinhji Mahal Palace, Gopinath Mahadev Temple, Victoria Park, Takhteshwar Temple, Palitana Jain Temples, Nilambagh Palace, and Velavadar Blackbuck National Park.
Read more about heritage hotels in Bhavnagar.
Shatrunjaya Hills, Palitana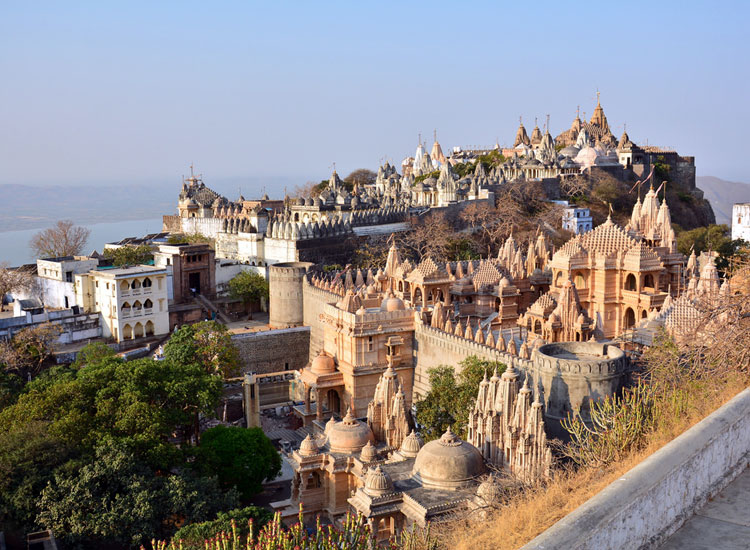 One of the grandest structures in the Gujarat state, Shatrunjaya hills contain the sacred city of the followers of Jainism. Around 51 km from Bhavnagar, Palitana is known to be one of the most important sites of Jainism in India. The temple site is about 3 km away from the main town, which originally was a small princely state that was established by Shahji, a Gohel Rajput.
The site of Shatrunjaya Hills in Palitana has around 863 Jain temples that are made up of white marble. These temples were constructed during a long period of 900 years in 2 phases. One needs to climb up approximately 300 steps on a steep path for around 600 m to arrive at these temples. Once you are at the top, the views are wonderful. For devotees who are not in a condition to do so, palanquins and lift chairs are also available. The temples are quite popular for their marvelous architecture. One of the most popular temples here is the Adishwar temple.  Vijay Vilas Palace Hotel is one of the best heritage hotels to stay at Palitana.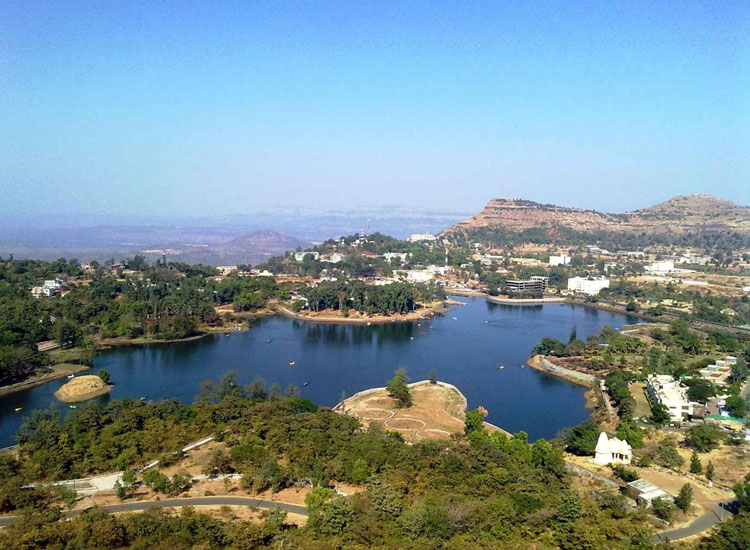 The only hill station in Gujarat, Saputara is a beautiful hill town nestled amid the Sahyadari hills. It is a pleasant respite from hot and humid climate of the state and has highlights like stunning scenery, green hills, and cool breeze. Around 170 km from Surat, the place becomes all the more beautiful during the rainy season. Adventure enthusiasts can trek up to the Gandhi Shikhar for partaking in bird watching and for breathtaking vistas.
Visited all around the year, this place is positioned on the border of Maharashtra and Gujarat and thus is a famous weekend getaway too. It is also said that Saputara is the place where Lord Rama with Goddess Sita and Lord Lakshmana had spent 11 years during his exile. Enjoy boating in Saputara Lake, and a ride in the Ropeway. Other nearby attractions are Saputara Tribal Museum, Hatgad Fort, Purna Sanctuary, Gira falls, Sunrise and Sunset point, Vansda National Park, Artist Village, and Purna Sanctuary.