Tamil Nadu, one of the largest states in South India, prides itself in being the land of the Tamils. It has been blessed generously by nature and boasts a glorious heritage and culture. It boasts one of the largest beaches in the world, the Marina Beach, as well as the oldest temples in India, some of which are UNESCO World Heritage Sites.
Then there is the other Tamil Nadu, the one where swanky shopping malls dominate the skyline and uber-cool lounges are the favorite hangouts of youngsters. The enormous variety offered by the state is a boon to the traveler. In this blog, we tell you the places to visit in Tamil Nadu for a holiday filled with special experiences.
Any visit to Tamil Nadu must invariably include Chennai, the capital of the state. You will find a little bit of everything here that Tamil Nadu is famous for. Its prime attraction is the Marina Beach, the longest beach in India and the largest in the world. You should also visit the Fort St. George which is home to St. Mary's Church, one of the oldest built by the British. If you happen to be a lover of arts and crafts, then Cholamandal Artists' Village is the right place for you.
Mahabalipuram is one of the prime attractions of Tamil Nadu and most famous for its exquisitely carved temples and rock-cut caves. Once in Mahabalipuram, you should check out the famous Group of Monuments in the town of Mamallapuram which are also a UNESCO World Heritage Site. Another brilliant structure showcasing the rich heritage and culture of Tamil Nadu is Sthalasayana Perumal Temple, built by Pallava kings around 6th to 8th century BC. The other attraction of this place is its beaches, namely Mahabalipuram and Pallava Beach.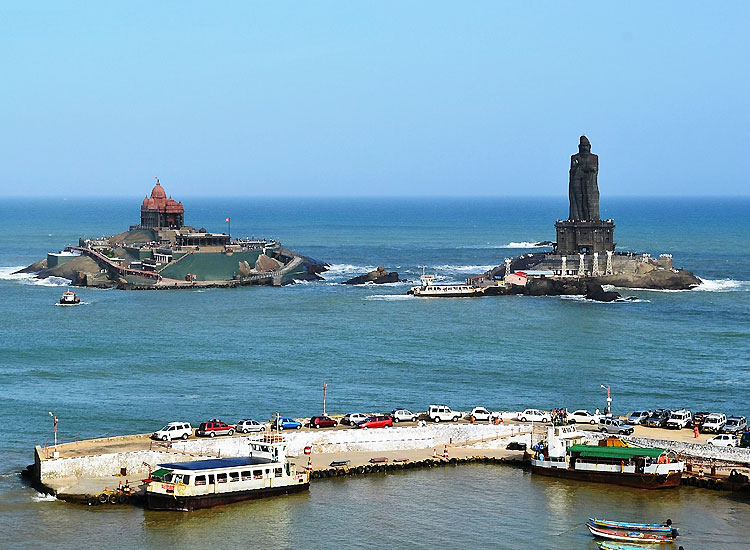 Lying at the southern tip of India, Kanyakumari is a beautiful place to be in. The iconic structures of this place are the Vivekananda Rock Memorial and Thiruvalluvar statue. Both of these monuments have something to offer in terms of heritage and history. The Padmanabhapuram Palace, a brilliant granite fortress, was once the residence of the Travancore rulers and consists of several beautiful buildings. If you are a history lover, head to the Vattakottai Fort or pay a visit to the Kumari Amman Temple.
Pondicherry, also known as Puducherry, bears strong imprints of French culture in its buildings, streets, hotels and restaurants. Its one of the historical places in Tamil Nadu which you should visit. This is because Pondicherry, which is always a part of Tamil Nadu, was under the French jurisdiction till 1954. As with most other places, Pondicherry Beach is a great place to be in. You should also take a walk on the Promenade, which is built in the French style and is great for enjoying a morning or evening walk. Manakula Vinayagar Temple is another popular pilgrimage site associated with a fascinating history.
[Check out heritage hotels in Pondicherry for a perfect stay.]
In Thanjavur, you come across the finest heritage that South India, and particularly, Tamil Nadu, is famous for. Once the capital of the Chola kingdom, it preserves its historical structures in an excellent way. Thanjavur is home to the Great Living Chola Temples, which are all UNESCO World Heritage Sites. These temples are Brahadeeswara Temple, Gangaikonda Temple and Airavateshwara Temple, all of them repositories of heritage and culture, and embodiments of architectural exquisiteness. The other places to check out are Thanjavur Royal Palace and Royal Palace Museum, which showcase its glorious past.
Madurai finds a mention in the list of the oldest cities of India. The entire city has been built in the shape of a lotus, and this is also why it's known as the Lotus City. The crown of the city is the Meenakshi Temple, which covers almost 15 acres and consists of 12 towers. Another religious structure is St. Mary's Cathedral which is one of the oldest Roman Catholic Churches in India. An enjoyable experience in Madurai is a trip to the Banana Market, where over 16 varieties of bananas are sold. If all that sightseeing and exploration leaves you hungry, head to Murugan Idli Shop for some mouthwatering idli and dosa.
Kodaikanal is one of those destinations which you should visit on your Tamil Nadu heritage tour. Its spectacular natural beauty combined with the opportunities it offers to enjoy various activities certainly makes it a highly sought after honeymoon destination. Kodaikanal is the kind of place where you go to spend your time in utter leisure. You can enjoy boating on The Lake, enjoy the flowers at Bryant's Park, visit the Kurinji Andavar Temple (named after the Kurinji flowers that bloom once every 12 years) or come across heritage at the La Saleth Church (150yrs old church).
Rameswaram, located at a distance of 570km from Chennai, is a place immersed in mythology and history. Tourists coming to Rameswaram cannot miss the darshan of Ramanatha Swamy, along with bathing in all the 22 theerthams to absolve oneself from all sins. Apart from religion, this place also offers a lot in terms of sightseeing. If you come to Rameswaram with Tamil Nadu heritage tour, you should not forget to try your hand at scuba diving or watching the migratory birds.
Tiruvannamalai is overlooked by the beautiful Annamalaiyar Hill. The British also called this temple Trinomali or Trinomalee. Tiruvannamalai is a beautiful little temple town where you can spend a quiet getaway exploring the ancient temples and enjoying the natural beauty. The main temple which you should visit is Annamalaiyar Temple. Spread over 25 acres, it consists of several shrines, mandapams and other enclosures. You can also choose to spend some time at the Ramana Ashram, where Raman Maharishi is believed to have lived and taught the simple way of life. For enjoying the natural beauty of this place, head to Javadu Hills, Beema Falls and Komutteri Lake, besides others.
It's believed that visiting the temple town of Kanchipuram leads one to attain salvation. It's considered to be one of the holiest towns of the country. Every temple here is associated with a fascination history and heritage. You should take a temple tour to explore the heritage of this place. Kanchipuram is also famous for its silk industry, which has its roots in this place for the few hundred years. Kanchipuram is also home to a few archaeological sites like Mamallapuram, Sadras and Kooram which are treasure-houses of history, culture and heritage.
[Discover the fascinating historical places in South India.]
If you are looking to spend a memorable holiday in the hill stations of Tamil Nadu, then Coonoor is where you should head to. The sight of green slopes of tea plantations greet you as you arrive at Coonoor, an introduction to the kind of natural beauty this place is famous for. Lying in close proximity to Ooty, its home to several natural attractions including St. Catherine Falls, Lady Canning's Seat, Lamb's Rock and Sim's Park. To learn about the process of making tea, head to the Guernsey Tea Factory.