You know there are some places which truly overwhelm you? Like you were better before visiting them, but when you actually do, you are a totally different person. For me, Udaipur is that place. A city which sits along the Lake Pichola, jammed with the crowd on some days, listening to experience of solo travelers on other. Possibly, you would spend number of days here exploring its streets, palaces, havelis, temples, still feel, can't I stay longer? We all know that feeling! You know what, I think I should list down some experiences that are worth looking forward to in Udaipur. Sounds like a plan, right? Let's start exploring!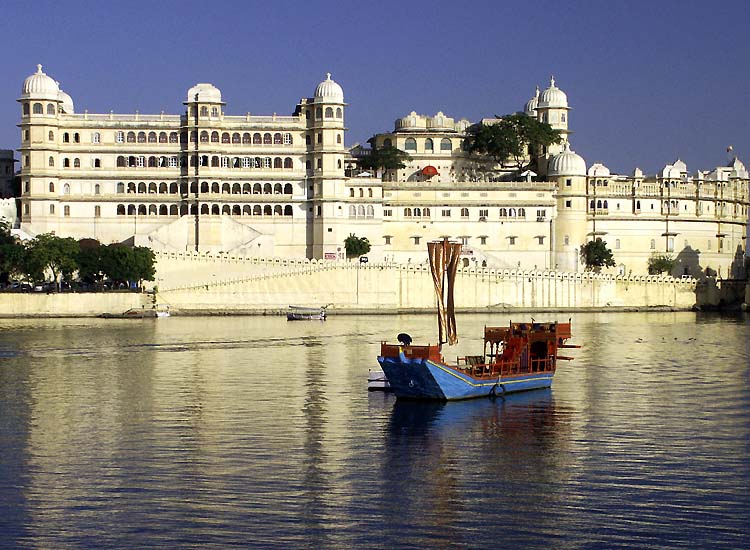 So I'll quickly take you for a tour to City Palace, Udaipur's most praised tourist attraction. Why? Look at the architecture fellow traveler. It is said that this palace which has 11 more palaces in it, embraces Mughal and Rajasthani style of architecture. Sitting atop a hill, and to the east of Lake Pichola, you can have a panoramic view of the surroundings, fulfilling?
Highlights:
City Palace took 400 years and the efforts of 22 generations of Sisodia Rajputs to get all dolled up.
Timings:
9:30 AM – 5:30 PM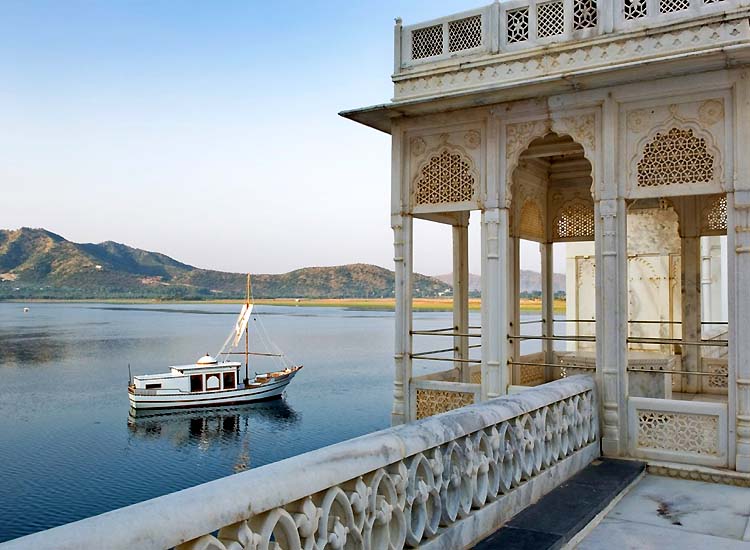 The sweet flavors of life come alive upon a visit to Lake Pichola. It is one of the most soothing tourist spots in Udaipur which barters charm from the attractions encircling it. The lake is man-made in nature and was gifted to the city in the year 1362 AD. Coming here with your loved ones, is one of the best ways to enjoy the enchanting beauty of this lake.
Highlights:
Pichola Lake was the brainchild of a local banjara tribal leader, who in order to carry grain from one stream to other created it in the 15th
As the sun gets ready to bid goodbye, don't forget to hop on a boat and relish it.
Jag Mandir, Arsi Vilas and Mohan Mandir, Gangaur Ghat, Natini Chabutra, are some main attractions to be covered.
Walk down the Swaroop Sagar Bridge which connects Lake Pichola, Swaroop Sagar and Fateh Sagar Lake in evening.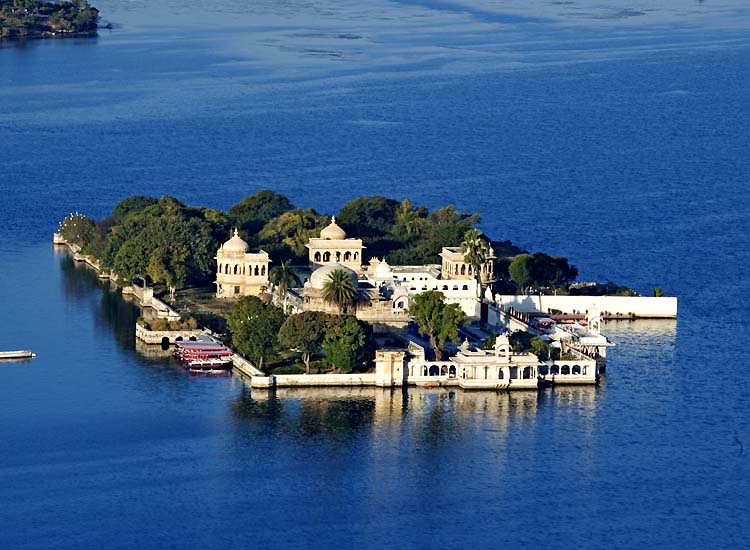 Move a little towards the South of Lake Pichola and you would see a shining marble palace pulling you towards it. As soon as you get on a jetty from Bansi Ghat and reach close to it, you see 4 intricately carved marble elephants welcoming you to the Jag Mandir. It is a 16th century built palace, and is praised as one of the major attractions of Udaipur. The palace rests on an island in Lake Pichola and was built under the rule of three Sisodia Rajputs, Maharana Amar Singh, Maharana Karan Singh and Maharana Jagat Singh I. Jag Mandir is also known as Jagat Mandir in honor of the Mewar kingdom ruler, Maharana Jagat Singh I.
Highlights:
Jagat Mandir is also known as Lake Garden Palace.
Gul mahal built in 1551 was the first gem added to the treasure of Jag Mandir. This tourist place has served as a refuge for the Mughal Emperor, Shahjahan. Moreover, when the famous revolt of 1857 was fought, the palace gave shelter to European families on the orders of Maharana Swroop Singh.
Jag Mandir has also been a major source of inspiration for Taj Mahal.
It houses a museum, a restaurant, bar, spa and hotel rooms.
Timings:
10:00 AM – 6:00 PM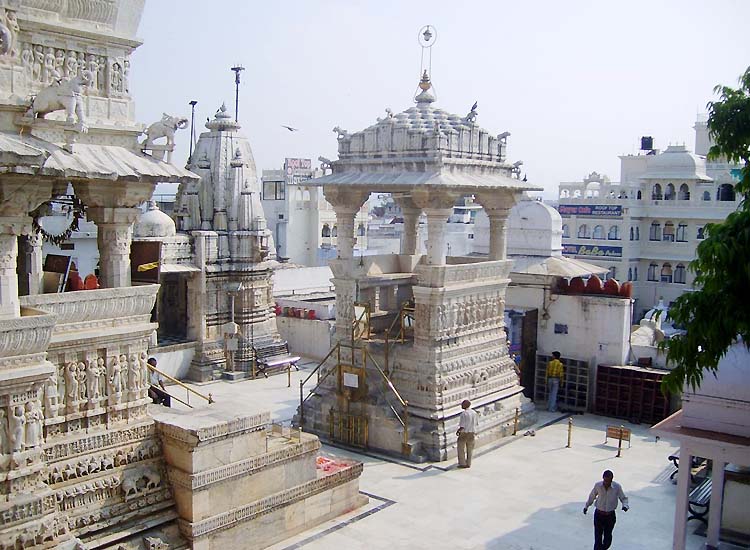 Just at a short distance from the city centre, is the abode of Vishnu, Lord of the Universe, Jagdish Temple. The fine Rajasthani architecture of this 1651 built marvel is a blessing for not just the city but for the travelers coming here. The architecture celebrates the structures and skills of the former craftmen. Come here early morning, climb up the 32 steps and first meet the brass carved vehicle of Lord Vishnu, Garuda. Advance to the main shrine and soothe your senses by the chants sung for the black stone image of the deity.
Highlights:
Adding more spirituality to the setting, temples of Lord Shiva, Goddess Shakti, Surya and Lord Ganesha encircle the main shrine of Lord Vishnu.
Timings:
5:00 AM – 2:30 PM
4:00 PM– 10:00 PM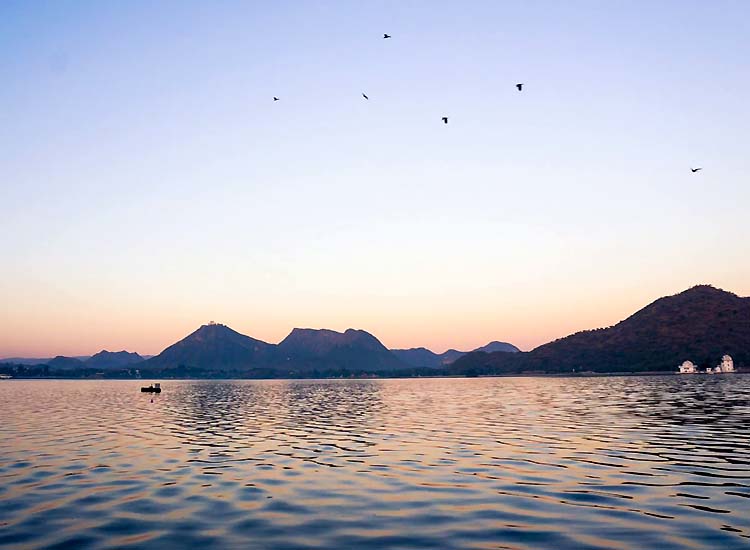 This lake is the perfect escape from the hustle and bustle of the city, snuggled towards the north of Lake Pichola. It was bestowed upon the city by Maharana Jai Singh in the year 1678. In the coming years, the dam was destroyed after flood, but thanks to Maharana Fateh Singh who built the Connaught Dam in 1888. The dam was created to welcome Duke of Connaught but was later renamed Fateh Sagar Lake. Moreover, this tourist spot stands in the race among the four lakes of Udaipur and is home to three islands. Sit close to the lake and rejuvenate or choose to ride one of those colorful boats. The soaring hills and the surroundings woods make for a perfect landscape picture worth capturing.
Highlights:
One can choose to spend some time relaxing at Nehru Island, the largest among the three.
The second island is home to a water-jet fountain and a public park for recreation.
The famous Udaipur Solar Observatory sits on the third island.
[Have a look at the top heritage hotels in Udaipur.]
Timings:
8:00 AM – 6:00 PM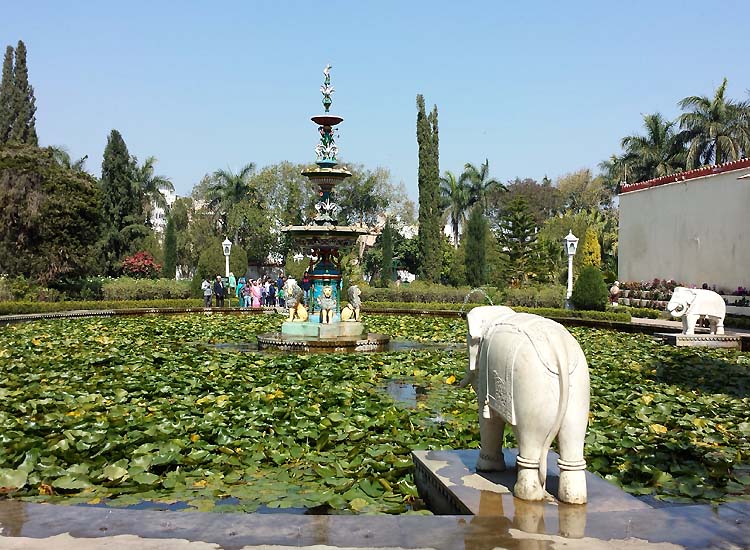 I know what made you stop here! The charming beauty of this next destination that I am going to talk about. Saheliyo ki Bari, better known as the 'Garden of Maids', is a lush garden tucked to the banks of Fateh Sagar Lake. It is a perfect getaway from the otherwise hot city. It was built close to the northern part of Udaipur by Sangram Singh for his queen and the 48 maids that accompanied in her marriage. This garden served as a recreational place for the royal ladies.
Highlights:
Along with a museum, the major attractions of this garden are the marble elephants, lotus pool, kiosks, and marble elephants.
Timings:
8:00 AM – 8:00 PM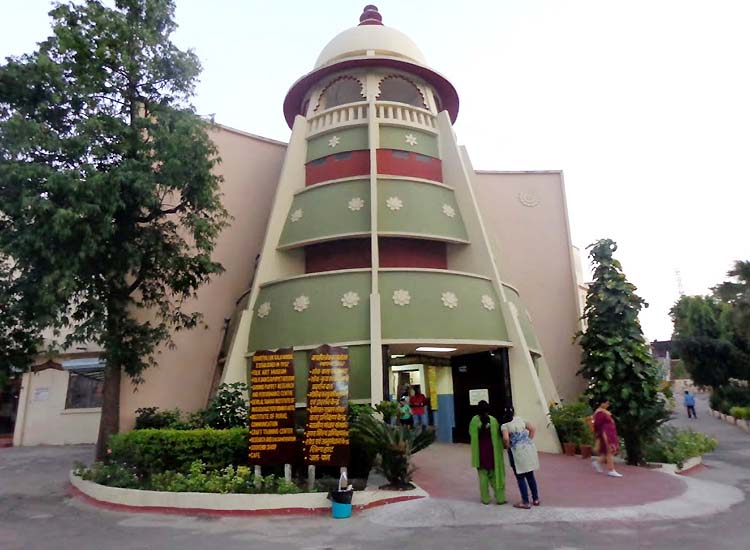 Are you traveling with kids? Then head to the Bhartiya Lok Kala Museum. Udaipur particularly boasts about this tourist place for it holds close the heritage and folk arts of the state. Dolls, puppets, masks, paintings, turbans, rural-dresses, ornaments, folk deities, and folk musical instruments are put on display here to know the culture more. Along with that, a puppet show and cultural performances are organized here by locals and other artist.
Timings:
9:00 AM – 5:30 PM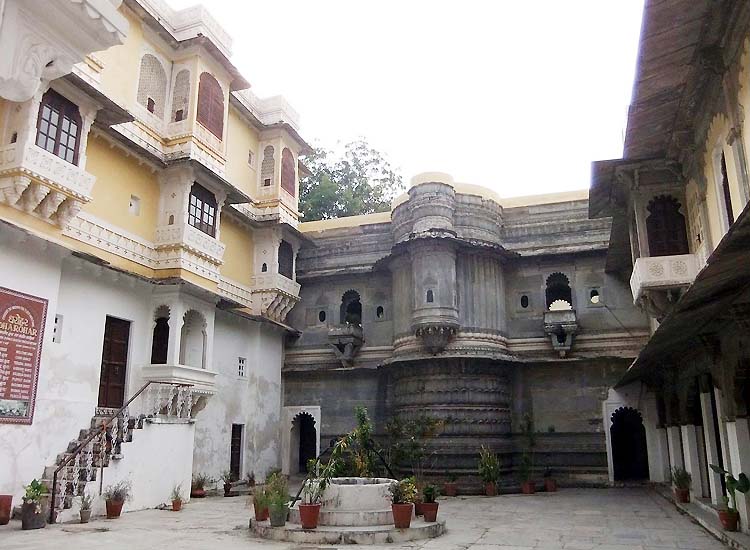 Your tour in Udaipur will be incomplete without a visit to Bagore ki Haveli, a remarkable masterpiece of the 18th century. Tagged as one of the oldest haveli in Udaipur, this tourist attraction sits calmly on the Gangaur Ghat. It was built by Amarchand Badwa, former Prime Minister of Rajasthan and after his death has changed many hands until it came under the West Zone Cultural Centre. At present the 138 rooms of the haveli are being used to display the aristocratic culture of Mewar.
[Also check out the heritage hotels of Rajastha.]
Highlights:
The world's largest turban is put on display in this haveli.
As soon as it is evening, the haveli lights up for traditional music and dance performances to take place.
Timings:
9:30 AM – 5:30 PM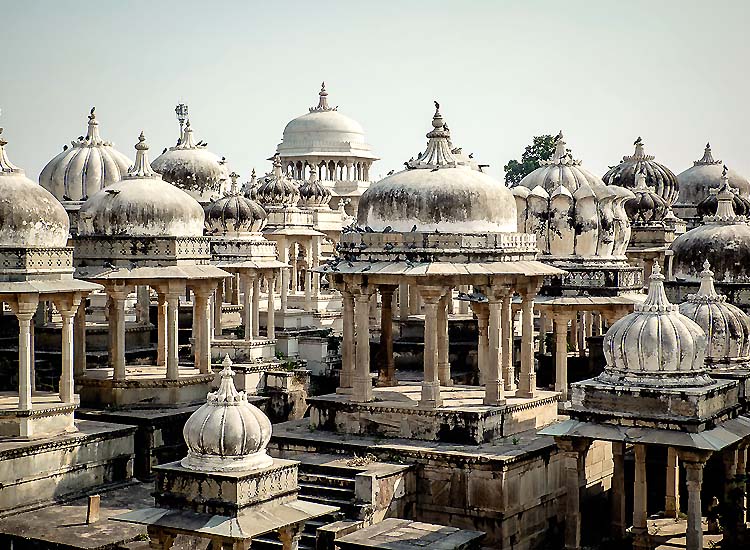 Ahar is a major attraction as both an ancient site with a history dating back to 2000 BCE and as the cremation site of Mewar's royal family. The cenotaphs of 9 Mewar rulers were built here, the cenotaph of Maharana Amar Singh, being the most talked about. It is said that the great ruler, upon leaving his throne, lived in a haveli which was present here.
Highlights:
Ahar Museum is set close to the cenotaphs and exhibits archaeological belongings and sculptures from the 17th Earthen pottery is also put on display here.
Timings:
9:00 AM – 5:00 PM
Entry fee:
Indians: INR 10
Foreigners: INR 20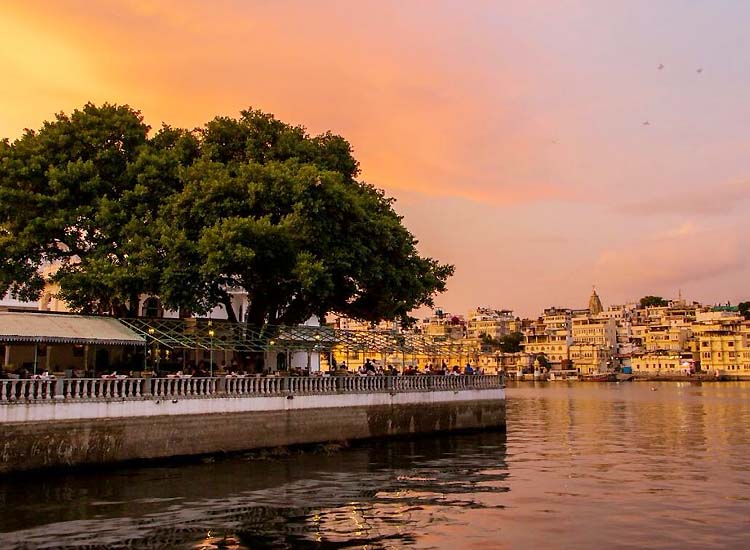 Call it Ambrai or Manjhi, this must visit place cherishes the title of being one of the most prominent Ghats attached to Lake Pichola. Travelers love visiting this place for the kind of tranquility is possesses and hence is the perfect place to spot the lake view. Besides, you can choose to visit the restaurants that are tied like a string in the surrounding.
Timings:
6:00 AM – 10:00 PM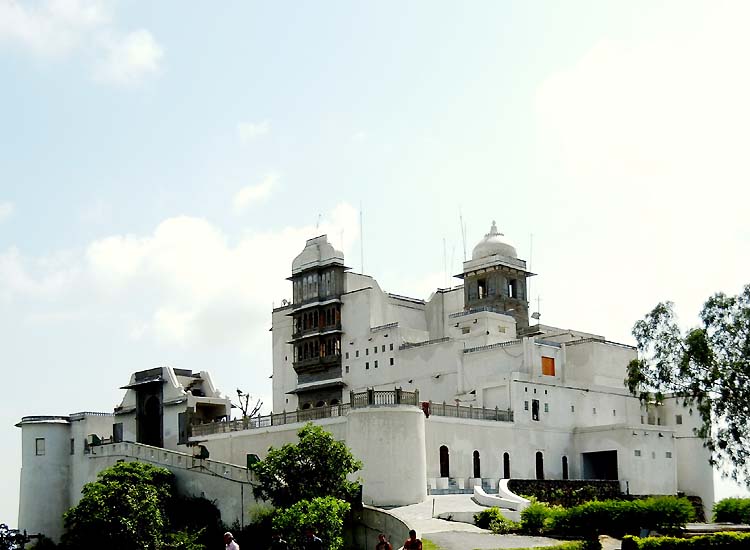 Some call it Sajjangarh, others Monsoon, what lies behind the name is the 19th century palace built by Maharaja Sajjan Singh. Covering the Bansdara hills, this palace was the so called monsoon retreat and a hunting lodge. The great ruler who put in his efforts for the making wished it to be an astronomical center but couldn't be carried out due to the death of the former.
Highlights:
Travelers can expect great view of Lake Pichola and the city as a whole.
Timings:
9:30 AM – 7:00 PM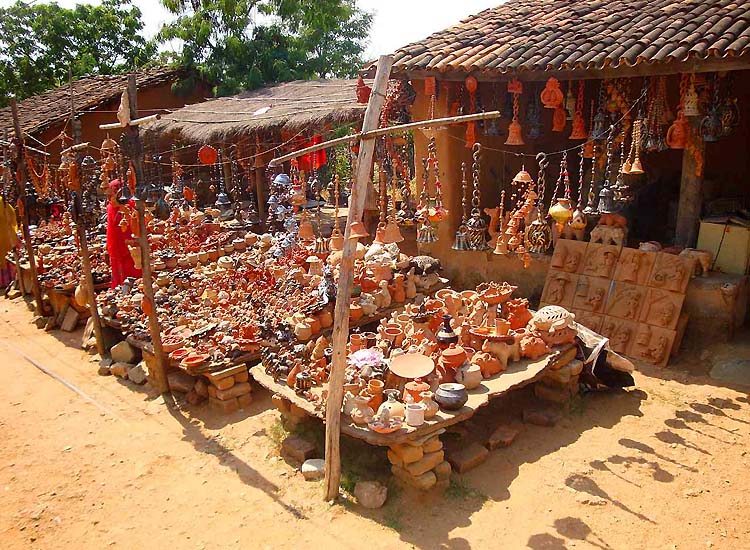 Wait, how can we forget about shopping? Don't worry, there's Shilpgram to the rescue. This crafts village shelters 26 traditional houses which represent Rajasthan, Gujarat, Maharashtra and Goa. Hope you are carrying an extra bag, as the handicrafts that are put on display here are unique in its own way.
Highlights:
Music and dance performances take place here.
Timings:
11:00 AM – 7:00 PM
Vintage Classic Cars Museum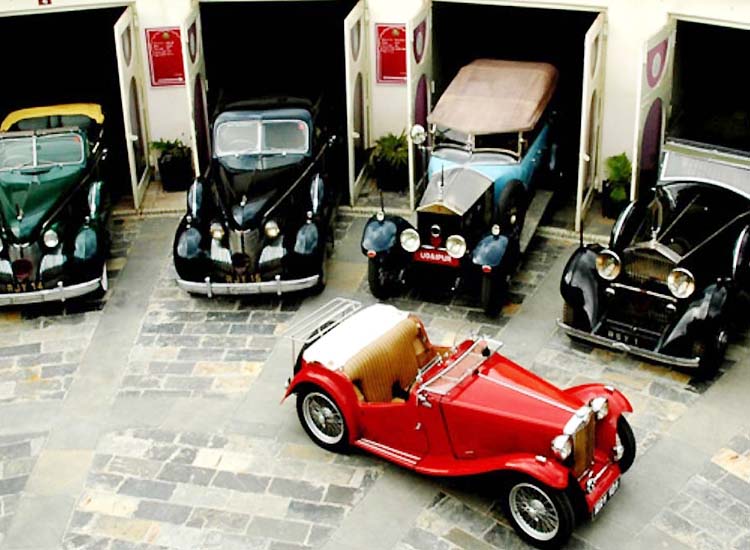 There is no place quite like the Vintage Classic Cars Museum in Udaipur. I know all the car lovers would have already jotted this destination in their bucket list. And why wouldn't they? With over 24 classic cars put on display, like 1934 Rolls-Royce Phantom which was used in the James Bond series, 1924 Rolls Royce 20H.P and many more. This place is a true paradise for classic car lovers.
Highlights:
All the cars here are in working condition, out of which some belong to the previous and present Maharanas of Mewar.
There is also a petrol pump in the premises.
Timings:
9:00 AM – 9:00 PM
Udaipur Solar Observatory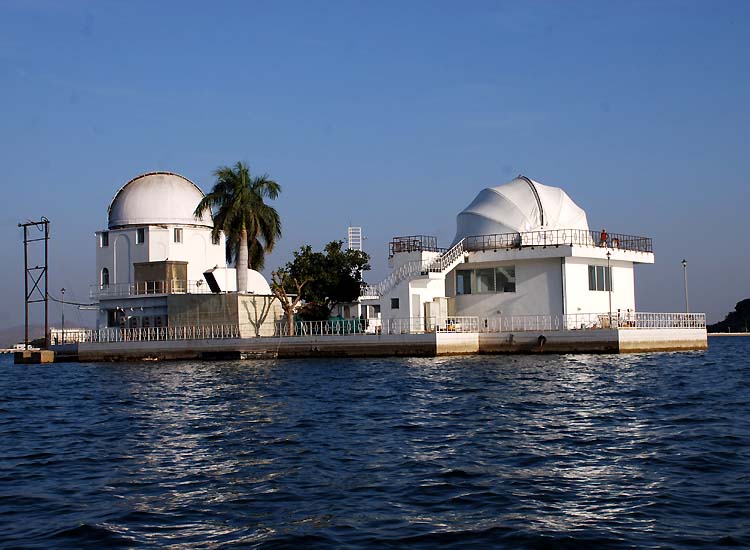 So this is the solar observatory which is set atop one of the islands in Fateh Sagar Lake. It is honored as Asia's best solar observing site. It was in the year 1975 that this observatory which aims for research in modern science was set up by Dr. Arvind Bhatnagar. The observatory was built keeping the model of the Solar Observatory in Southern California's Big Bear Lake.
Timings:
9:30 AM – 5:00 PM
Doodh Talai Musical Garden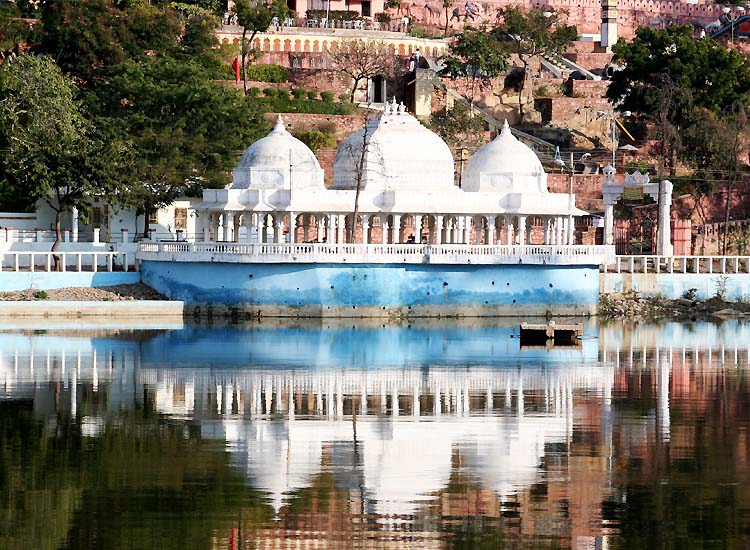 Embracing the modern touch and not leaving behind the charm of Rajasthan, it is a major draw card of Udaipur. Popularly known as Pandit Deendayal Upadhyay Park, it is a rock garden which enjoys the mesmerizing views of Lake Pichola. If you are somewhere close to the lake, then make sure you visit here and relish the musical fountain during sunrise and sunset.
Timings:
8:00 AM – 10:00 PM