There are many ways of enjoying a honeymoon, and each of them are special in their own ways. While some provide you that dash of adventure, others place you in a fairy-tale like setting that play the perfect host to your romantic adventure. There is also a royal way of enjoying your honeymoon, and what better way to experience royalty than in the state of Rajasthan? After all, Rajasthan is famous for its palaces which are the epitome of opulence and extravagance.
Planning your honeymoon at the palaces in Rajasthan lets you experience the meaning of royalty at close range. It's not just about luxurious accommodation or heavenly dining, it's the special activities and experiences offered at these palaces that make them so special. A dinner by the moonlight, a rejuvenating spa session, outstanding hospitality, it's for moments and experiences such as these that the memories of your stay in a palace are strongly lodged in your mind. In this blog, we tell you to plan a royal honeymoon in Rajasthan at these palaces where meticulous care is taken to ensure that every desire and want is attended to, and your romance blossoms with a royal touch.
Taj Rambagh Palace, Jaipur
A stay at Taj Rambagh Palace in Jaipur is all about romancing in style and enjoying the different experiences that come your way. Once the former residence of the Maharaja of Jaipur, this luxurious hotel enjoys a fabulous location. A honeymoon stay at this  luxurious hotel means enjoying a splendid spa session at the Jiva Grande Spa, having a gala time by the poolside, bathing in style and getting acquainted with fine dining. You can also enjoy vintage horse drawn carriage rides with your spouse every evening. Read more…
Raj Palace in Jaipur is recognized as one of the famous heritage hotels in Rajasthan and has hosted the biggest celebrities from India and abroad, two examples being Amitabh Bacchan and Lord Mountbatten. For honeymoon couples, there cannot be a better destination. While the luxurious suites bear the imprint of royalty in every corner, the Sapna Mahal (a multi-cuisine restaurant) is modelled on the houses of European nobility. Raj Palace also organizes elephant and camel safaris from the hotel to Amber Fort every morning, thus adding that element of adventure to your honeymoon.
Taj Lake Palace in Udaipur attained worldwide popularity with its appearance in the movie, "Octupussy". Built by Maharana Jagat Singh II of Udaipur, a honeymoon here means immersing yourself in royalty. This heritage hotel provides exquisite views of the surroundings, which are marked by sights like City Palace, Aravalli Hills, Machla Magra Hills and Jag Mandir. Dining here is a treat fit for royalty, with cuisine ranging from authentic Rajasthani to European. Pleasure and fun await you in different ways, whether in the form of a spa boat ride or an evening marked by soirees.
Umaid Bhawan Palace, Jodhpur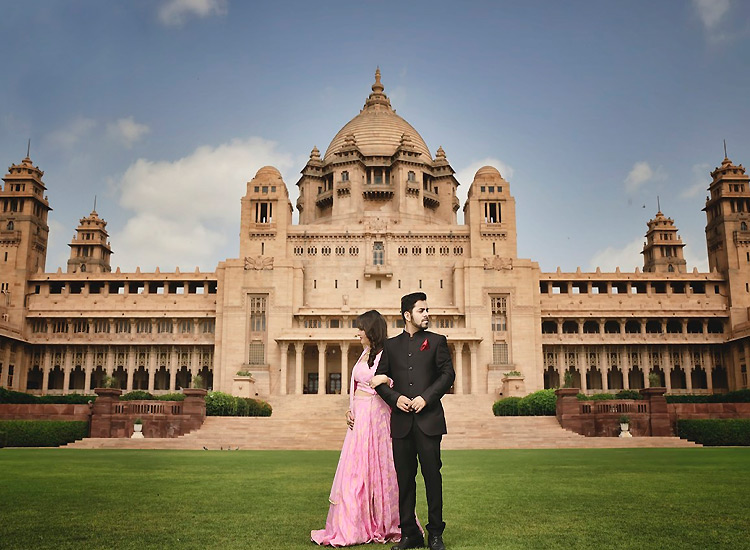 You cannot have a Rajasthan honeymoon tour without placing yourself in the lap of luxury, and luxury means the Umaid Bhawan Palace in Jodhpur. This luxury five-star Taj heritage hotel is the world's sixth largest private residence and was once the residence of the Jodhpur royal family. A honeymoon stay at this heritage hotel is much more than just a luxurious spa session or royal dining. It also means taking a heritage walk and reliving the glories of the past era through the splendid structures inside the palace. You can bring to life your visions of a fairytale wedding by strolling through the lush, green lawns.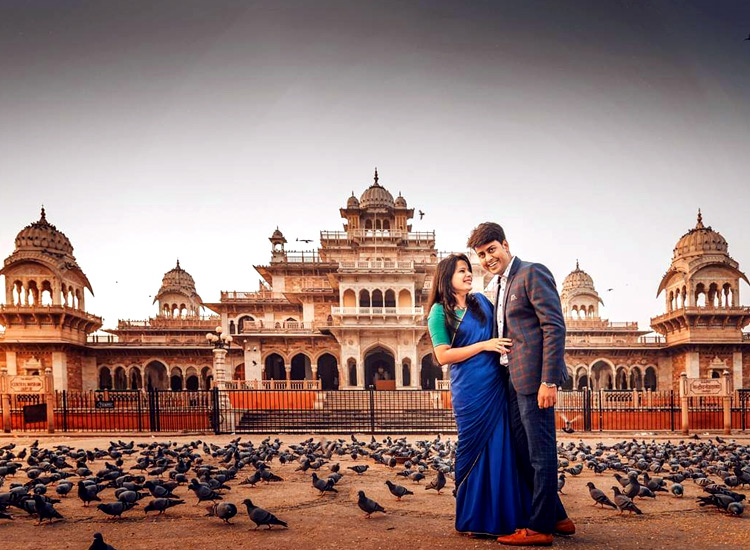 Mandir Palace in Jaisalmer has been the home of the rulers of Jaisalmer for more than two centuries. With its exquisitely created balconies, canopies and carved screens, it sure reflects the high level of craftsmanship existing during that time. The services and facilities are as fine as any you would ever come across, with The Roof Top Restaurant offering panoramic views of the hill-top city fort. However, the reason you should opt for a stay at the Mandir Palace is the excursions they organize to various places including Sam Sand Dunes, Akal Wood Fossil Park, Desert National Park and Lodurva, among others.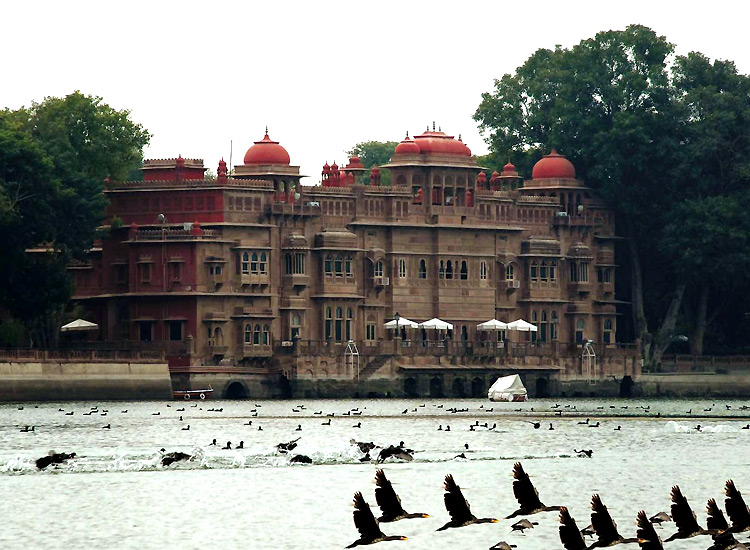 Gajner Palace in Bikaner, Rajasthan is where you would want to spend a royal honeymoon in Rajasthan if you want to enjoy sightseeing along with a glimpse into the royal lifestyle of the past ages. That glorious past is visible in its accommodations that boast antique furniture with world-class facilities. Dining in The Mirage restaurant in the Gajner Palace is a wonderful affair with lip-smacking delicacies of Indian, Mughlai and Continental cuisines. There are also tribal and folk performances to be enjoyed in the evening. You can also enjoy jeep safaris to the Gajner Wildlife Sanctuary, which is located close to the palace.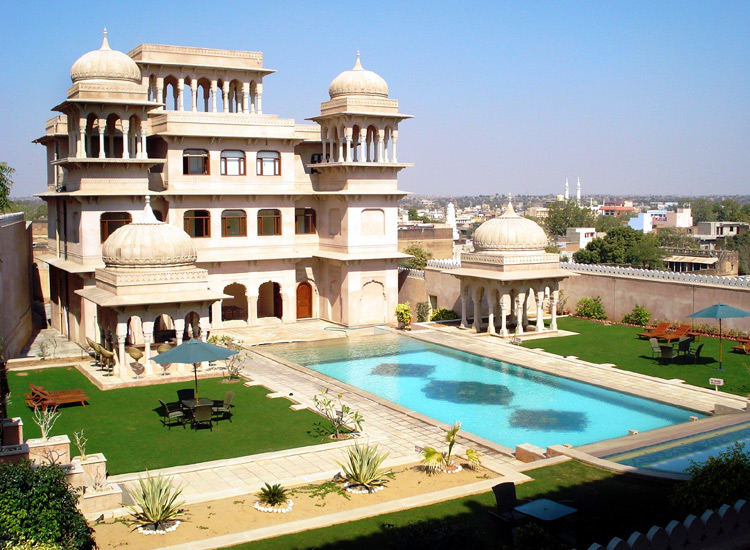 Castle Mandawa is just what you would expect a castle to look like. Transformed into a heritage hotel by the royal family of Mandawa, it transports you into the past era with its beautiful paintings, murals, colorful inscriptions, royal chandeliers and antique furniture. A special experience awaits you here in the form of a candle-lit dinner on the lawns or around a bonfire in the rear courtyard which is accompanied by the thrilling performance of a dancer who sways to the beat of hypnotic drums. There are several activities to be tried, from camel safari to the antique car collection. Read More…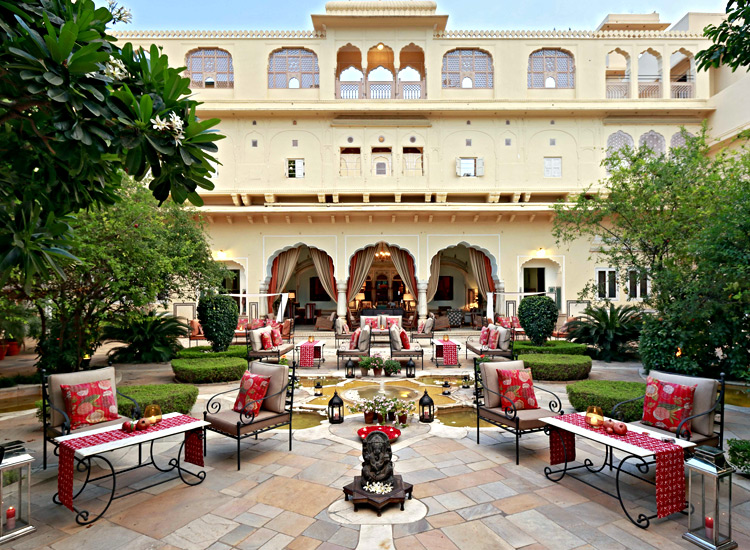 Samode Haveli in Jaipur is regarded as one of the best heritage hotels in Rajasthan. It's a traditional Indian mansion built in the style of Indo-Saracenic architecture. All the rooms in this marvelous heritage hotel reflect the history and culture of Samode, while the private courtyards and balconies provide magnificent views of the pools, fountain courts and gardens. In other words, a honeymoon in this heritage hotel is all about relaxing and having a good time while exploring the regality that resides in every nook and corner.
Shiv Niwas Palace, Udaipur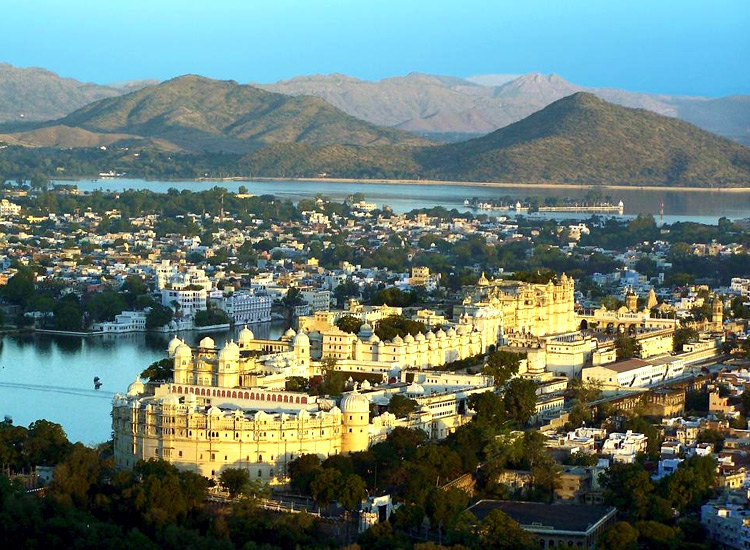 Shiv Niwas Palace in Udaipur, built in the 20th century during the rule of Maharana Fateh Singh, is dressed in opulence and magnificence. The traditional décor captivates the visitors at first sight. For honeymoon couples, there can be no better destination. The rooms and suites are adorned with portraits of the royal family and each guest room has a traditional décor with world-class facilities. A special experience in dining is The Pool Deck, where guests can enjoy a romantic candle-night dinner with lovely music playing in the background. There are several options for recreation for honeymoon couples too, including palace band and classical music in the evenings, horse riding, squash courts etc.
Suryagarh Haveli, Jaisalmer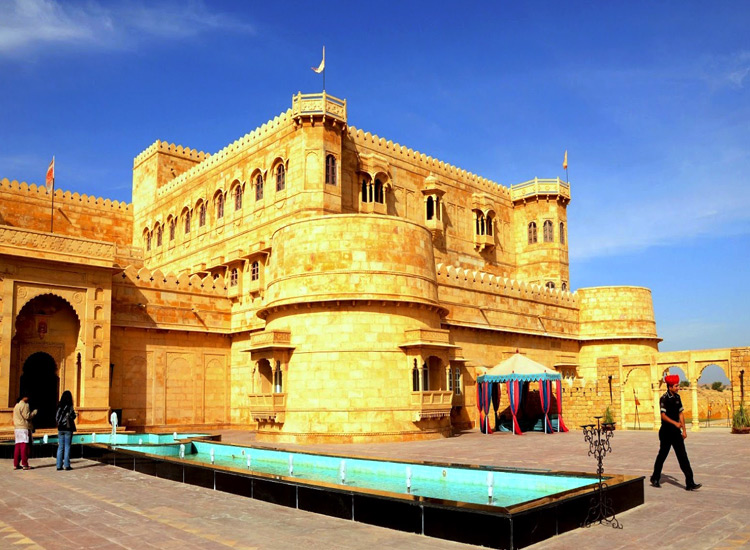 Suryagarh Haveli in Jaisalmer preserves the traditions of the past while adapting them beautifully with the modern world. The accommodations in the haveli, ranging from the Thar haveli to the Pavillion Room, wear a look of sophistication, just what honeymoon couples are after. Try out the traditional culinary fare of Marwar at Legends of Marwar, the specialty restaurant, or engage in leisurely indulgences at The Pool. You could practice archery at the Dhanurvidya workshop conducted inside the haveli. Treat yourself and your loved one to an evening marked by a splendid cultural performance by Mehboob Khan and his family of Manganiyars, renowned throughout the world for their incredible performances. Read More…
Bhanwar Singh Palace, Pushkar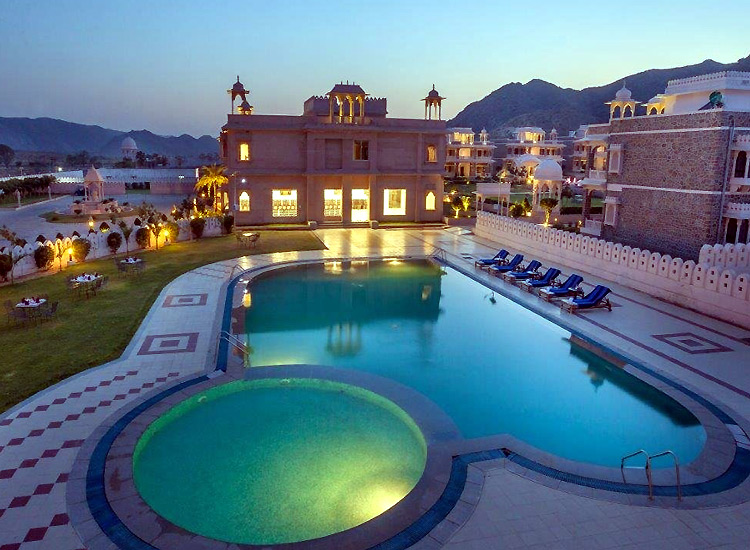 If you want your royal honeymoon in Rajasthan with an authentic touch, then stay at the Bhanwar Singh Palace in Pushkar. In this luxurious spa resort, the rooms showcase the rich heritage of Marwar region while being equipped with the choicest of facilities. A honeymoon should also be about unrestrained luxury and comfort, and the facilities in the palace provide an abundance of that. However, it's the experiences that you should check out. There are camel safaris, horse riding and jeep safaris to be enjoyed.
The Kumbha Bagh, Kubhalgarh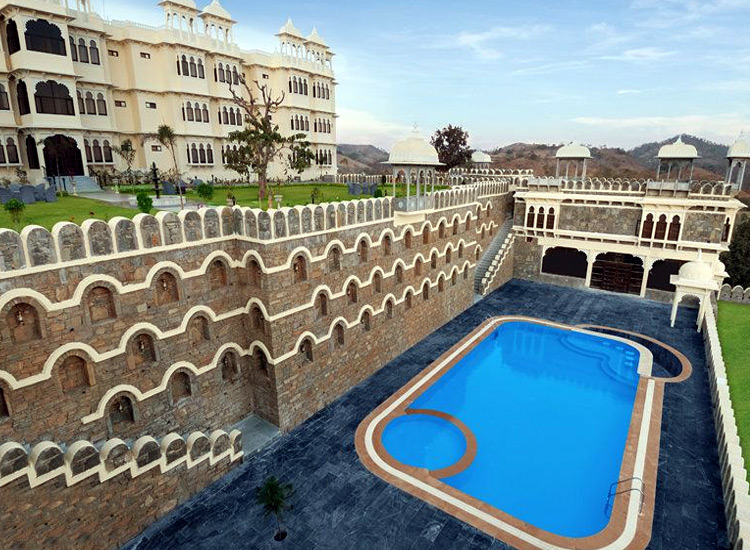 If you want to spend your honeymoon in the company of nature, then The Kumbha Bagh calls you. The rooms are what you would expect them to be, reflective of the glorious culture and exceeding all expectations of the traveler. Unwind in the evenings with a drink or two in the bar and know why dining sets new standards in the hotel's restaurant. Rewind and revitalize at the spa, enjoy the peaceful surroundings and have a great time with its outstanding services.