History lies in every inch of India and even the caves are not left behind. There are myriad of Historical Caves in India. These are treasures of breathtaking sculptures, carvings, legends and even many stories from recent history. A perfect blend of spirituality, history, mystery and adventure lies in these caves. From the many dark, damp and daring caves, we have brought a fine selection. Get ready for an enthralling caving experience!
Ajanta and Ellora Caves, Maharashtra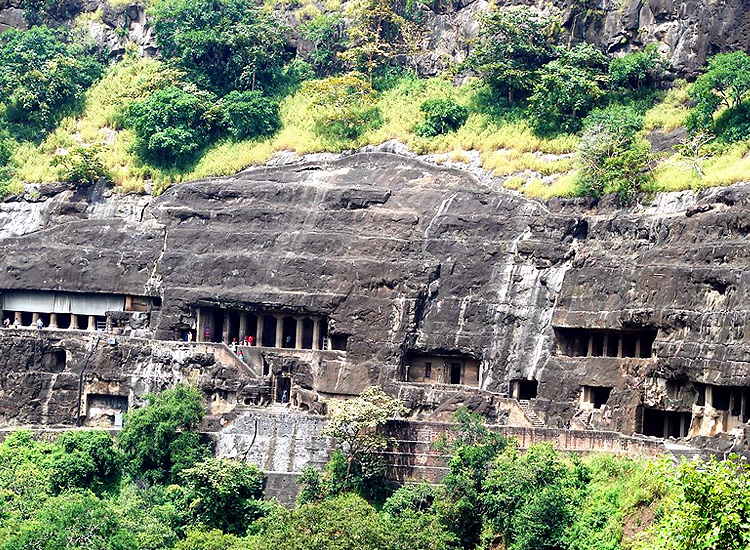 Ajanta and Ellora Caves rank on the top when talking about most famous caves in India. The 29 viharas in Ajanta belong to 2nd century BC to 480 AD and promote Buddhism. The masterpiece of India's hillside rock cut architecture, Ajanta Cave houses worship halls and ancient monasteries. Both Ajanta and Ellora are counted as UNESCO World Heritage Sites. Ellora caves showcases Hinduism, Buddhism and Jainism and are over 100 in numbers but only 34 are open to public. These largest rock-cut monastery-temple cave complexes dates back to 600-1000 AD. Religious harmony of India is very well illustrated in these caves.
What to see?
•    Expressive paintings which showcase emotions via pose, gesture and form.
•    Rock cut sculptures which are cites as amongst the finest surviving examples of ancient Indian art.
•    Exquisite architecture.
•    Kailasa Temple, a UNESCO World Heritage Site, at Cave 16 in Ellora Caves.
Badami, Karnataka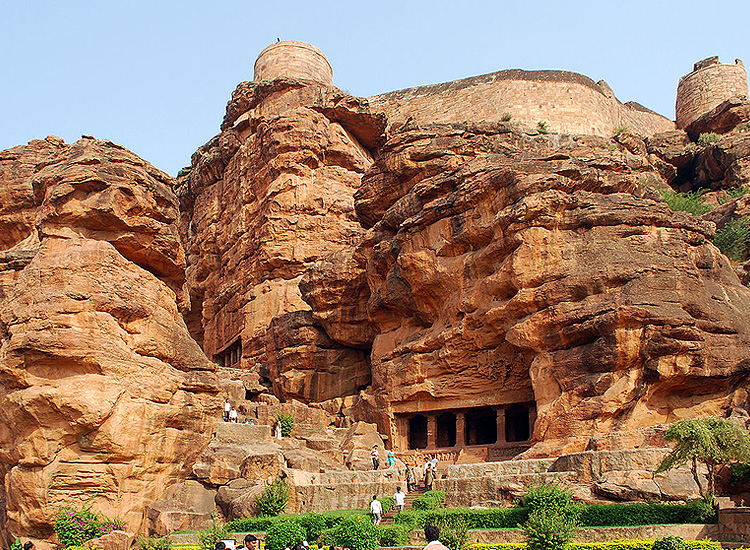 Showcasing the immense love of the Chalukayas towards architecture, Badami Cave Temples entice tourists with their splendid beauty. The carved out caves have existed since 6th and 7th century AD. Intricate pillars, magnificently etched sculptures, lavish brackets and engraved ceiling panels adorn the four temples. Out of which three belong to Hinduism and one is revered for Jainism. Cave 1 is holy abode of Lord Shiva whereas Cave 4 is the shrine of Jain Saints. Lord Vishnu is the presiding deity of Cave 2 and 3. The artistic quality and sculptural grandeur makes Badami Cave temples a must see caves in India.
What to see?
•    Wonderful paintings and sculptures of the Lord Vishnu and Lord Shiva.
•    Hindu God Shiva posed as Nataraja
•    Sculptures of Mahishasura Mardini, Ganesha with two hands, Ardha Nareeshwara etc.
•    Remarkable murals
Elephanta Island Caves, Maharashtra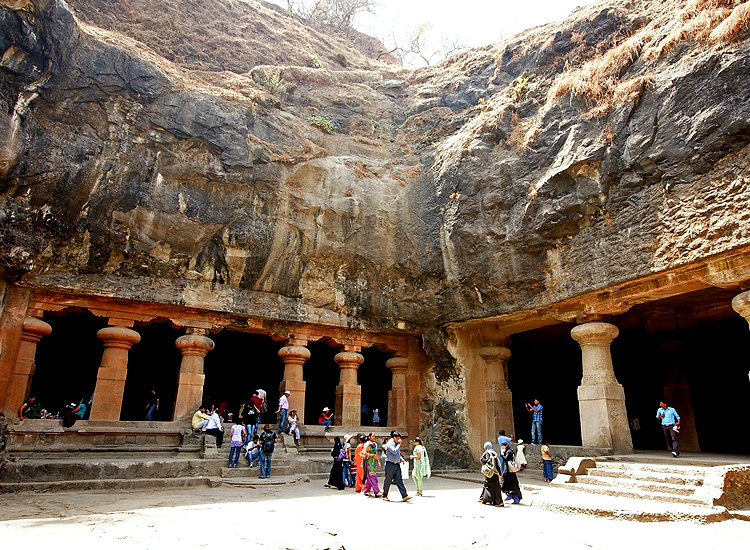 Elephanta Caves can't be skipped when talking about the top 10 caves in India. Consisting of two Buddhist and five Hindu caves, the Elephanta is listed as the UNESCO World Heritage Site. An exciting ferry rides takes you to Gharapuri where these 5th century caves are nestled.  The caves are an archeological treasure of precious statutes which are in their ruins. Excavated out of the single solid basalt rock, the caves are rich in sculptural content. Two lateral chambers, one sanctum sanctorum, numerous shrines and courtyards are the essential parts of the Elephanta Caves.
What to see?
•    Sanctum sanctorum preserving the lingam of Lord Shiva
•    A huge hall with two columnades
•    An elegant Maheshmurti portraying Lord Shiva in three forms
•    Various idols of Hindu God Shiva
•    Carving of Yogishvara, Lord of Yoga grabs the attention instantaneously
[Also read about heritage hotels in  Maharashtra.]
Udayagiri and Khandagiri Caves, Orissa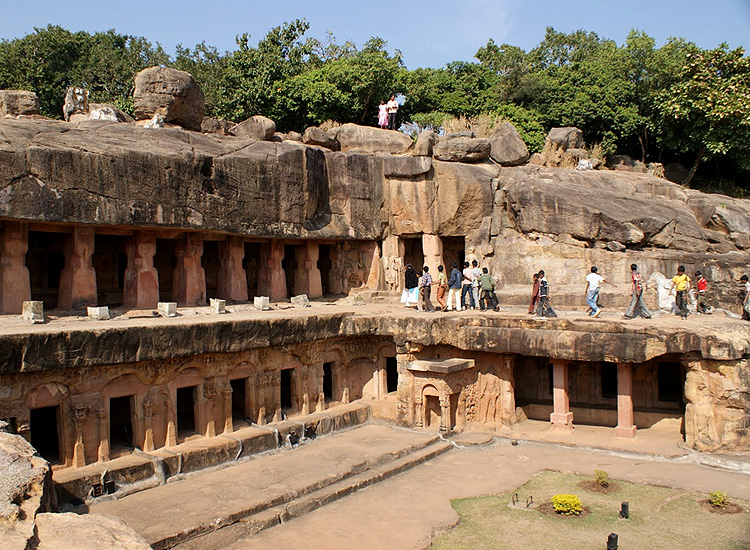 The finely ornate caves of Udayagiri meaning Sunrise Hill and Khandagiri meaning Broken Hills are partly naturally and partly artificial. Owning a historical, archaeological and religious importance, these caves were built during 2nd century BC. There are 15 caves in Khandagiri and 18 in Udayagiri and were carved out for dwelling of Jain monks. Udayagiri features several important monuments of history and art. However, the caves of Khandagiri are thronged by local Brahmins. Both the viharas are known as lena in the inscriptions are were formerly titled as Katak Caves or Cuttack Caves.
What to see?
•    Ranigumpha – a double storied monastery
•    Treasures of sculptures and reliefs
•    Rani ka Naur is extensively carved and elaborately embellished
•    Tiger Cave which has a façade in the form or a tiger's mouth astonishes all
Tabo, Himachal Pradesh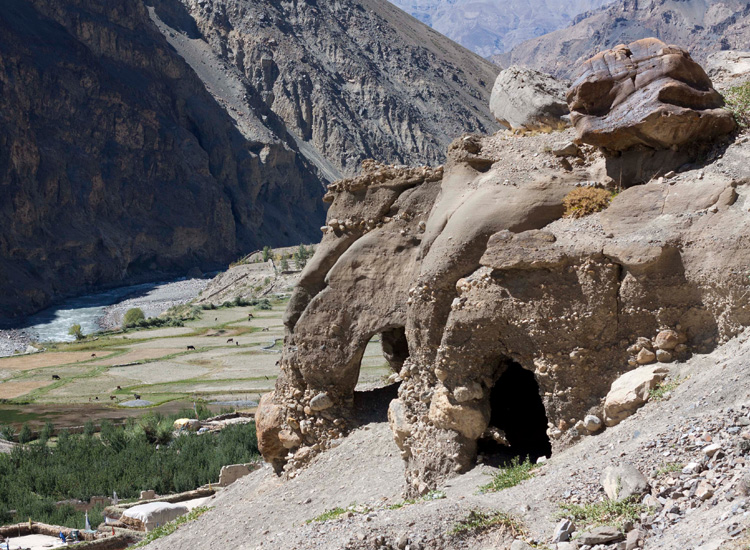 Feel the spiritual aura that is apparent everywhere in the Tabo Caves. The vibes are so strong that you can't resist yourself from going into a state of reverie or meditation. These rock cut caves in India are divided into of a couple of smaller caves for dwelling and lodging and a couple of bigger ones as assembly halls. Beautiful and vibrant prayer flags outside the premises indicate that monks are using the caves for meditation. Overlooking the luxuriant Sapiti River, the Tabo Caves can be easily reached after a 15 minute trek to the foothills of the Trans-Himalayas.
What to see?
•    Tabo Caves are located just above the beautiful Tabo Monastery which is counted as the holiest.
•    Beautiful murals, although in their ruins never fails to entice visitors.
•    A panoramic view of the Tabo village from the terrace of the monastery should not be missed.
[Check out Himachal Pradesh heritage hotels here.]
Undavalli and Mogalarajapuram Caves, Andhra Pradesh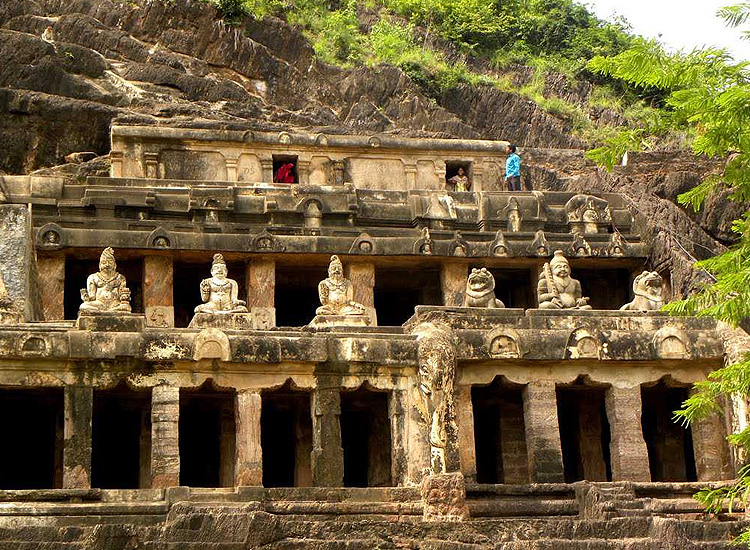 An unmatched tranquility prevails at the 7th century Undavalli Caves. The well-preserved site houses shrines of Hindu Gods like Lord Shiva, Lord Brahma and Lord Vishnu. Architectural grandeur of the Mogalarajapuram makes it one of the must see caves in India. The heritage caves of India honor Narasimha Swamy and Anantapadmanabha Swamy. Skilled craftsmanship is excellently displayed on the walls of the viharas. Buddhist monks are believed to have rested here. A confluence of Buddhism and Hinduism is observed here.  Many mysteries are associated with a 9 kilometer underground passage which leads to Mangalgiri Mountain.
What to see?
•    Huge idol of Lord Vishnu in reclining posture and has been carved out of a single block of granite.
•    Statues of Lord Vinayaka and Lord Natraja at the Mogalrajapuram grabs the interest.
•    Get enthralled by the breathtaking views the hills and emerald foliage from the top of the Undavalli Caves.
Trichy Rock Fort Temple and Pallava Caves, Tamil Nadu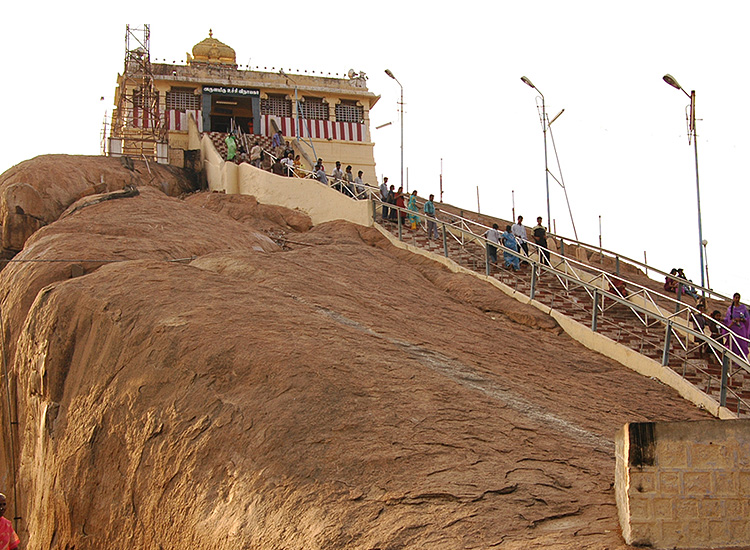 Trichy Rock Fort Temple is divided into the lower cave and the upper cave. The lower case displays many bas-relief images. Locate at a height, the upper cave temples are also known as Lalitankura. Built on a rock, the visually appealing fort lures many. Two pilasters and four pillars support the south facing cave temples. Built in 7th century, Pallava rock cut cave temples astonishes with shrines that are empty but have dwarapalakas carved on the façade.
What to see?
•    Pillars possessing unique designs. They are octagonal in the middle and cubical from the top and bottom.
•    Big bas-relief engraved on the western wall of upper cave temple grabs the attention.
Borra Caves, Andhra Pradesh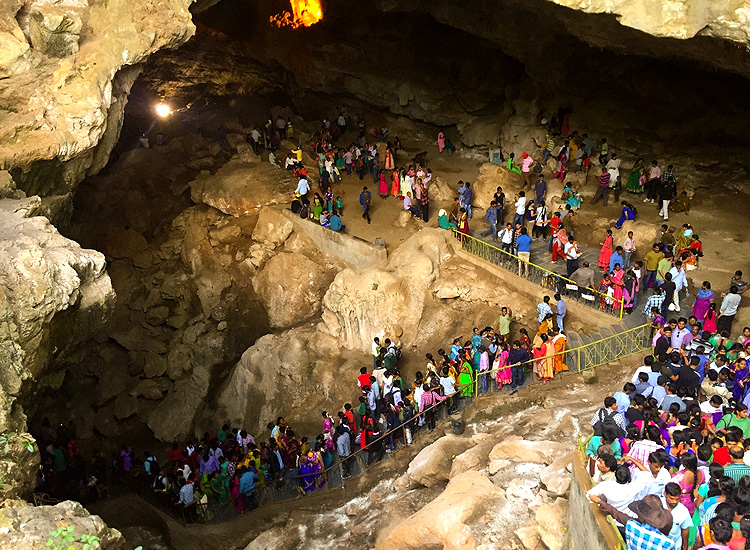 With a depth of 80 m, the Borra Caves are the deepest cave in India. The natural cavern are formed by amassing of limestone. Some stalactite and stalagmite formations are named as per there shapes. River Gosthani meanders through these caves. As per legends the stream or the river over the limestone caused the formations of the caves. Counted as the largest viharas in the nation, the caves showcase a variety of speleothems and were found in 1807. It is no wonder that these caves are positioned in the top 10 caves of India.
What to see?
•    Natural formations of Lord Shiva with his beloved Parvati
•    Naturally formed Shivalingam and idol of the cow known as 'Kamdehnu' are hard to miss
•    Communication with the tribal people dwelling in the area is one of its kind experience.
Dungeshwari Cave Temples, Bihar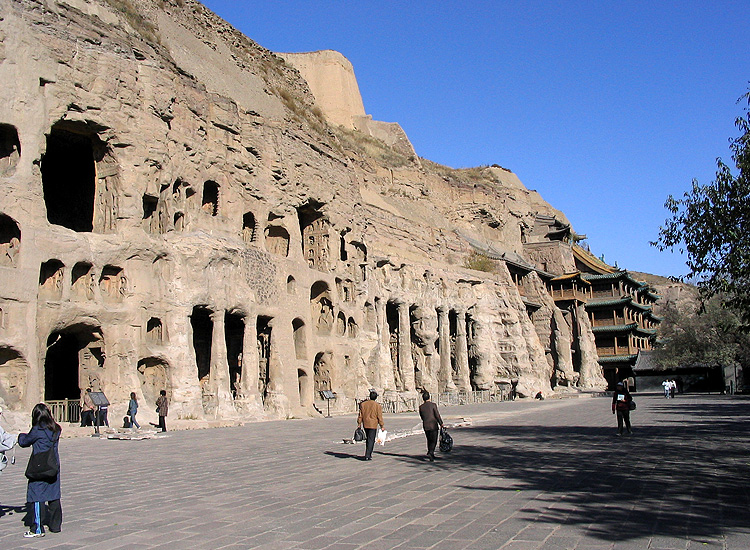 Dungeshwari Cave Temples holds the epithet of 'Mahakala Caves'. Buddha is believed to have spent time here mediating before proceeding towards Bodhgaya. Time flies by at the cave temple in spiritualism and meditation. These cave temples are a must visit for persons seeking tranquility and optimum peace. A mystical energy flows in the air because of the association of this place with Lord Buddha. So the shrine holds utmost importance for anybody who is looking out to follow the trail of Lord Buddha's sojourn.
What to see?
•    Golden idol of Lord Buddha exhibiting strict penance.
•    A huge Buddha statue is one of the two caves.
•    Sculpture of Hindu Goddess Dungeshwari is also enshrined within the cave.
•    Two small shrines that commemorate an interesting event from the life of Lord Buddha.
Pataleshwar Cave temple, Maharashtra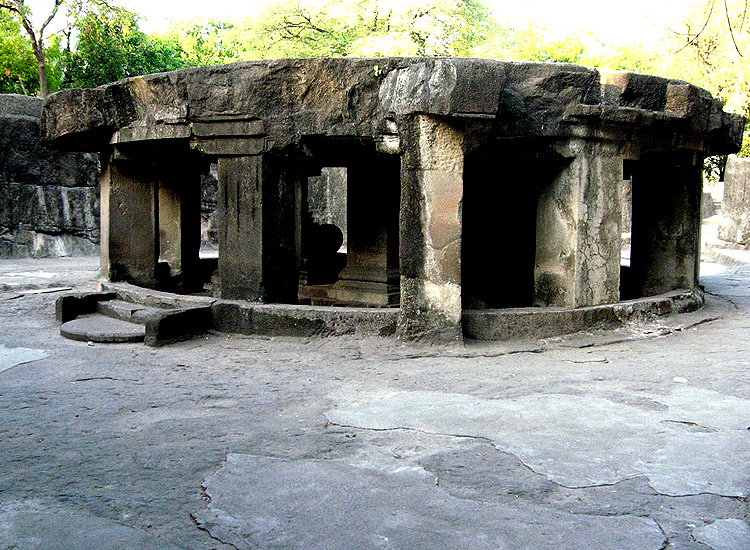 Pataleshwar Cave temple is the holy abode of Lord Shiva and Lord Pataleshwar. A fine example of rock cut architecture, the entire place is carved out of the single block of stone. Gigantic pillars support the sacred place. True to its name 'Pataleshwar' meaning lord of underground civilization, the shrine is below the ground level. Possessing similar architecture of the Elephanta and Ellora Caves, the shrine was left incomplete but still cast a structural spell.
What to see?
•    Dramatically arranged circular stones at the entrance.
•    Amazing ornate carvings on the black rock.
•    Huge idols of Sita, Nandi and Ram and other Hindu God and Goddesses.
•    A brass bell hung at the main entrance
•    A grain of rice with around 5000 characters inscribed on it is placed in the museum within the complex.
Karla Caves, Maharashtra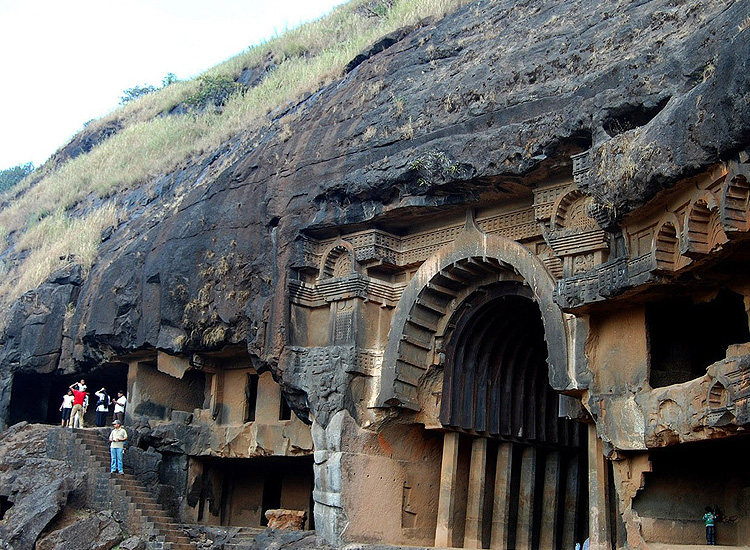 Dating back from 3rd to 2nd century BCE, Karla Caves are also one of the finest examples of the ancient rock-cut caves. Eloquently describing the early Buddhist temple art in India, the caves are decorated in way that looks like the wooden architecture. Karla Caves have gained popularity because of the Grand Chaitya i.e., Cave 8, which is carefully preserved and is the largest. A humongous 15 – meter pillar is positioned in one of cave known as Veluraka in olden times. The designs and carvings on the caves are so elegant that is clearly reflect the mesmerizing beauty of the past.
What to see?
•    Carved Elephants head in an aisle containing 37 pillars
•    Statue of Buddha
•    Ashokan Pillar in the front with a closed stone door and torana in between
•    Vaulted interiors and arched entrances are the remarkable features of these caves.
Bhimbetka Cave, Madhya Pradesh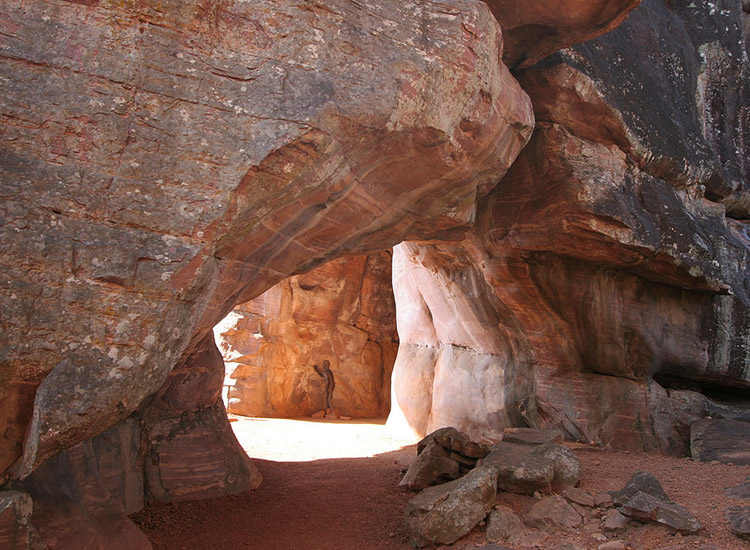 Displaying the earliest traces of human life, Bhimbetka is termed to be an archeological site of the Paleolithic Age. It is really surprising to know that around 30,000 years Old Stone Age rock paintings are found here. This has enabled Bhimbetka to achieve the title of UNESCO World Heritage Site. More than 500 natural caves are adorned with the day-to-day scenes of the people of pre-historic times. A war scene and a dancing scene are the center of attraction. Bhima, famous character of Mahabharata rested here for a while along with his brothers and thus the name of the place implies 'Siting place of Bhima'.
What to see?
•    Drawing skills of the Early Man.
•    Rock tortoise – an interesting spot to spend some time at.
•    A temple just a little up from the Caves provides immense serenity.
•    The painting of a man being attacked by a Red Bison is visible only when the sun shines bright.
Sittanavasal Cave Temple, Tamil Nadu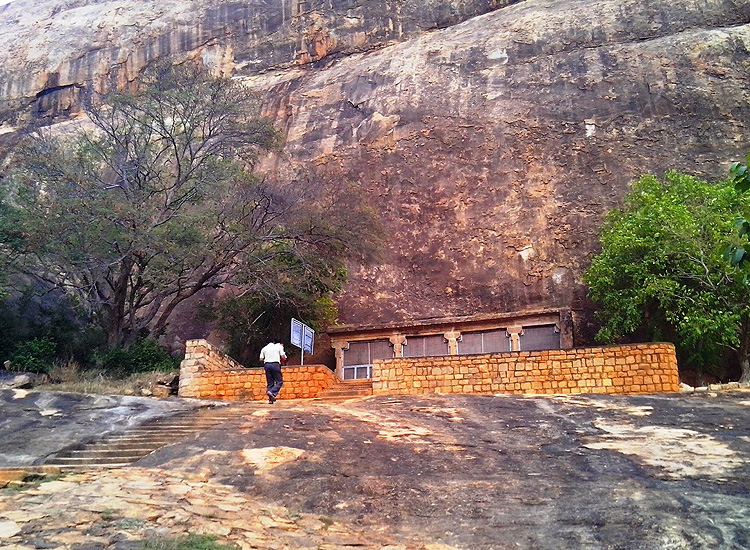 Sittanavasal Cave Temple is famous for its scenic beauty. The word Sittanavasal means 'the abode of great saints'. True to its name, these natural caves are the place where Jain monks apparently meditated. The 2nd century AD Jain temple complex is also known as Arivar Koli. An important characteristic of the murals that adorn the abode is that these are made up of mineral dyes and make Sittanavasal must see caves in India.
What to see?
•    Frescos paintings which are quite similar to that of Ajanta Caves.
•    A praiseworthy painting of a pond full of ducks, lotus flowers, fish and swans.
•    It is interesting to note that only white, black, orange, yellow, blue and green pigments are used to paint the elegant frescos.
•    Samava-Sarana, a beautiful hall where Tiranthakaras deliver sermons after enlightenment.
[Explore the heritage of Tamil Nadu with our exclusive packages.]
Koteshwar Temple Cave, Uttarakhand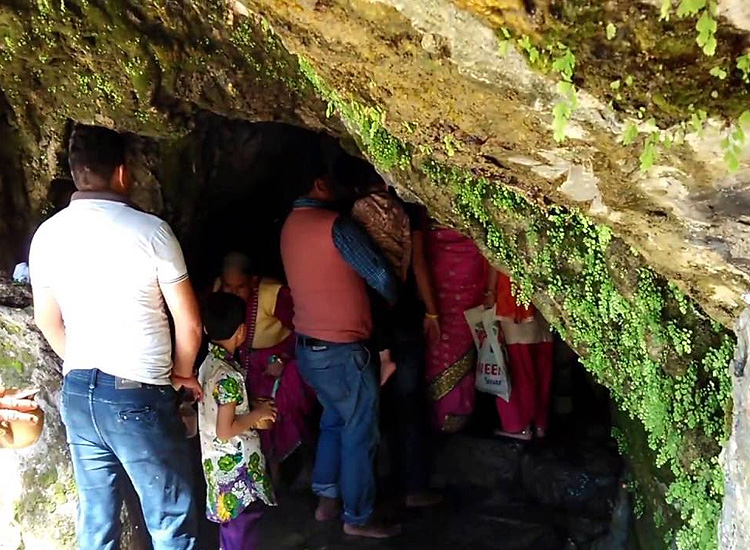 Dedicated to Lord Shiva, Koteshwar Mahadev Temple is nestled on the holy banks of Alaknanda River. The cave of this holy place is ancient one and most popular Hindu pilgrimage. According to mythology, Mahadev mediated here while on his way to Kedarnath. It is said that the almighty hide himself from the demon Bhasmasur and prayed to Lord Vishnu for his help. Don't forget to take a holy dip in the river Alaknanda. The most famous cave temple is thronged by devotes in the month of August and September.
What to see?
•    Naturally formed Shivalingams on which water drops fall continuously.
•    Mind-boggling visuals of the nature in the surroundings.
•    The sculpture of Nandi, holy bull of the Hindu God Shiva.
Varaha Caves, Tamil Nadu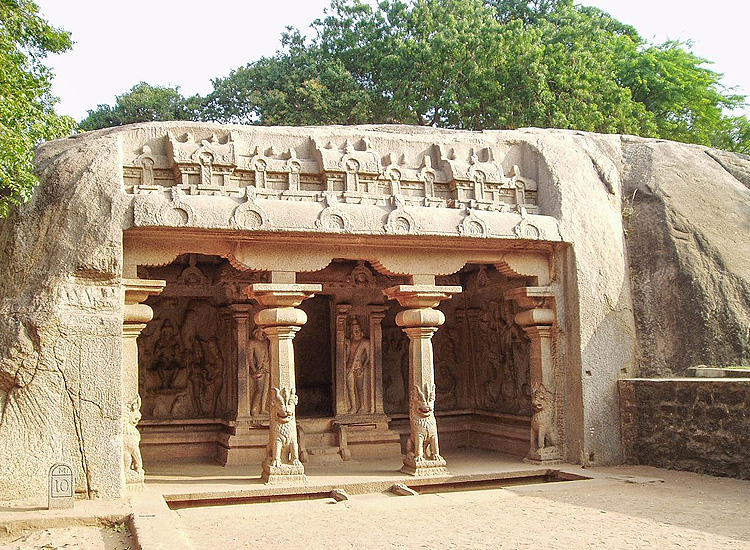 Articulately portraying the rock-cut architecture of India, Varaha Caves date back to 7th century. Graciously honoring Varaha, an incarnation of Lord Vishnu, the caverns also have religious significance. Having exited since the 7th century, the revered destination is also listed as the UNESCO World Heritage Site. A sculpture of Varaha i.e. boar lifting Earth or Bhudevi stands out amongst the rest. The entrance is marked with a beautiful mandapa with two semi-columns and two pillars with one doorkeeper on each.
What to see?
•    Sculptures of Lord Vishnu
•    Naturalistic Pallava art at the panels of the complex
•    The Gajalakshimi panel
•    Carving son the northern panel
•    Panel of Lord Shiva
•    Different figurines of other God and Goddesses
Mawsmai Caves, Meghalaya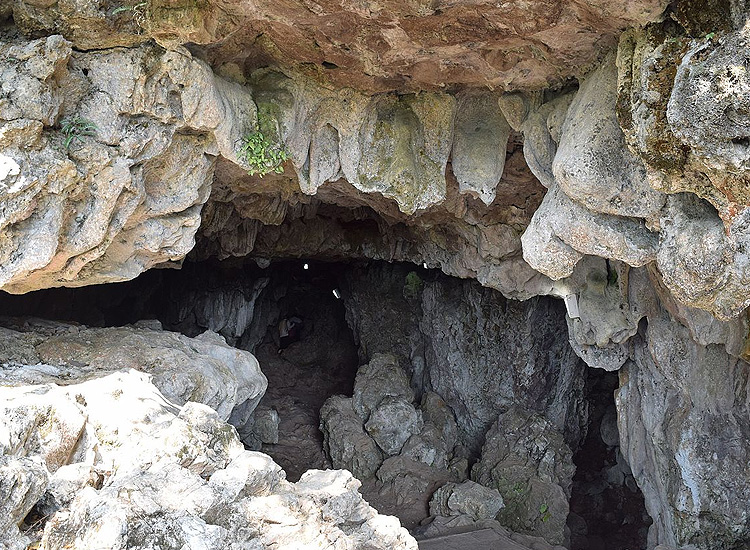 Mawsmai Cave is highly celebrated and a well-known landmark of Cherrapunjee. A magical and dark mystery lies inside the cavern. Get enthralled by looking at the constant dripping of the water from the roof. Explore the caves by walking and sometimes kneeling down. Well-lit caverns features huge and small openings and chambers. Entry points are large whereas exists are small, this add a fun to the place. A spine tingling, awe-inspiring and mysterious aura lingers on at the place and lures everybody towards this one of the must see caves in India.
What to see?
•    Passage that looks almost impassable
•    Unique variety of flora and fauna
•    Formations of stalagmites and stalactites
•    Beautiful joining of roof of the cave with the floor to form pillars