The royal state of Rajasthan has always been charmer as far as lovers of history, royalty and luxury are concerned. A visit to this north Indian state is always a wonderful experience. Every nook and corner to the state has a story of valor and romance to recite. The forts and palaces, temples and other architectural marvels are every year explored by a crazy number of travelers from all around the globe. Most of the forts, palaces and havelis (mansions) of erstwhile Maharajas of Rajasthan and their ministers have now been turned into heritage hotels of Rajasthan.
Glorious architecture, world-class modern comforts, opulent interiors and impeccable hospitality make you experience the same luxury as the days of the yore. While some originally were royal home, there are some such hotels that have been built in heritage-style to offer you the same feel. The blog enlists best boutique hotels in Rajasthan:
Mihir Garh Jodhpur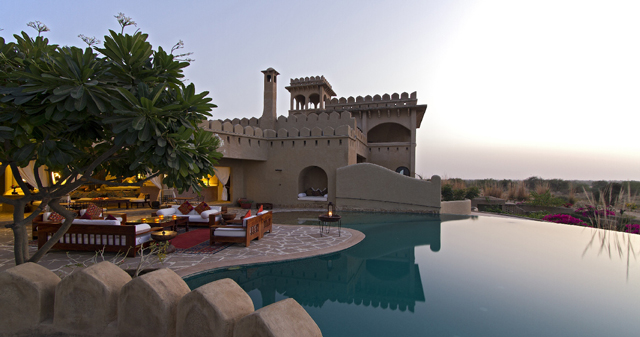 A blend of Rajasthan's culture with modern luxuries, Mihir Garh in Rohet, Jodhpur is a desert hotel with splendid structure. An architectural gem, the property takes an inspiration from the rural village architecture of the state. The backdrop of the Thar looks dramatic. One of the most luxurious heritage hotels in Jodhpur, Mihirgarh has 9 huge opulent suites, each spread in 1700 square feet. Each suite is an epitome of luxury, offering spectacular views.
Guests can enjoy modern comforts and flawless services. The trained chefs and their team prepare sumptuous Indian and popular World fares, as per the guests' choice. Traditional Rajasthani recipes from the royal kitchen are the highlights. Enjoy your meal either at the dining hall or the poolside terrace. Horse riding, Village safaris, Royal picnics and excursions, Bird watching, Culinary workshops, special Shikar dinner with bonfire and Rajasthani folk artists are some of the facilities offered here. Read More…
Rajasthali Resort and Spa Jaipur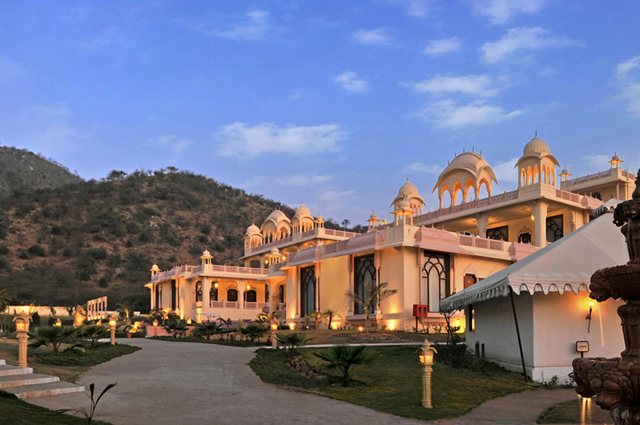 Encased in traditional Rajasthani hospitality and offering the best of world-class facilities, Rajasthali Resort and Spa is a popular boutique hotel of Jaipur. The accommodation has been divided into 53 gorgeous guest rooms, boasting of wonderful color schemes and chic interiors. The guest rooms are very well-equipped with modern facilities and services such as attached bathrooms with Jacuzzi, LCD TV with satellite connection, royal tapestry, telephone, personal in-room safe, Wi- Fi connectivity, and more.
Dining is a memorable experiences wherein guests can savor lip-smacking Indian and global delicacies clubbed with a vast range of beverages at the various dining venues of the property. Enjoy relaxing treatments and therapies at the fully-equipped Spa. Partake in adventure and recreational facilities such as cricket, kite flying, hot air balloon, camel and elephant ride, other indoor and outdoor games, water polo, trail bikes and so on. Read More…
Udai Vilas Palace Bharatpur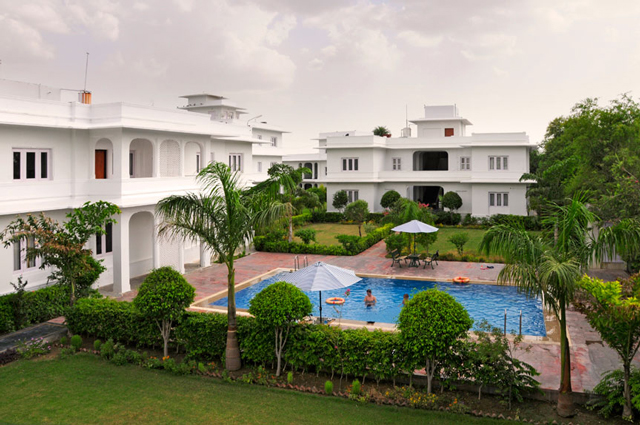 Located just a km from the well-known Keoladeo National Park, Udai Vilas Palace Bharatpur expands in lush land of 2 acres, on the main Bharatpur-Fatehpur Sikri road. The accommodation here is segregated into Deluxe rooms and Super luxury suites, filled with all the contemporary conveniences. Have a memorable vacation while enjoying facilities such as gymnasium, Ayurvedic massages, swimming pool, sightseeing tours, dedicated work areas and more.
Flawless hospitality in traditional Rajasthani style is the highlight. Ghosla, the air-conditioned on-site multi-cuisines restaurant serves authentic Rajasthani, Indian, Chinese, Mughlai and Continental fares. There is a well-stocked bar too. Guests can enjoy cultural performances by local artists along with bonfire under the star-lit sky accompanied by barbeques. Wildlife safaris accompanied by a naturalist, sightseeing arrangements, village safaris, nature excursions, shopping tours, etc. are also offered here. Read More…
Chokhi Dhani Resort Jaipur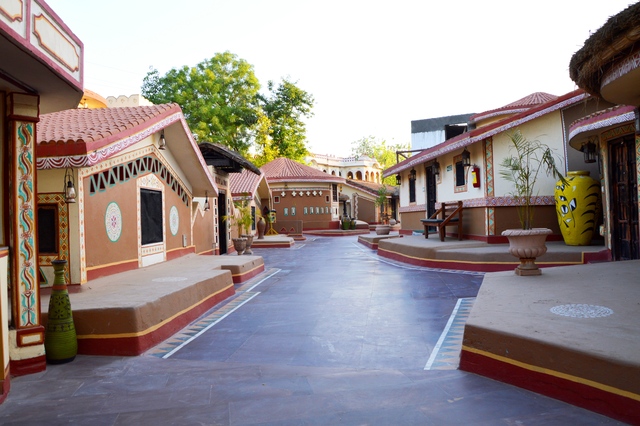 One of the best resorts in Jaipur, Choki Dhani looks like a replica of a splendid village fair. This innovative concept divides the place into a number of zonal experiences for people of all age groups. Indulge in entertainments like Rides Camel Ride, Elephant Ride, Bullock Cart Ride, Horse Ride and Boat Ride (Tal Talaiya);  Hangouts (Haldighati, Rathkhana, Vaishno Devi temple, Tejajaji temple, Jungle Devta, Special huts with Rajasthani village culture); Live entertainment of folk dance and music shows (Chaupal Nach gaan, Acrobats on a Bamboo, terah taali Dance, Fire Act, Bird Fortune teller, Puppet Show, Magic Show, Bioscope, Astrologer); Fun Zone (Jungle sair, Bhhol Bhulaiya, Skill games, head massage, Gufa Jharni, Children Play area); National Museum, and Kalagram. The resort also has 4 conference halls and a recreational center with discotheque. Other facilities include swimming pool, tennis, pool games, and Kerala Ayurveda center.
The ethnic-style accommodation has been classified into Double Occupancy Cottage, Royal Cottage, Havelli Suites, Royal Suites, and Honeymoon Suites. Chaupal, Aarogosa Restaurant, Chandi Mahal Bar & Sheesha Lounge, KesarKyari and Bindola Restaurant are the varied dining venues.
[Get more information about Choki Dhani Resort here.]
Sara Vilas Shekhawati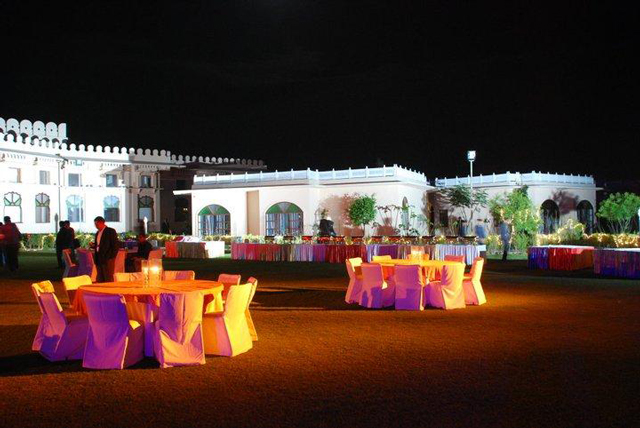 Sara Vilas is located in Mandawa that finds its place right in the midst of the Shekhawati, in the northern part of the state. Emitting a royal charm and an opulent feel, this boutique heritage hotel in Rajasthan boasts of equally charming interiors as well as exteriors. The festooned fountains, expansive pavilions and well-maintained gardens add another charm. The property's accommodation have been divided into Suites and Villas, with private terraces from where one can savor amazing views.
The tastefully designed rooms, offering a pleasant stay are very well-fitted with all the modern comforts such as huge baths, walk-in closet, private butler service and more. At the pool-side open-air restaurant and at the indoor restaurant- Pakwan, guests can relish tasty Indian and World cuisine delicacies. One of the best resorts in Shekhawati, it offers world-class facilities such as swimming pool, Spa, library, indoor and outdoor games etc. Read More…
Chunda Palace Udaipur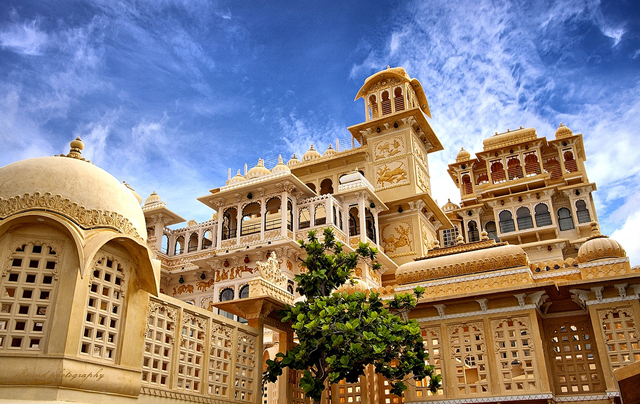 Originally a house of one of the nobles of the Marwar dynasty, Chunda Palace in Udaipur is a traditional Rajasthani palace showcasing the grandeur of the erstwhile royalty of the region. Decorated hand-painted walls, bone inlay antiques, ceiling festooned with region's art work, are some of the highpoints of the magnificent interiors. Inspired from Rajput palaces, this splendid structure got completed in 16 years. Fitted with Jacuzzi, the 46 guest rooms including 16 suites offer a royal feel to the guests who can have an unforgettable experience while enjoying traditional Indian hospitality and contemporary facilities such as personal safe, Wi-Fi internet connectivity, LCD TV and so on.
There are two dining venues and a well-stocked bar for the memorable dining experiences of the guests. The guests can avail world-class facilities such as business services, secretarial services, car hire service, shopping arcade, sightseeing management, Champagne walks, fitness center, indoor and outdoor swimming pools, theme events, celebration venues and so on. Read More…
Hotel Fatehgarh Udaipur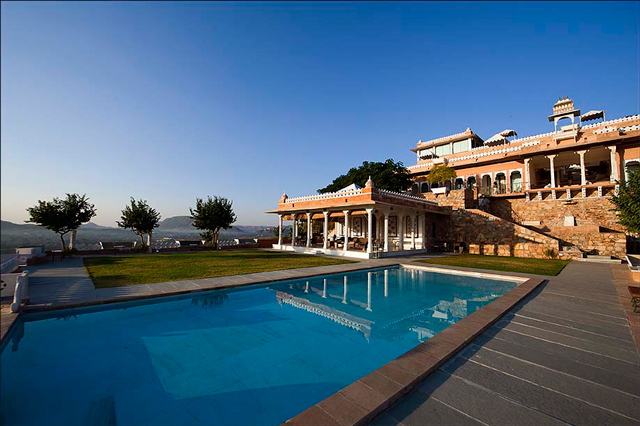 A Heritage Renaissance Resort, Fateh Garh Udaipur is something unique and electrifying as far as heritage hotels in Udaipur are concerned. Designed and constructed to rejuvenate culture, spirituality and environment, this resort clubs together royal ambiance and modern luxuries. Offering warm flawless hospitality, the Renaissance rooms, Heritage Chambers and Fateh Garh Suites are fitted with all the facilities and amenities of international standards. Guests can treat their eyes to the 360 degree panoramic views of the surrounding Aravallis. It is one those heritage hotels in Rajasthan where pets are allowed.
Enjoy visiting the hotel's collection of Vintage Cars. Spread in 2500 square feet, Sansha Spa offers international massages. Enjoy activities like horseback riding, nature walks, star gazing, Vintage car ride, Yoga classes, bird watching sunset viewing and village visits. Baradari, and Amritam are the on-site restaurant and bar serving the best of food and drinks. Mewari food demonstration is the specialty. Aviary is the special attraction amongst children and bird watching enthusiasts. The Sunset terrace satisfies the photographer in you.
[Read more about Hotel Fatehgarh Udaipur.]
Royal Retreat Udaipur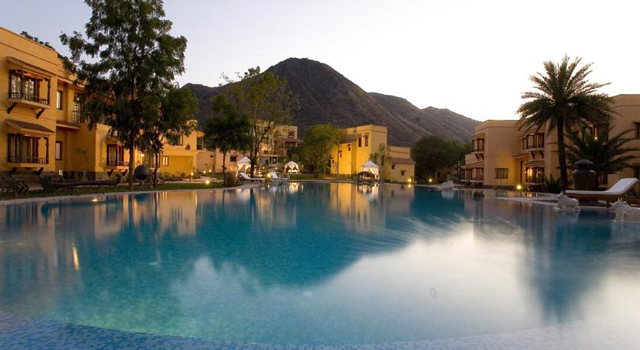 The perfect place to relax and rejuvenate, Royal Retreat Udaipur offers unforgettable experiences through indoor games, meeting rooms, spaces for celebrations, fitness center, wildlife safaris to Sajjangarh Wildlife Sanctuary, a fully equipped spa, swimming pool, horse riding, Yoga and more. Charming you with its polite hospitality and grand ambiance, this resort offers nice views of the Aravalli ranges. Divided into rooms and suites, the 55 guest rooms have a special feature of canopied balconies.
All the guest rooms are loaded with world-class comforts such as a private bar, silver or beautifully carved wooden furniture, regal furnishing, exotic artefacts and other facilities. At the Darbar Restaurant, relish lip-smacking dishes of Indian cuisine. The chefs prepare sumptuous dishes using freshest of aromatic ingredients.  Get away from your tiresome city life to spend some exciting time here with your loved ones. Read More…
Indana Palace Jodhpur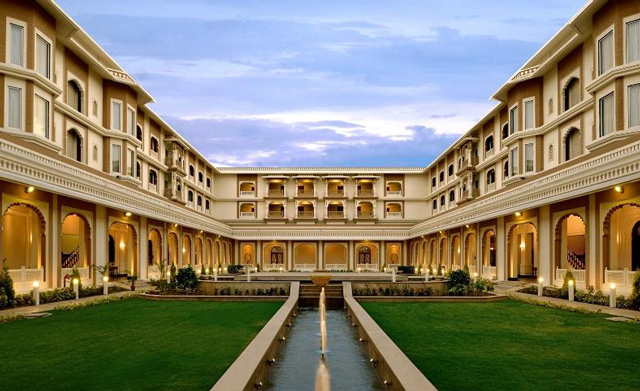 Holidaying at the Indana Palace Jodhour is like enjoying a union of different worlds in its 80 stylishly appointed guest rooms and 8 suites. Traditional Rajasthani decor mingles up with modern comforts and conveniences. The accommodation has been divided into Executive rooms, Premium rooms, Junior suite rooms, Suites and Presidential suite. The accommodation is adorned with services and facilities such as mini bar, LED TV, round the clock room service, fruits basket, mini bar, Wireless internet, attached baths and more. There are 4 dining venues, namely Anghiti, The Courtyard, Lotus Café and I Bar.
Binge on scrumptious delicacies of Indian and popular global cuisines along with a wide range of finest of beverages. There are spacious and well-equipped venues for business as well as family celebrations. Children play area, Shopping boutique, SVA spa, Beauty salon, health club, Swimming pool and Jacuzzi are some of the other amenities offered here. Read More…
Vivanta by Taj Hari Mahal Jodhpur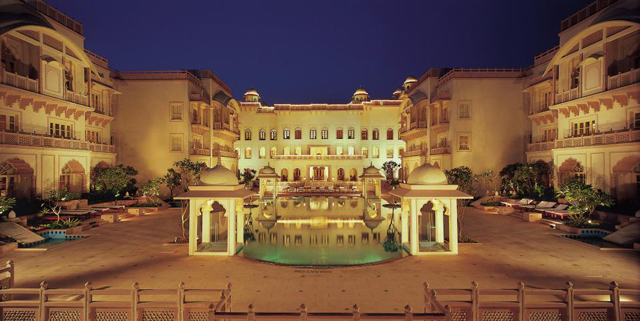 Located on the Residency Road, close to important entertainment and business areas of the city, Vivanta by Taj Hari Mahal is one of the best heritage luxury resorts in Jodhpur. Mughal-inspired domes, outstanding interiors, painted murals and slim columns look stunning. The luxurious and well-equipped guest rooms are divided into two categories- Superior Charm with garden/pool view and Premium temptation suite, each boasting of a soothing color palette and elegant interior décor.
Guests enjoy a memorable stay amidst world-class comforts and warm hospitality. Looking like a fort from the Rajasthan of the 14th century, this property is festooned with all modern comforts such as business venues, celebration spaces, Swimming pool, fitness center, sightseeing and excursion arrangements, Spa and much more. Ola, The Good Earth and Latitude are three dining spaces offering fine-dining experiences to the guests. Savor sumptuous delicacies and favorite beverages from a vast variety on the menu. Read More…